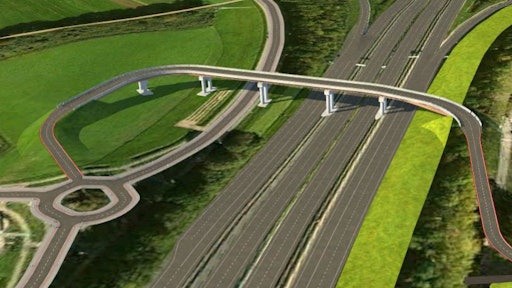 Autodesk
Transforming transportation project design and delivery to smart, paperless, 3D electronic delivery presents significant challenges that will take years to conquer. Yet the urgency is clear; the need for transportation infrastructure improvements is increasing while public funding decreases, requiring states and agencies to "do more with less." Innovation is one potential answer.
Most construction companies have heard or Building Information Modeling or BIM. BIM is known as intelligent 3D model-based process that gives architecture, engineering and construction professionals the insight and tools to more efficiently plan, design, construct and manage buildings and infrastructure.
While there are many success stories of using BIM for the vertical environment (think buildings, bridges, structures, etc), there are far fewer cases for using BIM in what is known as the horizontal environment for our roadways. To date (with a few exceptions around the U.S.), BIM implementations are done largely because a bid required it and not because a contractor saw value in its use. Early adopters trend toward "lonely BIM," where processes are isolated without a supporting BIM execution plan or cohesive strategy throughout the project duration.
However, in order to advance our current way of building roads we need to improve innovation, reduce construction risks and map out the whole life cycle of the asset and BIM can help. 
BIM for Roadways Can:
Provide a digital representation of the physical and functional characteristics of an infrastructure asset
Aids in the process of developing a precise. data rich, virtual 3D representation of existing and proposed elements belonging to programmed construction projects
Serve as a shared knowledge resource for information about the infrastructure asset
Provides collaboration for various stakeholders at different phases of the life cycle of an infrastructure asset
"Communication is even more crucial today than it's ever been but most engineers are unfortunately lousy at it," Tony Nieves, construction engineer at the Federal Highway Administration (FHWA) says. "All these new technologies are bringing tons of data but unfortunately at the project ownership level, it's creating cycles of data that are not speaking with each other. What BIM does is creates a seamless transition for the data by breaking down the silos between teams."
With BIM, you can look at the project virtually and construct the roadway in a 3D environment. The entire team is seeing the same model and seeing the same project you're seeing at the same time. Having a digital platform that connects different data sources securely can benefit all project members in searching for information and mapping all of their assets. Digital platforms can be accessed using different permission levels to perform maintenance and planning activities, including in emergency situations where real time data is needed to support well-informed decisions.
"BIM provides more accurate designs with reduced risks," Nieves says. "For designers, constructors and owners to be successful with positive return on investment from BIM, they should shift from the traditional siloed approach to a more collaborative project management practice."
BIM Improves Project Development
Identifying long term goals for the use of BIM on your project is extremely important and using BIM can help plan your project from start to finish by:
Assisting in Planning the Project
Creating a Conceptual Design
Working Through a Detailed Design
Helping with Procurement
Identifying As-Built Assets
Assess Operation & Management Requirements
"Look at your project, make sure that all the practices that you have in place are there to improve efficiencies and building effectiveness by using BIM," Nieves says. "Using BIM gives your project major technological credibility for performance, transparency, planning, and operations and maintenance. That means that you can better stage your projects, you can have more vision, you can actually control your fuel consumption and equipment break downs, etc."
Using BIM causes owners and practitioners to rethink the project delivery life cycle from planning through survey, design and construction into operations and maintenance. The disconnect comes when project owners don't see this as a good thing. However, appeal to their profitability and there is more of a chance they'll adopt.
BIM & Profitability 
Code compliance is a priority for engineer's followed by the concern for constructability. However, misinterpretation of design documents is an old time on-site challenge. This results into delayed schedules, tons if RFIs and change orders.
Let's say $100M is budgeted for new highway construction project with bridges and interchanges. Usually, around 7-8% percent of the finances will go into design development. However, if you can reduce this design expenditure by 35% with say a productive process like BIM, your project could save $2.6M. What's more, if you reduce the construction portion by 15% by considering constructability during the design phase, it will save nearly $14M.
BIM for roads and highways design works with creation of coordinated and consistent design data about the projects, thereby creating a smart 3D model. The rudiments of designs are not just linked to points, facades and placements, but also to the information and elements related to it which helps avoid such errors if the project is designed for constructability.
For instance if halfway during the course of the project of a roadway, if the design project needs any adjustments to vertical curves and grades, adjusting the profile enables designers to immediately see the impact.
This is how BIM facilitates the design evaluation. Civil engineers, who form the integral part for the design process, are enabled to utilize the information model to enhance the design for constructability, sustainability and road safety by conducting simulations and analysis.
Apart from competence and productivity, BIM assists in roadways optimization through various aspects like Visualization, mockup, and analysis as an integral part of the design phase. Other criteria such as constructability, road safety and sustainability also can be evaluated to achieve an optimal roadways design.
Given the growing recognition of the importance of BIM by the trades, a greater understanding of their activities and more collaboration with them is essential for expanding the benefits of BIM for road building projects. BIM should be just one part of your construction companies' larger technology strategy, with the goal of improving information flow among project team members and between the jobsite and the office.