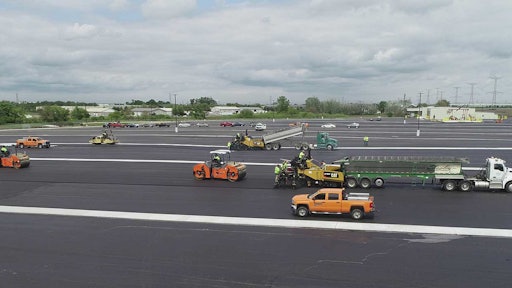 Ask many paving companies what their pain points are and trucking will undoubtedly fall within the top five they list. Not only is there a shortage of truck drivers, but there is also a long list of restrictions being placed in order to operate a trucking company. All of this presented an opportunity for XBE, who created a comprehensive software to manage and automate the planning, execution, monitoring, analysis, and improvement of all facets of horizontal construction.
And it cuts the time and money spent on paperwork.
XBE is a cloud-based platform. It is both Mobile and desktop optimized - Web, iOS, and Android. The entire XBE platform is designed to work equally well in mobile and desktop environments to enable all stakeholders to collaborate in whatever environment they find themselves in. XBE is available on any modern web browser and is also packaged as a native application for iOS and Android to enable extra features that require access to device sensors.
Successful Contractor Implementation
Just down the road from XBE, Gallagher Asphalt in Thornton, IL was experiencing their own trucking issues and was in need of a solution. 
"We have seen everything from a shortage of trucks, truckers not meeting proper insurance requirements, trucking operating in a black box and back office processing was taking way too long," Will Gallagher, project manager at Gallagher Asphalt says. "We were looking for a way to simplify our operations and give more time back to our staff."
Gallagher used XBE for the first time in 2019 to manage all of their trucking operations. From liquid hauling, low boys and hauling HMA, stone, dirt and more, they used the XBE Platform to execute everything from planning to payment. The company also used XBE to schedule and manage live production operations of all of Gallagher Asphalt's jobs with a large focus on their asphalt related jobs.
"We  codeveloped a scheduling software (PaveElite) in 2018/2019 but didn't incorporate a trucking piece to it because we had been in talks with XBE, Gallagher says. "As a company, we are never satisfied with what currently exists, we are always looking for who's working on the next great thing and if we can't find someone doing it we will build it ourselves. The Chicago area where we work is probably one of the most competitive markets in the U.S. and we need to do everything possible to stay cutting edge and trim costs as much as possible to remain competitive. We found this in XBE."
Much of the platform is computer driven so reports, data input and outputs, and accounting details are all calculated and formulated automatically. This has allowed the company to remove many manual processes from things like calculating job trucking cost, aggregating and invoicing/paying truckers, scheduling trucks and construction crews/equipment.
"If you look at how smooth Uber & Lyft operate, XBE is similar type of setup that independent owners or fleets operate on the platform and accounting is always accurate shortly after a trip has been completed."
Gallagher says as a company they were able to cut approximately 160+hrs of labor per week during the 2019 season using XBE instead of their old manual processes. 
"We have seen tremendous value in the field by providing both our foreman and superintendents access to all sorts of information at their fingertips," Gallagher says. "We have been able to cut down on phone calls and text messages and instead push information to the respective parties, so everyone is seeing the latest information in real time. Our team now has the intel to provide live feedback to how they are performing and tie this to financial metrics so they can truly see how they are impacting the bottom line."