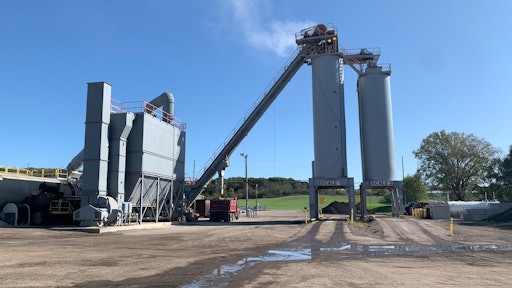 Ask many asphalt paving companies what they struggle with and we bet more than a few will say consistent product quality. The potential for this is low, but a risk that contractors take when they rely on other companies to produce mix for their paving operations. This is why Wolf Paving chose to invest in not one, but two asphalt plants for their business.
"Unlike most paving contractors, we have know all our materials and have control over our asphalt production facilities in Oconomowoc and Sun Prairie, Wisconsin," Jacob Mrugacz, president at Wolf Paving says. "This allows us to offer better products, better services and ultimately a better value to all our clients, large and small." 
Wolf Paving produces their own sand at the Oconomowoc location but purchase all other materials from outside material producers. They maintain a continuous inventory of washed and screened sand, crushed gravel, crushed limestone, fill material and even salt for winter services in addition to their hot and cold asphalt mixes.
Mrugacz says this not only provides immediate cost savings for their business, but also ensures they are able to deliver the best quality mix possible to their customers which gives them the ability to guarantee their work. 
"We have more than 20 custom mixes of asphalt blends, with plenty of specialty mixes to ensure we have the right kind of asphalt for every application," he says. "And because we know every element that goes into the asphalt pavement we produce, we can offer a full one-year warranty on all our asphalt work. Few other paving contractors are willing to offer such guarantees, especially when they're using asphalt made by somebody else."
Not only is Wolf Paving able to control the quality of the mix they produce for their paving jobs, they also get to control the schedule, which is important in two thriving markets.
Continuous Growth Brings Opportunity
In the Madison market, the growth has been huge for the company. The location features a 300+ tph Gencor plant with two 200-ton silos and two 300-ton silos and that capacity is still not enough to serve the needs of the area.
"We rebuilt or control house last winter and we've replaced some motors and wear parts but we need more upgrades," Mrugacz says. "Over the next few years we'll look to add new AC tanks, more silos and a higher capacity drum."
The company installed a Systems Inc. control panel due to their familiarity with the brand and service they've experienced.
As most companies grow in this market, they are experiencing a high amount of challenges with employee turnover and retention. Luckily, Wolf Paving has found a few solutions to the labor problem.
"When I first took over as president, we had a very high turnover rate," Mrugacz says. "Now we're focusing on retaining the workers we have with higher pay and employee appreciation. Those things go a long way."
Mrugacz was named president of Wolf Paving in January after the business was acquired by William J. Kennedy Holding Co, an affiliate of Janesville-based Rock Road Co. Inc.
"Wolf Paving was a successful family-owned company and so I stepped into a successful situation," Mrugacz says. "Sure we're refining some things, but they did a good job here. People felt loyal to the previous owners but building that culture is important no matter what company you have and what last name is on the president's door. That family atmosphere is really feeling like your company cares about you, your fellow employee cares about you and that you have some sort of purpose in what you do."
Increased Recycling Production
As part of the company's commitment to advancing eco-friendly asphalt, 100% of the leftover asphalt and concrete Wolf Paving hauls away from job sites is recycled into new paving materials. They also accept recycled materials from other contractors in the area as well. This too, Mrugacz says, is only possible because they own their asphalt plants.
"At our plants we recycle old concrete, asphalt shingles, old asphalt and more," he adds. "We also accept materials from other contractors and job sites to be recycled as well."
Beyond the environmental benefits, this means further cost savings to their customers, as well as allowing the company to operate as recycling contractor, expanding their business services.
"We produce a large percentage of RAP at this location from the RAP we process at our facility each year," Mrugacz says. "We also incorporated the recycled asphalt shingles we receive from other contractors back into the mix as well."
With over 75 years of experience in the industry, the company has positioned themselves as a leader in their markets through product differentiation and quality service. This strategy has positioned the company for continued success and growth for years to come.