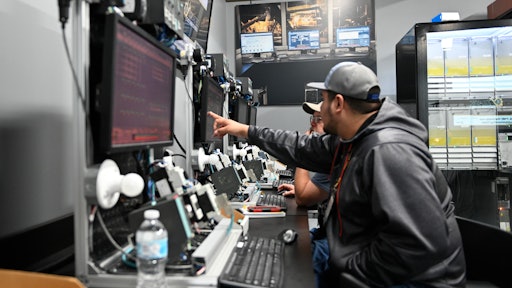 Astec, Inc.
Not only are asphalt plants complex mechanical systems, a breakdown or failure can be detrimental to the profitability of your business. In order to get optimum performance from the plant, it is imperative to properly monitor key performance metrics.
In his session at CONEXPO 2020, Ron Sines, vice president of asphalt performance at CRH Americas Materials, Inc. will explain which performance metrics are most important and show how to use them to ensure top plant performance. Here are the three main performance metrics Sines says asphalt producers need to be aware of and track for a more profitable plant. 
1. Energy
Energy costs are driving most asphalt plant operations today and many producers are looking to reduce costs in any way they can. One of the best ways to cope with volatile energy costs is to reduce consumption at the plant.
"It's important for asphalt producers to understand exactly how much energy they're using to produce a ton of asphalt because there are things that they can do to control the amount of energy they're using which ultimately has an impact on cost," Sines says.
Not only will monitoring energy usage help control costs, it can also help you understand your plant and be aware of issues that may pop up. 
"If you're using more energy than you should, that's certainly an indication that your burner maybe out of tune," Sines says. "It could also be an indication that the management of moisture in your aggregate stockpiles isn't what it should be. If your energy usage is going up, you may have additional moisture in your aggregate stockpiles. For every 1% of moisture that you can remove from your aggregate before it goes into the plant. that is going to have about a 12% impact on plant productivity.
"So if at your 400 ton per hour plant you have 2% more moisture in your aggregates than you should have because you haven't properly sloped and drained your stockpile or maybe your loader operator isn't managing the material that he's bringing out of the stockpile correctly, your 400 ton per hour plant is now only going to be able to produce it around 350 tons an hour and that's a problem."
2. Recycled Material Usage
The use of recycled asphalt pavement (RAP) at your plant is also something plant owners and operators should keep track of. Whether it's proper RAP management or plant capabilities, knowing how much good RAP you're using will continue to be an important asphalt plant metric.
"The way that I prefer looking at RAP utilization is against what the specifications allow us to do, as well as what my plant is capable of doing," Sines says. "There are a number of older plants out there that are not able to use RAP to the extent of what the specifications may allow and I think it's important understand what that difference is, because that's going to be a capital expense. Being able to quantify what that difference is and then determine whether or not the capital expense of upgrading your plant warrants going after that additional RAP that you could use is important."
Another component of looking at RAP usage is understanding how much binder you're trying to replace in the mixture.
"You can do things with your RAP in terms of how it's processed, how RAP stockpiles are managed, etc. to ensure you're getting the maximum quantity of binder out of your RAP," Sines adds. "I'd much rather use 20% of a RAP that has 5.2% liquid content as opposed to a RAP that has 4.2% because I'm going to be saving more binder. Ultimately, you can track that and you can see how you're performing against what your target is in terms of binder replacement and what your actual binder replacement is." 
3. Waste
The final key metric Sines says asphalt producers should focus on is the amount of waste that their plant is producing. It's important to schedule production and operate the plant to limit the amount of waste generated at the plant. 
"Waste is going to have a direct impact on energy because you're essentially heating materials that are not ever selling and you're also putting liquid asphalt on materials that you're not selling," Sines says. "Knowing how much waste you're producing and trying to get that to the minimum amount possible while still producing a quality mix is ultimately the goal."
Reductions in raw materials used (whether it is aggregate and asphalt, burner fuel or equipment fuel) means plant owners have to buy less to produce the same amount of material. These savings should go directly to the bottom line for any producer. Accurate orders, limiting the number of mix changes and knowing plant timing will all reduce waste generated every day you produce asphalt mixtures. 
Ultimately, Sines says monitoring these metrics will not only positively impact your bottom line, they will also make your business a better steward of the environment.
"These metrics are going to have a direct impact on the cost of producing a ton of asphalt material," Sines says. "If you maximize RAP, maximize binder replacement, minimize waste and minimize energy, your cost to produce a ton of asphalt is going to go down which should make your business more profitable.
"The other side of the coin to monitoring these metrics is from the sustainability side. If you're using less energy to produce a ton of material and if you're recycling more, consuming less virgin aggregate and liquid asphalt because you're using RAP those are all good things. They're good from a profitability standpoint, but they're also good for the environment as a whole."
To learn more, attend the "Key Metrics for Monitoring Asphalt Plant Performance" education session at CONEXPO-CON/AGG 2020 in Las Vegas. This session is scheduled for Tuesday, March 10 from 9:30 a.m to 10:30 a.m. More information can be found at www.conexpoconagg.com.