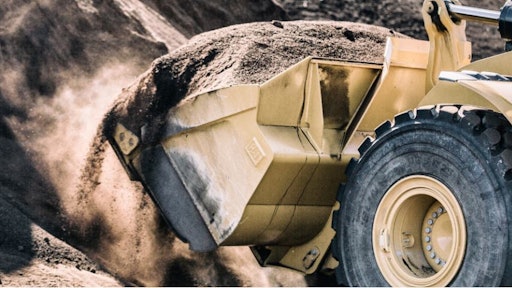 By Jason Hurdis, Global Market Professional, Construction Materials Industry, Caterpillar Inc.
When we conduct productivity studies at construction sites and quarries, we often run into folks who are using the wrong buckets on their loaders. As a result, they're not maximizing productivity, and their costs are up as much as 10% to 20%.
Here are some of the most common bucket fails we see. Avoid them if you can.
1. Start with the machine
Many buyers pick a machine first, then choose its bucket. Try this strategy instead. Start with the material you expect to handle. Identify its density range, moisture level, hardness and abrasive qualities. Then consider the capacity of the machine you'll be loading. Determine which size bucket will give you the ideal pass match. Once you know the size and type of bucket required, select the machine that best accommodates it.
2. Shop for a bargain
Going cheap can be a big mistake. Most buckets look the same, but there can be serious differences in design that make the lower-priced option a higher-cost choice. Shop for features worth paying for—those that reduce cycle time, improve material retention, reduce maintenance time and extend wear life.
3. Supersize it
Don't chase big productivity goals with a bucket that's too large for the machine you're running. Overloading – even a few percentage points above the recommended capacity limit – accelerates wear, reduces component life and sets you up for unplanned failure, unexpected downtime and high-cost repairs.
4. Stick with whatever worked in the past
Buckets have changed a lot in the last 10 years, so take time to find out what's new. You may discover that the bucket you've been using forever is no longer the best option for your application.
6. Go with your gut
As with most decisions, this one benefits from the use of good data. Talk with your dealer about your bucket options and be prepared to provide these types of information: production and cost objectives; material density and characteristics; principal applications; transport distance; utilization of current machines; condition of machine that will use new bucket; truck/loader match-ups; operator skills.
With quality data and advice from an expert, you'll avoid these bucket fails and choose the best option for your business. Learn more about Cat® buckets here.