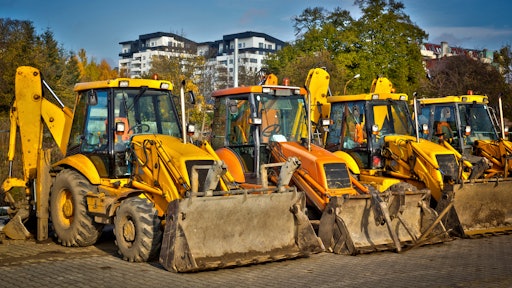 The Equipment Leasing & Finance Foundation (the Foundation) releases the February 2019 Monthly Confidence Index for the Equipment Finance Industry (MCI-EFI) today. Designed to collect leadership data, the index reports a qualitative assessment of both the prevailing business conditions and expectations for the future as reported by key executives from the $1 trillion equipment finance sector. Overall, confidence in the equipment finance market increased in February to 56.7, an increase from the January index of 53.4.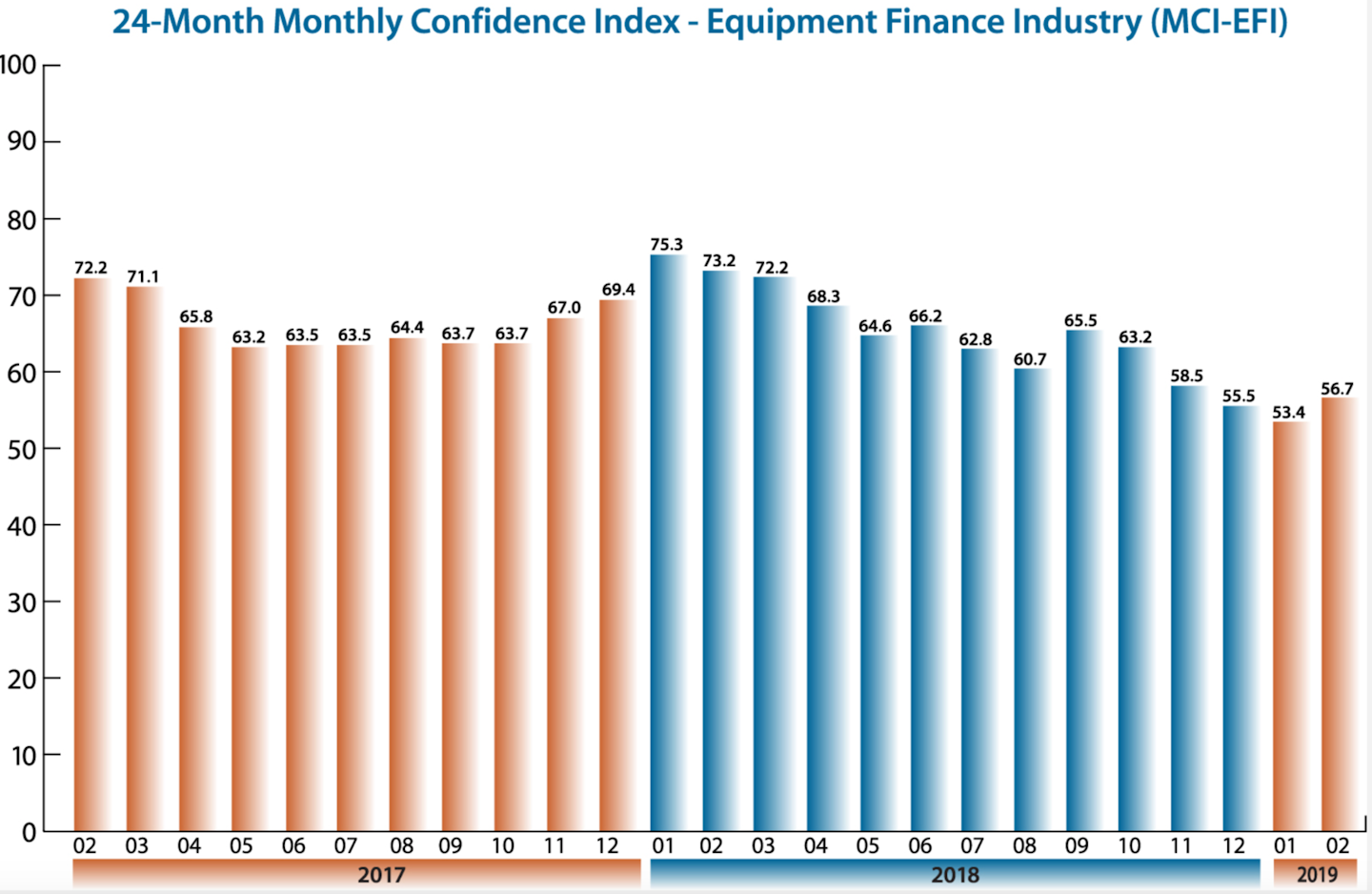 February's confidence index is 56.7, an increase from the January index of 53.4.Equipment Leasing & Finance FoundationWhen asked about the outlook for the future, MCI-EFI survey respondent Frank Campagna, Business Line Manager, M&T Commercial Equipment Finance, said, "Our optimism in the economy requires putting a blind eye to the current political climate with the hope that sensible minds will prevail; we are seeing a demand in most industry sectors and geographic regions that we serve. Clients, especially in the transportation sector, are turning over equipment more frequently and are returning to using tax lease structures more than in the recent past. Clients are also more interested in discussing financing alternatives and engaging in the planning process with us early, which indicates a willingness and need to spend on capex."
February 2019 Survey Results
The overall MCI-EFI is 56.7, an increase from 53.4 in January. 
When asked to assess their business conditions over the next four months:
10% of executives responding said they believe business conditions will improve over the next four months, unchanged from January
83.3% of respondents believe business conditions will remain the same over the next four months, an increase from 70% the previous month
6.7% believe business conditions will worsen, down from 20% who believed so the previous month.
13.3% of survey respondents believe demand for leases and loans to fund capital expenditures (capex) will increase over the next four months, an increase from 3.3% in January
83.3% believe demand will "remain the same" during the same four-month time period, an increase from 80% the previous month
3.3% believe demand will decline, down from 16.7% who believed so in January
20.7% of the respondents expect more access to capital to fund equipment acquisitions over the next four months, down from 21.4% in January
79.3% of executives indicate they expect the "same" access to capital to fund business, an increase from 78.6% last month
None expect "less" access to capital, unchanged from last month
26.7% of the executives report they expect to hire more employees over the next four months, a decrease from 33.3% in January
56.7% expect no change in headcount over the next four months, an increase from 53.3% last month
16.7% expect to hire fewer employees, up from 13.3% last month
36.7% of the leadership evaluate the current U.S. economy as "excellent"
63.3% of the leadership evaluate the current U.S. economy as "fair"
None evaluate it as "poor," all unchanged from last month
13.3% of the survey respondents believe that U.S. economic conditions will get "better" over the next six months, up from 10% in January
70% of survey respondents indicate they believe the U.S. economy will "stay the same" over the next six months, an increase from 50% the previous month
16.7% believe economic conditions in the U.S. will worsen over the next six months, a decrease from 40% in January
20% of respondents indicate they believe their company will increase spending on business development activities during the next six months, a decrease from 26.7% last month
80% believe there will be "no change" in business development spending, an increase from 73.3% in January
None believe there will be a decrease in spending, unchanged from last month
View the entire February 2019 Monthly Confidence Index for the Equipment Finance Industry (MCI-EFI)