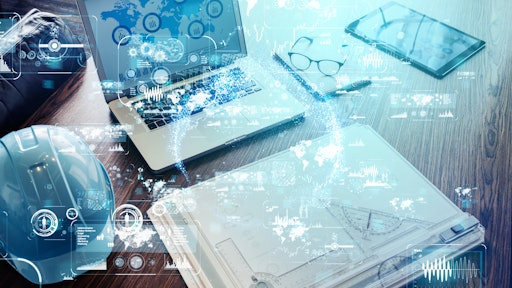 Getty Images
Today's management software programs make it easier than ever before to be proactive about fleet maintenance, provided you have the know-how and manpower to take advantage of the technology. If you can swing it, taking care of your equipment no longer needs to be reactive or strictly preventive, it can become predictive, and even prescriptive.
Predictive maintenance is a buzz word in fleet management these days, referring to the way software uses data to predict when certain procedures should be performed.
"Predictive maintenance takes real-time data coming from your equipment and uses analytics to alert you of a risk or provide you with a recommendation for action," explains Darian Karsch with Sycor Americas. "Prescriptive maintenance, on the other hand, goes a step further and actually takes action based on the recommendations received."  
Predictive maintenance is a monitoring-based solution through the use of Internet of Things (IoT) devices to provide real-time information such as engine hours and condition changes, explains Nancy Venticinque of Baseplan. "Prescriptive maintenance is similar to predictive maintenance but tries to automate the maintenance process. Instead of just monitoring and providing recommendations, the aim is for machine learning and AI techniques to allow the machine to make its own decision as to maintenance steps."
Sounds a little like science fiction, right? On the contrary, this technology is available today and it could be especially important in rental settings where maintenance needs can be inconsistent due to the unpredictability of equipment usage. It's not always as simple as following the manufacturer's recommendations.  
"In the rental market, it starts with manufacturer recommendations, plus the additional maintenance required due to high usage and the variety of users operating at various training levels," explains Patrice Boivin, president, Orion Software. "Prescriptive maintenance includes what is recommended for operation from analytics. By exploiting information either in real time or not, the software will adjust the maintenance depending on the situation. It will alert end users and the maintenance staff in real time."
He continues, "For rental, the goal is to maximize the usage while preserving the equipment. So, prescriptive maintenance is used to reduce downtime and avoid reaching the maximum resistance of the engines and other components. For instance, equipment that is used three shifts a day with a meter of 24 hours per day at high temperature might require different maintenance than just the regularly scheduled."
Predictive maintenance features allow a rental center to know personnel and supply requirements in advance. This proactive process creates a more efficient and less expensive response to equipment maintenance requirements.
"Prescriptive behavior will, in some cases, complete a maintenance task without the need for any rental personnel to be involved," explains Brian Beaudry at Point of Rental. "The machine will know, based on what has happened in the past to itself (as well as other similar machines) what should be done now to prevent a bigger problem from happening. In some cases, this could be more effective than human diagnosis in preventing expensive repairs."
He continues, "For example, predictive maintenance means sensors register that your engine is running five degrees hotter than the thousands of engines within the same vehicle model, despite much lower pressure readings. Prescriptive maintenance features can determine, based on that, that there's an issue with your piston and recommend replacing your piston rings."
How does it work?
Boivin at Orion says many equipment manufacturers are adding monitoring systems that can be captured by rental management software. From there, the application can suggest opening a work order that is then added to the dispatch schedule when it reaches certain operating metrics.
"The integration in the main rental software allows for more flexibility and a better workflow," he says. "The alerts can be sent through mobile notifications, emailed to the technical staff or to the customers themselves to intervene before the equipment runs into problems.
"It's an integration normally to a monitoring system installed on the equipment. It's a simple integration that is highly reliable. Most manufacturers now offer that option," he says.
Karsch says companies can bring in alerts or notifications of operating conditions that should trigger a service call or equipment swap.
"They can also create their own algorithms that will create their own alerts. Many times, in this third step, we will assist the customer in creating AI (Artificial Intelligence) processes that will take many operating factors into account. These outputs may create an equipment shutdown, a service call for maintenance, or an adjustment to a scheduled maintenance plan."
"When rental companies purchase IoT devices for their equipment, they typically will be able to view all the information about the asset online or through an application," Venticinque says. "Software companies will pull the hour meter of the equipment via an API to ensure the latest hour meter is displayed in the software system. This allows for the software to action its predictive maintenance, while also checking the physical utilization of the asset."
There are a few different ways systems provide this insight. One way is to program a portal that talks to various manufacturers' portals in order to collect the data needed, Karsch explains. A second way is to retrofit sensors to a common brand/type so that one portal can receive all equipment communications. Another way is to deploy an IoT Cloud solution that can both receive direct sensor readings and communicate to the manufacturers' portals.
"Microsoft Azure IoT, for example, already has, and continues to build, standard links to many of today's equipment manufacturers' portals and can communicate with an 'IoT-Ready' sensor that is placed on the equipment," Karsch says. "At Sycor for example, we have equipped our software solution, Sycor.Rental, with a ready-built connector to Microsoft Azure IoT so that any information brought to Azure IoT, can be integrated into your system. We also can connect to any existing telematics system or third-party fleet solutions provider."
For its part, Baseplan does require a separate telematics program, however the majority of the OEM providers now have built-in IoT devices on all the equipment they sell, Venticinque says. 
Many manufacturers of rental equipment have installed proprietary telematics devices. You can also add AEMP telematics devices to existing equipment, says Beaudry at Point of Rental.
"At this point, the rental industry is still working on bringing the full complement of AEMP data from these multiple sources into one place for actionable insights into equipment maintenance," he says. "At Point of Rental, we have integrated AEMP data that can handle predictive maintenance requirements using real-time meter and location updates along with historical maintenance and maintenance intervals within the system." 
Beaudry says it doesn't necessarily require a separate telematics system to work, it just depends on the fleet mix.
"Today, a dealership using one type of telematics hardware and data feed can integrate more thoroughly (more data points) into one platform than a company using various devices and data feeds," he says. "At Point of Rental, we've integrated the telematics data from various devices into our system so that the users have access to not only the real-time equipment data of meter and location, but also to historical data related to repairs and rental activity in the same place."
A look into the future
"Rental companies will have to digitally transform to compete in tomorrow's markets," Karsch says. "They will have to manage more data and make faster decisions than ever before to stay ahead. Rental business systems will be doing more and costing less and companies will require fewer employees to grow more business."
Over the next few years, Venticinque says rental companies will be using IoT devices to further enhance the following areas: 
Equipment lifecycle – Checking hour meter readings of individual components of an asset, allowing for better decision making on whether further repairs should be made or the asset should be sold before a major breakdown.
Monitoring the true utilization of equipment through IoT, while comparing the agreed average daily use through exception monitoring.
Monitoring service trends between different equipment makes & models.
The long run might very well include all of the above, but in the short term, alerts will simply be better integrated into the normal workflow of the delivery, returns, maintenance and field maintenance, says Boivin at Orion. Alarms are sent to the dispatcher who can send a notification to the closest technician on the map with confirmation that he is accepting the work order. The technology is constantly looking at the most efficient work flow.
"Telematics is becoming more ubiquitous in the everyday rental fleet," says Beaudry. "As the ability to map complete AEMP data from these various manufacturers' devices into a rental operating system is improved, it will become more advantageous for the average rental company to use it to improve efficiencies.
"Manufacturers appear to be balancing between proprietary systems for a competitive advantage and having an open environment that supports the goals of AEMP," he says. "As this is resolved, the next challenge will be how to use the vast amount of data in a way that adds value and provides a rental company with actionable intelligence that improves profits and offsets the added costs of telematics."
Hopp at InTempo agrees, noting that telematics provides incredibly valuable and actionable information to rental businesses, even though it might seem a bit overwhelming for some to think about currently.
"It ultimately enables rental businesses to protect their assets and provide better customer service," he says. "We've heard many stories of an employee receiving error codes on machines through telematics and sending a mechanic to the jobsite before their customer even discovered the issue. It's a win-win; less downtime for the equipment means more profit as well as less frustration for the end customer. We expect the ability to monitor diagnostics and maintenance to improve with time. This will allow rental companies to accurately assess the lifetime value of the assets that power their businesses."