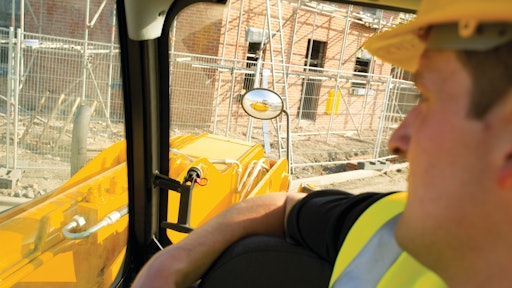 A leading cause of accidents for all vehicles, including construction machinery, is backing and reverse motion.
Studies from the insurance industry, OSHA, NIOSH and other safety stakeholders confirm that backing machines needs increased control. But we've all grown up in the automobile age, and we often slap the shift lever into reverse without a second thought.
A conscientious safety program will focus attention on backing equipment safely. Methods are surprisingly simple but adopting them will require organizations to face the dreaded C word: CHANGE -- arguably the most difficult hurdle in advancing safety.
Do NOT wait for OSHA to pass a law! The agency is too encumbered by the mountains of red tape the lobbyists and industry shills have put in place. They can't move on this or any other meaningful new standard. But as a cautionary lesson, surprisingly, the folks at Virginia Occupational Safety & Health (VOSH), which has a State Plan under the OSHA banner, actually passed their own standard, which carries the same force as an OSHA Standard.
The VOSH standard is called the "Reverse Motion Standard" and if you're serious about protecting your crew, you'd better go quickly to download, print, and read it, then call a safety meeting to get the news out! And don't think for a minute these Virginians pass safety laws at the drop of a hat. They just don't like going to coroners' inquests; plus, accidents give the state a bad name. So they're doing their part, and we can all learn from it. (The web site also offers free bi-lingual training materials, removing some stray excuses for non-compliance.)
While you're waiting for the printer to warm up, here are a few bedrock safety tips, for ALL types of vehicles:
Put a back up alarm on everything that moves! That may sound a little extreme, but if the unit has a blind spot, it needs an alarm. Anything larger than a pickumuptruck should have one. And it should be loud enough to wake up the neighbors.
LOOK and plan for parking defensively, to avoid the need to back. With a little more work, or walking, this can usually be accomplished. Save the headache, park on the other side of the lot. The walk will do you good.
Place a cone at the rear of the vehicle or machine, to force you to check the rear before moving. You've seen other companies do this, such as the utility and communications fleets. Do you think they're just showing off? Learn from the mistakes of others. Adopt the best practice to improve your organization.
A designated spotter should be assigned, if backing will be required, to guide the move. Spotters must wear high-viz gear and stay in sight of the driver. The driver must STOP if they lose sight of the spotter.
If your driver is alone, they must commit the most impossibly difficult task ever invented: GET OUT AND LOOK!!! You'll probably have better luck selling them a weight-loss program than you will getting them out of that cab, but that's the law in Virginia. And if the unit is a ten-wheel dump or anything with a blind spot, your guy needs to be making some decisions. Have you ever sat in an emergency room for four or five hours waiting to hear if someone's going to 'make it'? Which is easier?
Make a rule and enforce it: avoid having anyone on the ground around moving machines.
All persons on the ground, including the operator when outside the cab, MUST wear high visibility gear. Hard hat, gloves, work boots, safety glasses: all fine. But VISIBILITY is what prevents people getting run over.
Plan your work site to minimize backing and keep an orderly flow of traffic of all types. This is especially difficult on road jobs, but with a little work, the greatest portion of risky movement can be engineered out.
Make a rule for drivers and operators: DO NOT randomly get out of the cab. Either park in a safe area well away from other vehicles or stay in the seat.
Two way radios can help a lot, but they do not take the place of visual verification
Rear mounted cameras: these can help a lot when properly configured and part of a comprehensive safety plan. A lot of new machines will have these as options. Word to the wise: buy it!
One last warning: if it's a NIGHT JOB, you can safely DOUBLE your bet on doing everything above. Fatigue, impaired vision and impaired drivers will add to the burden at night.
Most operators will say something like: 'I've been running these machines for a loooooong time, never had a problem, why should I change?' (The correct reply is that they've been LUCKY!) Keep in mind, aside from work zones and job sites, one of the deadliest places for backing a vehicle: your driveway! No joke. And these accidents transcend the meaning of the word 'horrific," involving kids, spouses, neighbors, pets, etc. Makes you think of backing up in a different light, no? Look at the date on this article: Back-over deaths devastate families across U.S.
If you are still not convinced of the importance associated with controlling the equipment backing, read these bulletins from OSHA and NIOSH:
For the truly dedicated, learn what NIOSH has found from their research. These guys are scientists; your tax dollars at work. This kind of research is what saves lives over the long haul, so please, no more whining about Big Government :
About the author: John J. Meola, CSP, ARM is a construction safety specialist with the Louis Berger Group. He is based in Richmond, Va., and recently completed an assignment at the Bethesda Naval Hospital / Walter Reed National Military Medical Center construction project. Contact:jmeola@louisberger.com