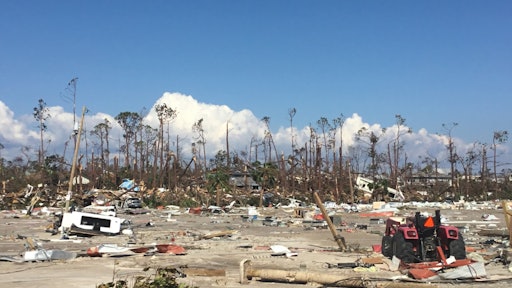 National Oceanic and Atmospheric Administration
We are at a crossroads in the United States. Since the 1950s, the standard method for home building has been light-frame wood construction. Well-trained work forces have learned how to build these homes at reasonable cost. A movement to build concrete homes, however, started in the early 2000s and gained traction until the start of the recession in December 2007, when it nearly came to an end.
But today, the loss of life and damage to property due to extreme weather events increases every decade, as does the need for more resilient housing. The challenge is to build homes that can remain intact in any severe weather event, be more energy efficient, be reasonably priced, and be reoccupied shortly after a disaster so that life can go on with minimal disruption. Concrete homes can do all of that and more.
Extreme Weather Events
We have entered a new phase of life on planet Earth. Increased global heat is raising the temperature of the atmosphere and oceans, which contributes more energy to fuel intense extreme weather events with increasing frequency. 
"While each region of the U.S. faces a unique combination of weather hazards, every state in the country has been impacted by at least one billion-dollar disaster event since 1980," says Adam Smith, an applied climatologist with the National Oceanic and Atmospheric Administration (NOAA) in Ashville, N.C., who tracks extreme weather events that cause more than $1 billion in damage.
"Over the last four decades (1980-2019), the U.S. has sustained 250 separate weather and climate disasters where overall damages/costs exceeded $1 billion (including Consumer Price Index adjustment to 2019). The total cost of these 250 events exceeds $1.7 trillion," he adds.  
[For a deeper discussion, see this new NOAA report: www.climate.gov/news-features/blogs/beyond-data/2018s-billion-dollar-disasters-context] 
Here is how hurricanes, floods, tornadoes, straight-line winds, droughts and wildfires are changing our lives and causing us to rethink the way we build our homes and structures. 
Hurricanes. Patrick Marsh, a warning coordination meteorologist for the NOAA Storm Prediction Center in Norman, Okla., says hurricanes have huge amounts of energy that slowly build and then release over longer periods of time compared to other severe weather events. Their primary energy comes from increased water temperatures and decreased wind shear. Along with wildfires, they cause the most damage to property.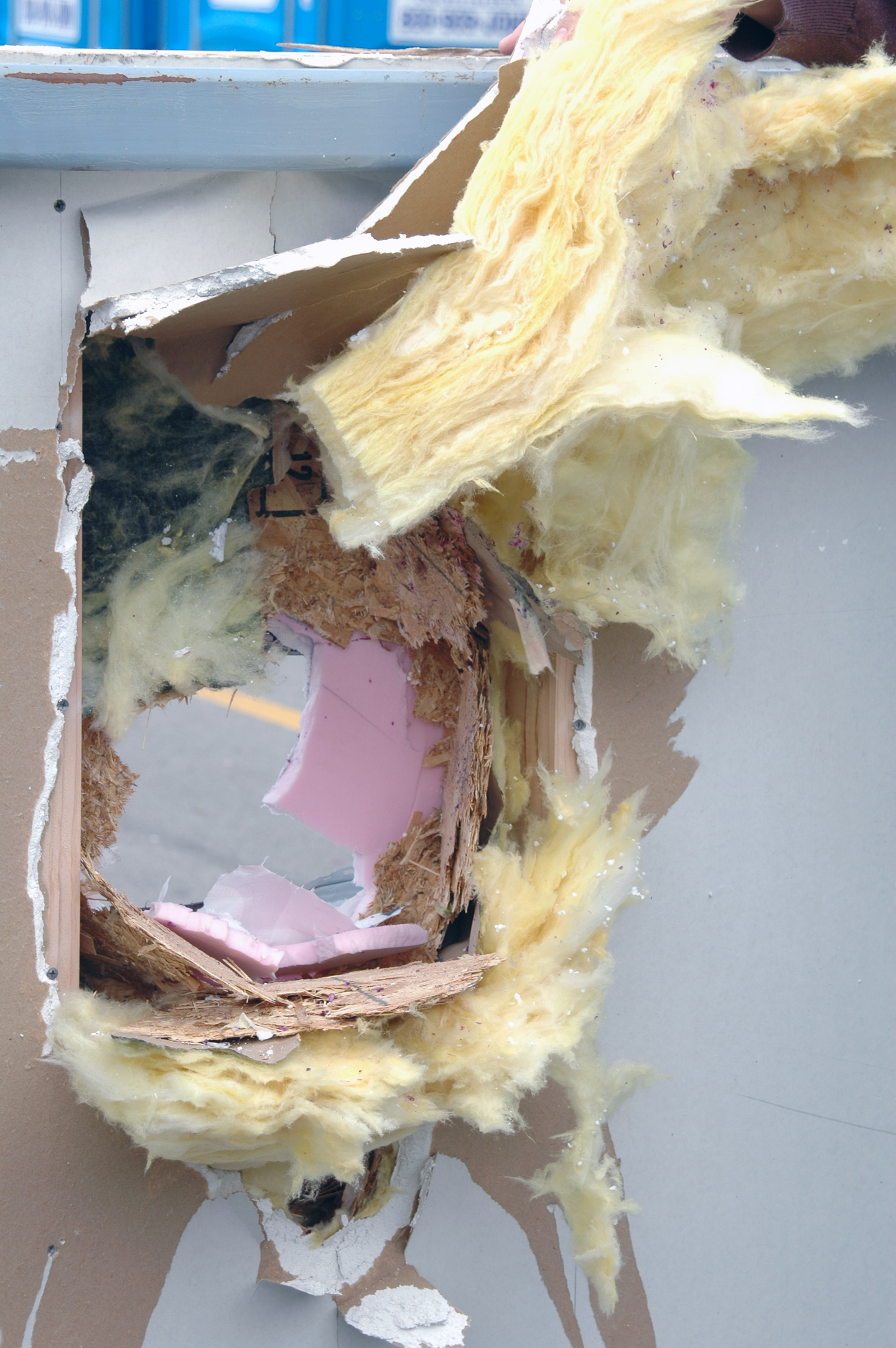 Damage in extreme wind events is also the result of flying debris. Shown here a 10-ft. 2x4 traveling at nearly 100 mph hurricane force easily passes through a wood wall that included siding, 3/4-in. plywood, insulation and drywall, rendering inside rooms unsafe.Joe Nasvik
Marsh notes that Hurricane Michael, which made landfall on the Florida Panhandle in October 2018 with category 5 wind speeds as high as 160 miles per hour, approached tornado wind speeds. This single event took 74 lives and caused $25 billion in damage. 
Tornados. Unlike hurricanes, tornadoes focus tremendous energy on small areas and can ramp up very quickly and with very little warning. Tornadoes produce the highest wind speeds of all extreme weather events; the highest ever recorded being 302 mph in Moore, Okla. in 1999. However, tornado wind speed is usually estimated (not measured) based on the kind of damage it does and their path of destruction is often total. 
Marsh says the number of tornadoes we experience is roughly the same year after year, but the number of tornadoes over a short period of time is quickly rising. For example, in May 2019 there were over 500 tornadoes, more than in any May on record in the U.S. (there were only three days in the month without tornadoes). April 2011 still holds the record for the most tornadoes in any month. This month included the tornado super-outbreak of April 25-28 across much of the Southeast, with damage costs greater than $10 billion in today's dollars.
Rain and flooding. Like tornadoes, the number of days it rains is roughly the same each year, while the number of inches in a single rain event is increasing—particularly true for the central and southern states. Rain frequency escalates with increasing temperatures in the atmosphere, and higher air temperatures make it possible for the air to hold larger amounts of water. Smith says the numbers of days per year that extreme rainfall causes flooding is increasing, and this trend will continue.
Unfortunately,  a vast number of people in the U.S. don't have flood insurance because they mistakenly believe floods are covered by standard home insurance policies or are cost prohibitive. As a result, an increasing number of people fall into a deep financial hole when their homes are flooded. 
Flooding is even worse in drought areas where the soil becomes hard and less permeable or in urban areas where less water is absorbed into the ground and runs off. 
Straight-line winds. In addition to tornadoes, a more common and widespread hazard from severe thunderstorms is straight-line, high winds. NOAA's Storm Prediction Center collects daily reports of thunderstorm high winds, often 50 knots (58 mph) or greater that cause damage to life or property. Marsh says the damage caused by straight-line winds, as well as other extreme weather events, is increasing due to growing population centers. Previously, farmland and open spaces where damage occurred as the result of extreme weather went unnoticed and unreported, but many of these areas are now residential communities.
Fires. Wildfires cause huge amounts of damage for a variety of reasons. The costs of wildfires in western states rose significantly from $18 billion in 2017 to $24 billion in 2018, and they will continue to increase every year. There is no longer a "fire season" in the west; it is now a year-long continuous event.
Most wildfire damage is confined to the arid western states, although they also affect some southern and central states. Marsh says drought and high temperatures are a key component because they create ideal fire conditions, but there are other contributing factors. The west is affected by insects and beetles that kill trees and leave them standing in a fire-ready condition and, due to the increased number of warmer days per year, their breeding season is extended. Smith adds that in California it is estimated there are more than 100 million standing dead trees, and the state is challenged to deal with the enormity of the situation. 
Expanding population—commonly known as the Wildland-Urban Interface (WUI)—contributes to this problem too. The space between housing and forest growth is becoming non-existent; cities are growing into forests, making it easy for forest fires to burn down communities. 
Oddly enough, rain can be a cause for increased fires in drought areas too. Increased rain causes brush and combustible material to grow quickly. Then when drought conditions return, the increased fuel supports fast-moving wildfires. 
Drought conditions can also cause rain to evaporate before it hits the ground, while lightening does make it to the ground. 
Building More Resilient Homes
Evan Reis, a structural engineer and the executive director and co-founder of the U.S. Resiliency Council based in the San Francisco Bay area, argues that it isn't enough for homes or buildings to be "green," they should also:
Provide safe haven for occupants during extreme weather events
Be robust enough to survive severe weather events
Allow people to move back into their homes shortly after a catastrophic event and go on with their lives
Not be located in marginal areas such as flood plains
 "It is unfortunate to watch someone's home completely destroyed by fire or tornado and then see them rebuild using the same material and building practices that got them in trouble the first time," Reis says.
But, he suspects owner decisions aren't so much the result of structural ignorance as their concern for time and money. "They don't want to pay more, and they want speed. People think more about architecture and amenities than they do about engineering and structure," he adds.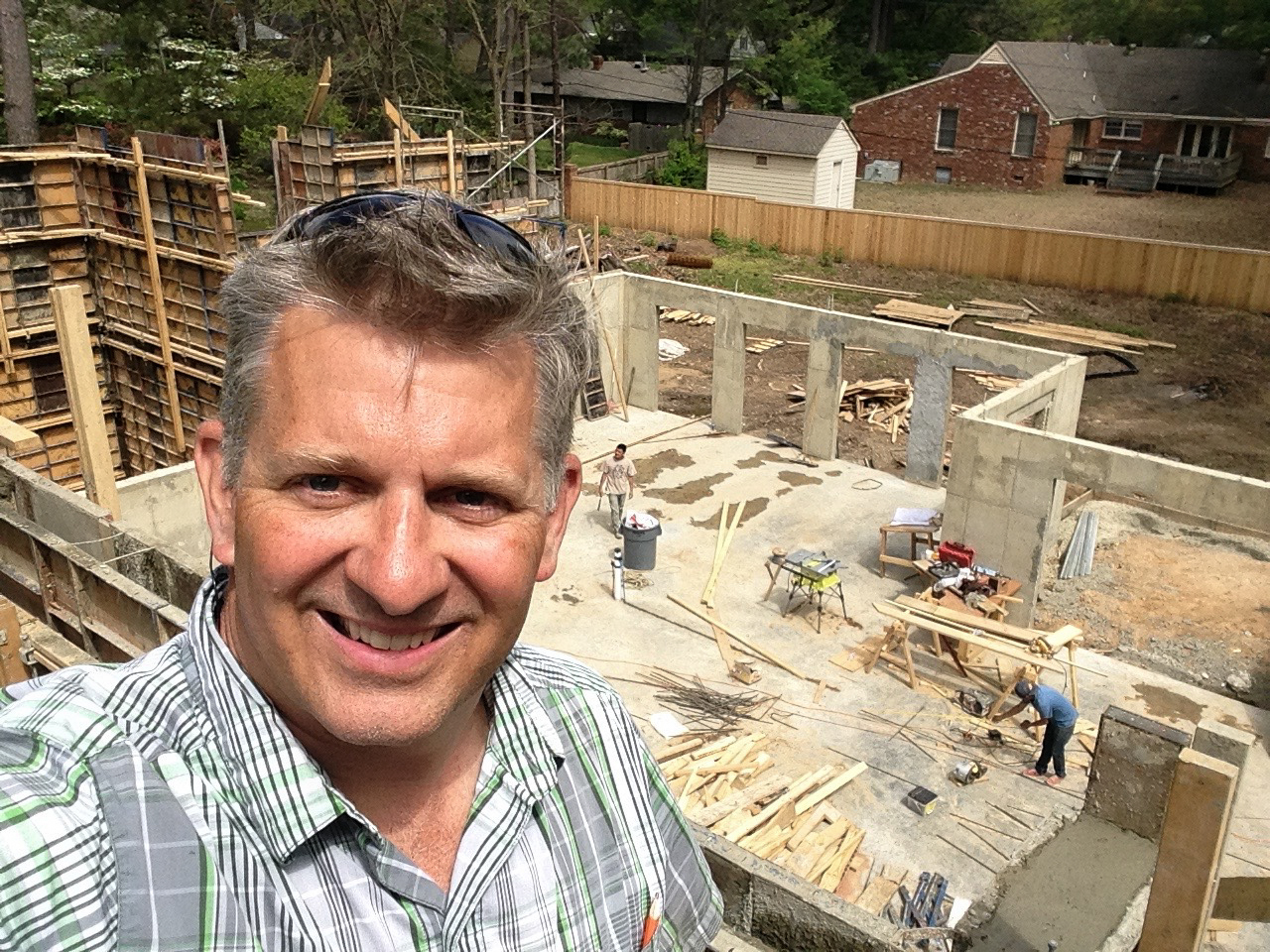 Eric Tabor and his company, The Elm Group, are focusing on constructing the exterior walls of new homes with concrete. His goal is to provide affordable structures that can resist the most violent extreme weather events.Eric Tabor
These days Reis believes that other partners involved in the construction of a house or building are more concerned about resiliency than owners. For instance, bankers and insurance companies share financial risks with owners in the event of an extreme weather event. Reis encourages these other partners to offer financial incentives for resilient construction in order to lower their long-term risks. He is also working on a pilot program with the federal government that will offer a "resilient building" credit that lowers mortgage rates to owners of resilient structures. 
The U.S. Resiliency Council advocates for well-engineered structures built with resilient materials. Concrete is high on the list because it can withstand all extreme weather events when engineered properly. Reis thinks the concrete industry should play to its strengths. For one, it is a monolithic material, while wood must depend on hundreds or thousands of connections. Concretes significant mass helps it perform better in hurricanes and tornadoes too. In addition, concrete is naturally fire resistant, rot-proof, insect proof, doesn't support fungus or algae growth, is structurally strong, is a slow conductor of energy, and can be engineered to meet almost any need. 
Marketing efforts against concrete point to the amount of CO2 produced in the manufacture of portland cement, claiming that concrete produces more CO2 than any other material. But the National Ready-mix Concrete Association (NRMCA) quotes studies showing the energy needed to produce concrete is less than for wood or steel. Also, portland cement is typically only about 10% of the mass of concrete; large and small aggregate is about 61%, so its carbon footprint is small. It's also common to replace 20% or more of the portland cement in a mix with pozzolan by-products such as fly ash and slag, which are carbon neutral. 
Another major advantage that concrete structures have is their thermal efficiency. Air doesn't move through a concrete wall, heat movement through concrete is slow, and concrete acts like a heat sink, storing energy when temperatures rise and giving it off when temperatures fall. Over time, typical concrete buildings produce less CO2 than those built with other materials such as wood. 
Concrete can withstand all extreme weather forces,  including the Earth's most powerful wind forces, while providing safety for building occupants. 
Promoting Concrete Homes
While the argument for building concrete homes is strong, support from the industry is lacking. Concrete industry associations and representative organizations historically have taken positions against marketing concrete as a material because they don't see marketing as part of their mission. At the same time, the wood industry, raises multi-million dollar funds to market "the natural beauty and warmth of wood," structural wood high-rise buildings, and code changes favoring wood construction.
So who should market concrete homes? The list of groups that could market concrete home construction include the Portland Cement Producers, associations and concrete organizations, bodies responsible for building code development, and concrete contractors themselves.
Eric Tabor, owner of the Elm Group, a construction company located in Memphis, Tenn., is one such contractor working to raise awareness. He is especially interested in building more resilient homes. His company is often involved on projects as a general contractor, but they also specialize in concrete construction work, building custom concrete homes and concrete exterior walls for other contractors who then complete the construction of the house.
Because the demand for concrete homes in Memphis is low, Tabor has also established an office and secured a contractors license in Florida where hurricanes, floods, termites and fungus that cause wood to rot make the state a thriving market for concrete homes. Building codes in the state also require that structures be able to withstand wind damage from extreme weather events, and these requirements continue to change as storms get stronger.
Tabor believes that homeowners often don't understand the need for resilient home construction, but other parties to home ownership such as bankers do because their loans are less risky. At the same time the requirements for wood construction have gone up, making construction more costly.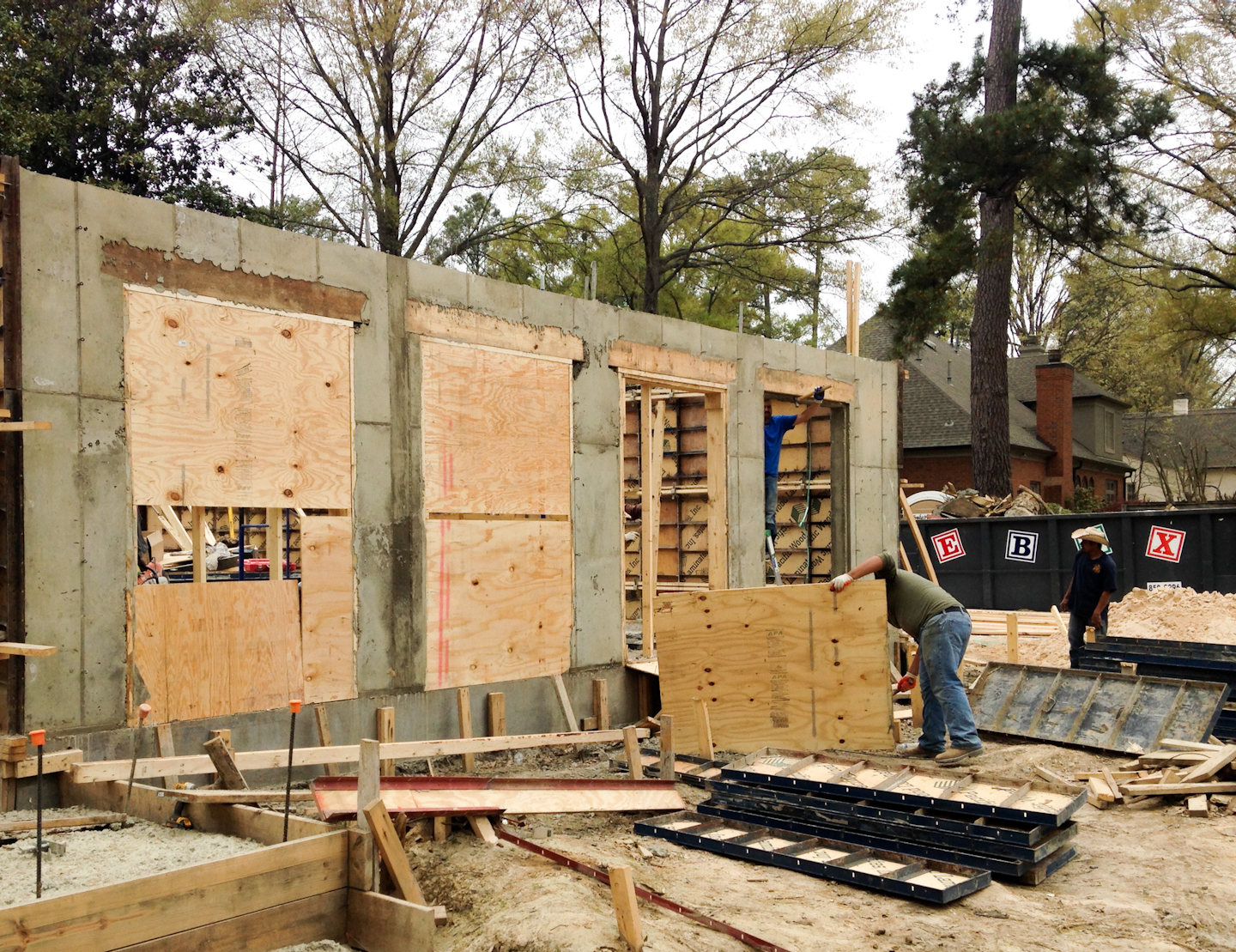 By concentrating on the exterior walls of homes as a subcontractor Tabor hopes to complete work on over 300 homes in the 2019 season.Eric Tabor
Since opening an office in Florida, Tabor has seen a lot of interest, especially from architects. He says they are very busy now and are moving into the Mexico Beach area where Hurricane Michael did so much damage.
Tabor notes that his company's experience with concrete and building concrete houses has increased his productivity, giving him expertise that has been lost in this market. "I want to build low maintenance homes that don't cost too much. I'm out to make a difference in quality, and money isn't the most important thing in my life," he says.
Currently he can build a custom home that includes slab, walls, framing, doors and snap in windows in the same amount of time as wood framers.
In addition, the Elm Group has worked out its own concrete mixes, aimed at increased resiliency, reduced honeycombing and speedy installation. They typically build engineered walls in affordable homes 6 in. thick, custom home walls at 8 in. thick, and cold climate sandwich panel walls with insulation in the center at 10-in. thicknesses.
"My goal is to build walls that can meet the requirements for the storm that will never happen," Tabor says.
Florida has some of the strongest wind code requirements in the country, and while Tabor says his walls exceed these codes by 70%, "it is often flying debris that does the most damage in extreme wind events."
Where to Go from Here
Albert Einstein is attributed as defining insanity as: "Doing the same thing over and over again, expecting different results." That has been the pattern in this country with home construction. We rebuild wood homes that have been demolished by hurricanes, floods, tornadoes and fire with wood—the same material that couldn't resist extreme weather events the first time. This results in the loss of human life and the destruction of diminishing resources. Building resilient homes is more important than building green or sustainable ones as we head in the direction of even more extreme weather. We must build better homes that protect human life.
Change is needed on many fronts: better building codes, restrictions on where homes can be built, helping owners understand structure and materials, increasing contractor productivity to make concrete homes more affordable, and marketing the value of concrete to the public.
Tabor's approach to creating more interest in concrete homes is to continue increasing his productivity, ultimately making homes more affordable. Other resources include the organization Concrete Housing Insight, located in Raleigh, N.C. It was founded by David Pfanmiller after being part of the concrete home building industry for many years to encourage concrete contractors to get involved in concrete home building and be a resource for them. He believes combinations of cast-in-place techniques along with precast concrete offer solutions.
But how does one grow an industry? Do you create a market first and then the ability to supply the product? Or is it best to develop a product and train the workforce first? For now, Tabor believes growing the companies and the workforce to build affordable concrete homes is the best approach.