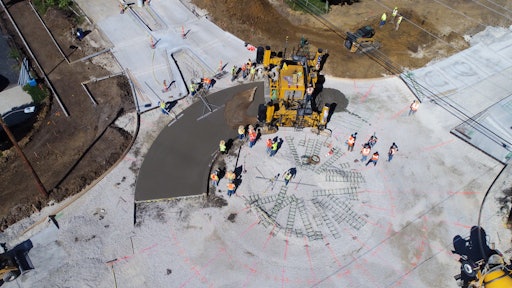 GOMACO
Finding the right concrete paver for your fleet isn't always an easy process. There are numerous factors that go into the selection process, including the types of projects, jobsite conditions, paver capabilities and more. But for E&F Paving Company LLC, versatility is the primary factor in paver selection.
E&F Paving specializes in concrete paving, performing projects in the Cedar Rapids metro and Lynn County, IA, area. Its work is primarily in municipalities and commercial developments, but it also gets into county and state work.
When the contractor set out to add a new paver to its fleet, it had a good idea of what was needed in mind. "During the process of trying to find the right paver to upgrade the fleet, it was more about versatility," says Kevin Hogan, vice president, E&F Paving. "What machine can we do the most with and knowing that it will have to be changed a lot?"
E&F Paving has made a name for itself as a highly versatile, diverse paving operation. "During the course of a year, we see many different situations for a paver," Hogan comments. "Choosing a paver that could give us that versatility, be able to get in and out of jobsites — there was a lot to take into consideration. Having some background and familiarity with GOMACO equipment was a helpful portion of choosing the product we did and knowing what we would be capable of doing."
Flexibility Required
The product Hogan is referring to is a GOMACO GP3 slipform paver, which is capable of paving up to 30 ft. and accommodating multiple width changes. It includes the G+ control system, which easily interfaces with either stringline or 3D machine guidance.
E&F Paving chose to go with the four-track version of the GP3. "Traditionally, a lot of people would think a two-track paver would work better for municipality projects," Hogan acknowledges. "But until you've been fortunate enough to have been in different situations and been able to utilize a four-track machine, it is so much easier and feasible and capable of so much more than a two-track. Obviously, you can get different sizes of that, but this one is right in the sweet spot for us.
"For me, personally," he adds, "it would be hard to look at any new paver and say I wanted to do a two-track."
E&F Paving chose to run a Topcon 3D system on the paver. "We had many different pieces of equipment that all used the Topcon, so it was just a logical choice to keep everything married up. We do a lot of swapping of equipment from one thing to another — ground gear and all that — so it's just easier to stay on one platform," says Hogan.
The contractor has used the GP3 on projects involving as much as a 50-ft. inside radius down to an 18-ft. radius. "Some of the bigger [projects] have an inside driveable apron," says Hogan, adding, "We've been able to pour that inside apron also with the machine."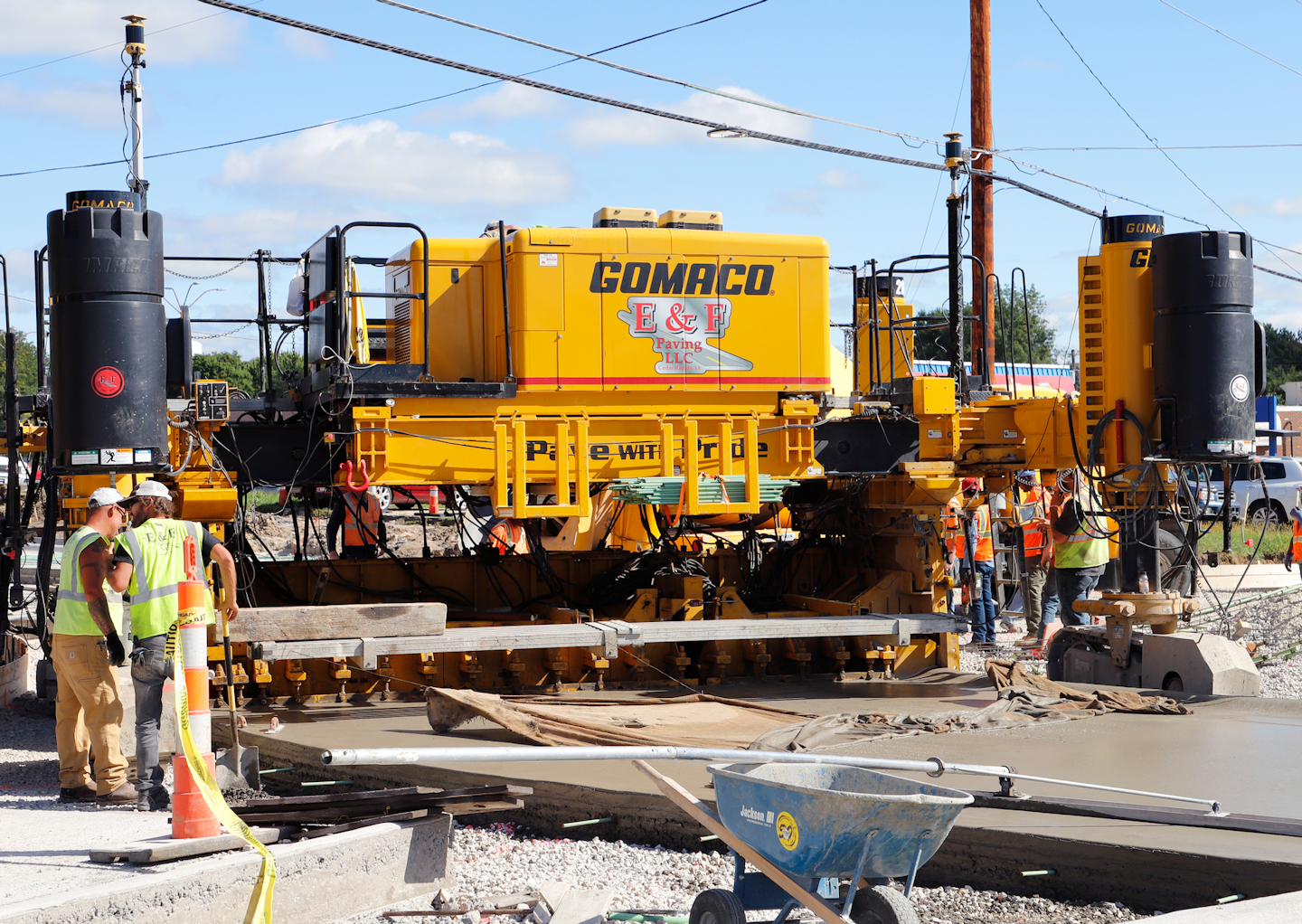 E&F Paving is using a GOMACO GP3 slipform paver, which is capable of paving up to 30 ft. and accommodating multiple width changes.GOMACOThe GP3 has been used on widths from 16 on up to 30 ft., but has averaged in the 24- to 26-ft. range in the past year. "The guys aren't constantly changing from one week to the next, but more than anything we've learned how to pave different widths in different scenarios with one machine. Everything is paveable, but everything doesn't need to be paved with a full-width machine," says Hogan.
"The complexity of a couple of the projects we've been on the last couple of years has given our guys the opportunity to grow more than most people would see in five years, in my opinion," Hogan asserts. "There hasn't been very much where we just say: 'Let's do this, it's all plain Jane.' That really makes your people grow in the machine [operation] so much faster and become so much more valuable."
The Roundabout Way
In addition to larger paving jobs, E&F Paving has become "expert" in paving roundabouts due to the volume of projects in the area over the past decade. "We're just fortunate that the Cedar Rapids metro area has been progressive in the roundabout configuration," says Hogan.
"One of the municipalities did one a few years back that we got on. It was a very difficult one and we had a two-track [paver] at that time," Hogan notes. Completion of that project helped in pleading the case for the four-track GP3. "Fortunately for us, our owners listened to us and took our decisions/recommendations and led us this direction."
E&F Paving now completes roundabouts of all types. "I don't know if we're experts but we've done enough of them... We've done big ones down to the small ones and everything in between," says Hogan. "Each roundabout has its own quirks to it. "
Most roundabouts include a drive-over curb, though one project called for a 6-in. stand-up standard curb.
"One we were on, when we pulled up on that site, we could only wonder... how are they going to get the paver around that? There's just not enough room for everything," Hogan recalls. "That one was the smallest one we've done, so it had it's own difficulties and tight configuration. Logistically, the city didn't have much more options. They couldn't acquire more property to make it much bigger."
E&F Paving relies on its skilled team to prepare for jobs like that. "We have a good group of people. Everyone knows what's going to happen as things start progressing and we have good management. It's just progressions," Hogan explains."We buy ready-mix but we work with the same supplier and we've got a routine with them and that helps. They have an idea of what we're doing before we do it... If you're constantly using a different supplier, trucking can be a complex headache that no one wants to really deal with."
Taking Control
The current operator of the GP3 has become very familiar with the G+ control system. "It's the only system he's ever known," says Hogan. "Fortunately or unfortunately, however you want to see it, he hasn't had to grow through the years of analog into the micro system. He was able to jump right into G+."
The versatility of the G+ system is another advantage of the paver. Even after three years, the operators are learning additional things it can do to help them on projects.
While Hogan admits there is a lot to learn about the system's capabilities, he says it just requires an open mind. "It's not so complicated that only certain people get on there and can understand it," he says. "It's just open mindedness more than anything."
The G+ system is used primarily along with the Topcon 3D system, though occasionally stringline paving is required. "It's few and far between — not very often, but often enough to remind the guys that they're better at stringless than they are string," Hogan laughs. "Hopefully, we can keep getting the work that we want and we can keep it that way, but you never know. It's a competitive market out there and there's a lot of people that probably have the same idea."
Overall, Hogan has been extremely happy with the GP3's performance and looks forward to using it on future projects. "We have another state project next year that's very complex," he notes. "We have a couple of complex, multi-phase jobs with temporary pavement and half-width stuff and then a little bit of full-width. There's some big reconstructions coming along, too, so it sounds like a very promising season ahead."