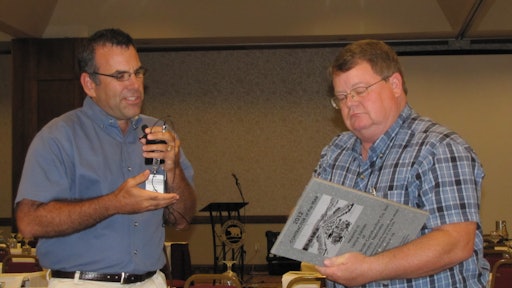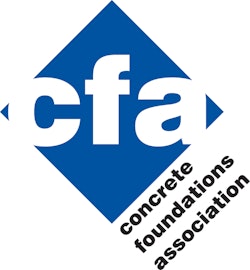 The Concrete Foundation Association (CFA) announces the presentation of its 2012 Contractor of the Year Award to Lance Jordan, chairman of Stephens & Smith Construction Co., Inc. of Omaha and Lincoln, Neb. Jordan has been a member of CFA for over a decade. He served as a Board member for a 3-year term ending last year. He was nominated for this prestigious award for his leadership in a CFA position on OSHA's residential fall protection regulation that became effective earlier this year.
"I am very humbled to be recognized by our 'peer companies' who are members of the CFA," Jordan states. "For well over 30 years we have admired many of the CFA companies and their owner/managers. In fact we have tried to duplicate many of their processes and systems, which we felt fit our own business model. The CFA and its members definitely have set the standards of quality, excellence and professionalism for the cast-in-place foundation industry."
The annual award recognizes the contributions of a poured wall contractor to the industry. This year's award was presented at the CFA Summer Convention held on Jul. 26-29 in Acme, Mich., at the Grand Traverse Resort.
According to Jim Baty, technical director of the CFA, Jordan's dedication to the Association and commitment to a leadership position within their region inspired a major effort undertaken this year to educate and assist contractors to be prepared as conscientious employers.
"Lance exemplified what we see in the legacy of many great CFA leaders," Baty states. "When faced with the challenge of a significant business risk that would completely change their proven safe-working culture, Lance and his company formed an alliance first within their region and then opened up their effort to national attention. He quietly but quickly assumed a leadership role that led our industry into communications with key OSHA officials both regionally and nationally to fully understand the implications of their latest directives to an industry where little, if any, technical advances were being made."
The focus was on the Occupational Safety & Health Association's (OSHA) reversal of a decade-old position exempting residential foundation construction from requiring active fall protection systems. The exemption from 2001, had allowed foundation companies along with other residential constructions, to continue protecting their workforce through education. The reversal was founded on evidence that work-related injuries and deaths were not being reduced and were even on the rise. The exception to this trend was the residential concrete foundation industry where a perfect safety record for the past three years had been logged and only one fatality in the past five years. In addition, Lance and many others in the industry felt that the technology presently available to companies placed workers at greater risk or hazard for both falls and physical stress, thus potentially increasing the problem rather than reducing it.
"Based upon elevated death rates for residential construction and the continued technological advances that have occurred in the construction safety industry over the past 10 years, it is easy to understand why OSHA felt the need to remove the blanket exemption for fall protection, as it relates to residential construction," states Mary Wilson, President of Michel Concrete Company from Springfield, Ill. a member of the CFA Board and lecturer on the topic of fall protection systems for residential concrete. "However, because there have been no technological advances regarding safety equipment for concrete foundation construction, since the initial OSHA exemption, and because contractors have been very successful protecting their workforce through implementation of OSHA supported alternative fall protection measures, the rational for initially exempting residential foundation construction from the conventional fall protection requirement is still valid. Lance has worked very hard to make sure the "right people" are aware of this fact, and hopefully his efforts will result in a concrete specific standard, regarding fall protection.
Founded in 1971, Stephens & Smith Construction Company has been providing concrete solutions as a full service concrete contractor in the Lincoln and Omaha Metro area committed to delivering a superior product and the highest level of service to their customers. They provide services that cover the width and breadth of all things concrete including residential, commercial and industrial concrete construction of any size. Stephens & Smith Construction Company is employee owned, with over 200 employee owners allowing them to offer the personal attention of a company owner on every project.
When asked about the value of the CFA and why he and his company have contributed so much to the collective effort, Jordan had this to say: "The CFA has contributed immensely to the growth of our company. The CFA and its members have always seemed to be on the 'cutting edge' of new technologies and pertinent current issues that affect our industry. The CFA organization itself has helped us come to terms with such issues as Cold Weather Concreting, Contractor Certification, job site safety, insurance and labor law. Also, the individual CFA members, over the years, have given us guidance in the selection and usage of new technologies such as crane systems, computer assisted drafting, surveying and robotic total stations. At the conventions, the CFA vendor members have always demonstrated to us innovative forming techniques, new foundation components, equipment and related processes. All of these, I believe, have contributed to the continued success of our company, over the last three decades. The least we could do was offer our effort at this influential problem and leverage the relationships we were building."