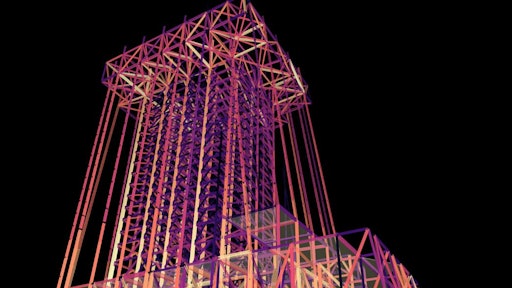 Thornton Thomasetti

Thornton Tomasetti and TestFit have partnered to create an application programming interface (API) that connects the two companies' software platforms to solve design challenges. 
Thornton Tomasetti used its CORE Studio Asterisk structural engineering software to integrate with TestFit's design and visualization platform. 
The integration aims to take on a variety of design issues using generative design, computational geometry and artificial intelligence. For example, an architect or developer contemplating the design of a parking garage might want to optimize the sizing of columns to maximize the amount of parking stalls in that garage.
Laying out the design in TestFit, the user can get an instant answer via the knowledge embedded in Thornton Tomasetti's Asterisk Structural AI. The user can then see how the columns' width and shape would change as variables are modified, a task that previously would have required a coordination meeting, adding costs and delays to the project.
The column-width AI for parking structures is available now, with many more collaborations planned in the future.
"Using the API to link the knowledge represented by TestFit and Asterisk results in processes that are a hundred times faster than today's standard,"  says Thornton Tomasetti's Rob Otani, senior principal and chief technology officer. "This is just a hint of what we believe is to come with this partnership, resulting in far more efficient, reliable and proven solutions to architectural challenges, all while driving down costs by saving time and effort."
TestFit has expanded its multifamily housing customer footprint in architectural, real estate developer and general contractor markets with its solution for rapid design in feasibility studies without the need for generative design programming knowledge, essentially cutting out the need for designers to use cumbersome visual design tools. 
"It reinforces our conviction that our approach to generative design is the wave of the future," says TestFit CEO Clifton Harness.