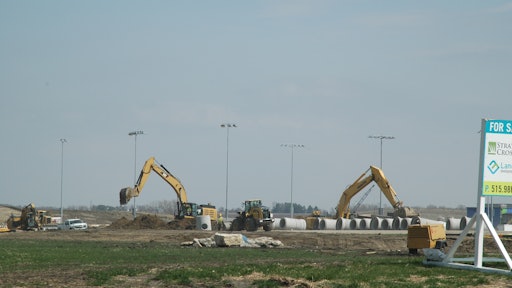 During a contractor panel at the Associated Equipment Distributors' (AED) Annual Summit in January, representatives from three well-established and diverse construction businesses shared their views on fleet management and proved there are several different ways to successfully approach it. The companies represented included Tarlton Corp., a St. Louis-based general contractor and construction management provider; Williams Brothers Construction Company, a bridge and highway contractor located in Houston, TX; and Power Construction Company, which serves the multifamily, healthcare, senior living, education, office, hospitality, industrial, retail, aviation and individual luxury single-family and condominium residence markets in Chicago, IL.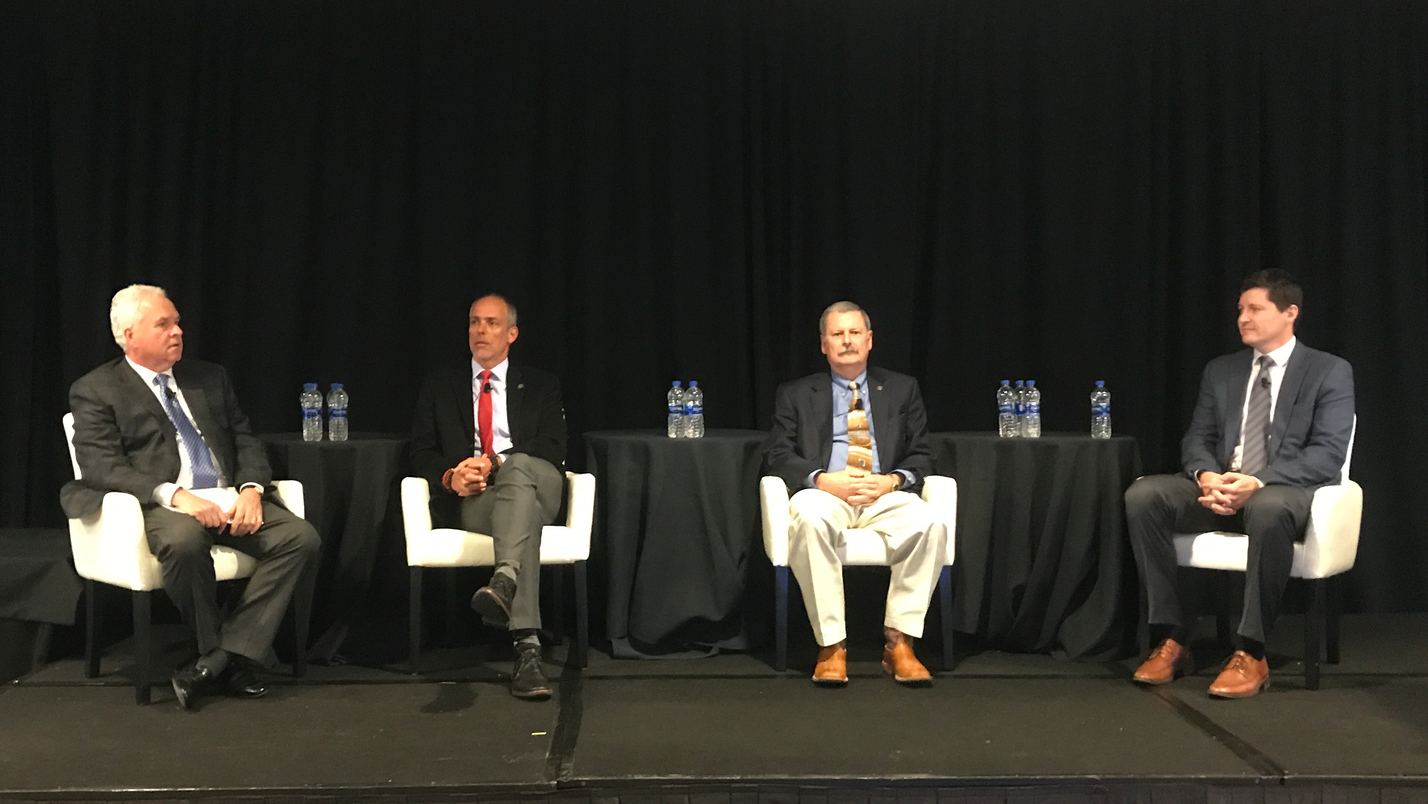 Dirk Elsperman, COO/Executive Vice President, Tarlton Corp.; Bob Lanham, President, Williams Brothers Construction and Brian Herold, Controller, Power Construction Company represent diversified construction companies and approaches to fleet management.Each of these successful businesses has their own approach to how they run their operations and manage their equipment fleets. This includes unique choices related to subcontracting, which can influence fleet management.
Tarlton Corp. uses a mix of self-performed work and subcontractors. "We do about $200 million a year in general contracting work, whether it's high-end construction management or self-performed work," says Dirk Elsperman, COO/executive vice president. "We do about 40% of our work with our own forces. We also have a subcontractor that does carpentry work. They are doing about $30 million of work with about 100 carpenters."
Williams Brothers Construction self-performs a large percentage of its business and is focused on Department of Transportation work. "We were a 65-year-old bridge contractor and we evolved into road work," says Bob Lanham, president. "We're averaging about $600 million a year in gross sales." About 75% to 80% of this work is self-performed. "We don't get into municipal roads and bridges. We stay with the interstate class type of construction."
Power Construction is a diversified company that provides construction management, general contracting, Integrated Project Delivery (IPD), design/build and Public-Private-Partnership (P3) methodologies. "We have a self-performing concrete division," adds Brian Herold, controller.
Companies that self-perform a large percentage of their work often have different equipment needs than those that subcontract larger percentages of a project. They place a priority on equipment solutions that can help them become more efficient.
Equipment Acquisition Strategies
The companies represented on the panel have vastly different tactics when it comes to equipment acquisition, with some favoring the traditional ownership strategy and others relying more on the flexibility of rental solutions.
Williams Brothers finds it advantageous to largely own its fleet. "We will sometimes lease, but almost all of our leases or rentals are with the purchase option," says Lanham. "We believe in our own fleet. That has been the approach since the beginning of the company. It has served us well."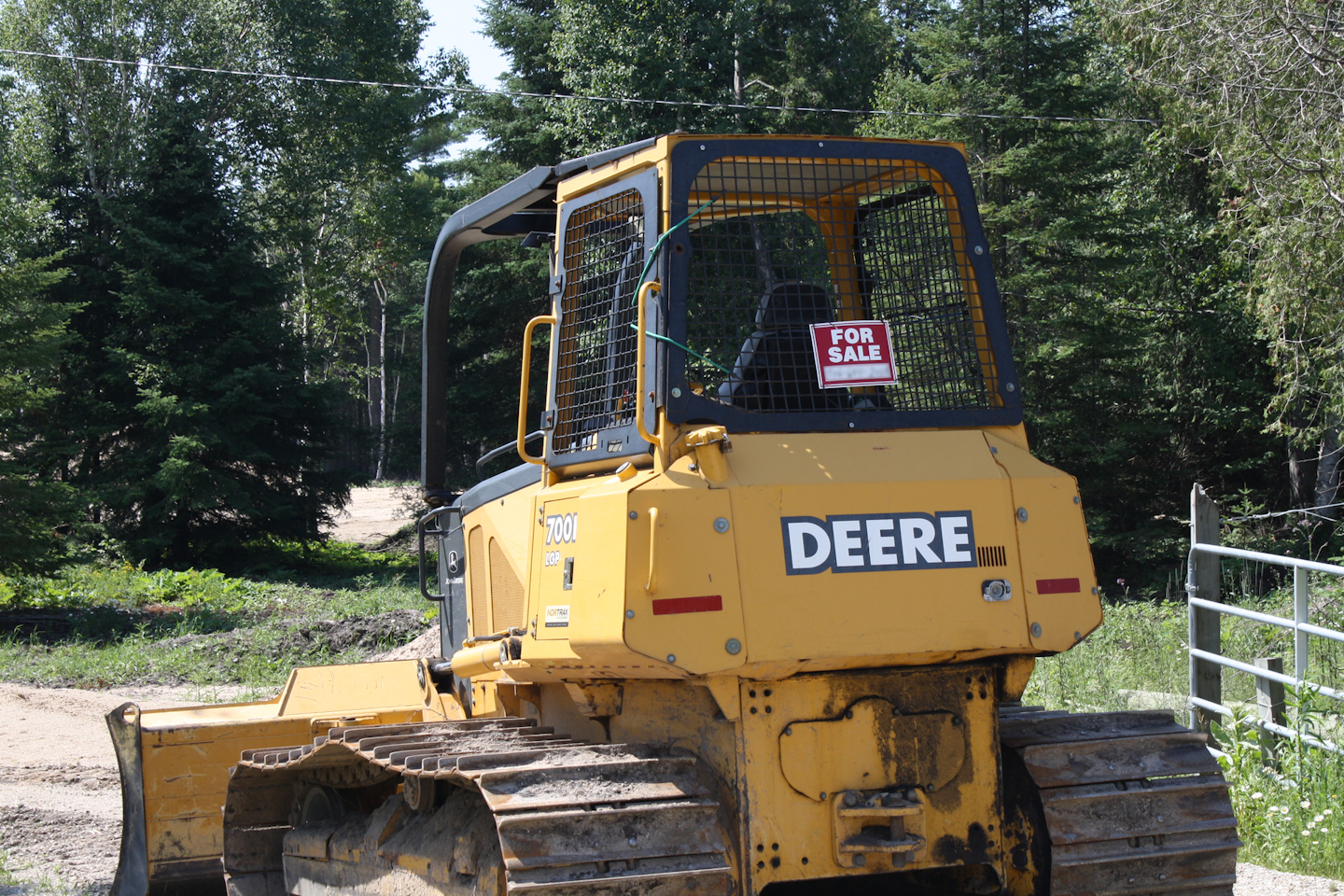 The contractors on the panel were particular about buying used equipment. Most would only consider lightly used machines where the history could be traced. Used was also viewed as a good option for equipment that may only be used for a specific job.While the majority of equipment purchased is new, Williams Brothers will turn to the used equipment market for specialized applications. "We will buy on resale if there's specialized pieces of equipment that will likely not have a home when the project is over," says Lanham. "We look at everything from a standpoint of how it impacts the cash position. Net quick cash is how you generate your bonding and bidding capacity. So, how you purchase that equipment affects your cash position. It affects your ability to go get additional work."
That realization drove the Williams Brothers' purchase decision for off-road dump trucks to complete a very large earthmoving project. It purchased new excavators to complete the project, but the off-road dump trucks were all purchased used. "In Houston, TX, I will not need off-road dumps ever again, so I bought those used on the resale market," says Lanham. "I will not have an application for them."
Williams Brothers does use rental when absolutely necessary. "We rent from time to time," says Lanham. "We'll get in short-term jams and need equipment for a short window." This can be caused when equipment goes down or the company needs to run a double shift. "But almost always when we look at those [units], we will try to get a purchase option on those rentals, as well."
By contrast, Power Construction Company has a good mix of owned vs. rented equipment. This provides the contractor with its desired flexibility. The utilization factor of the equipment over a three- to five-year time horizon plays into the decision of whether to purchase or rent. "If we can't sustain the utilization of that equipment over a certain threshold, it probably doesn't make sense [to purchase], so we continue to rent," says Herold.
Rental does cost a little more in the short term. "The margins aren't as strong, but I don't present a risk to the company of making that outlay and not being able to utilize the equipment," Herold explains. "We've been very successful by being conservative."
Power Construction realizes the value of newer machines and tends to shy away from purchasing used. Any used machines are carefully scrutinized. "We want to know who used it and for what purpose before we buy anything used," says Herold.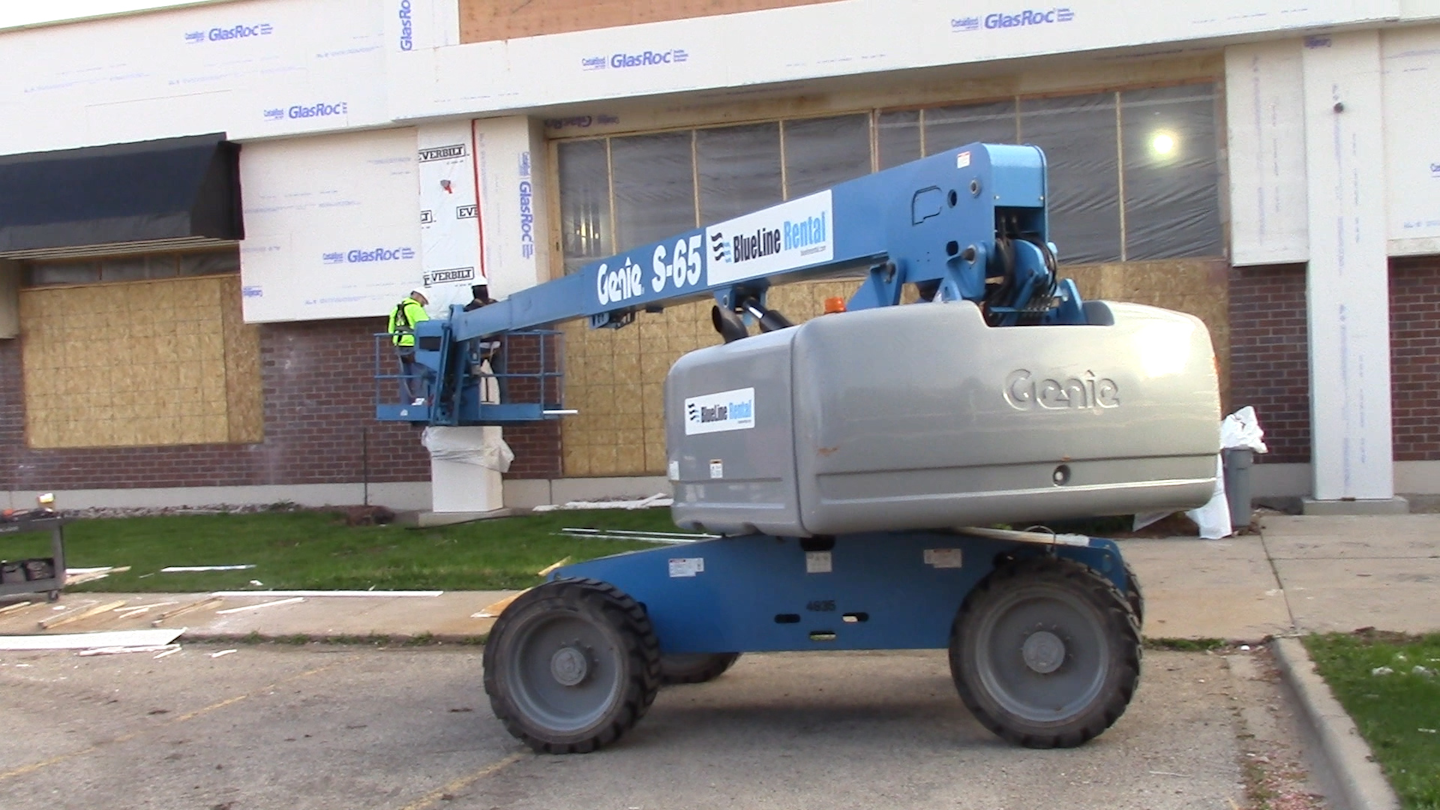 While each of the panelists shared a different view on rental, they acknowledge it can allow you to select the right tool for the job instead of trying to use what is currently in your fleet. Renting with a purchase option was also a popular choice.Tarlton Corp.'s fleet size and percentage of rental vs. owned fluctuates with workflow. "One time it might be 60/40 owned vs. rental. Another time it might be 40/60," notes Elsperman. "We have a fleet of cranes that we use to serve our projects. We have some limited earthmoving equipment and more specialized excavation units." The company has also utilized rental purchase options. "We do that because of the uncertainty. If another job comes in, we can go in and purchase the unit; but if it doesn't, we can let it go."
Tarlton Corp.'s views on rental have evolved. The company used to purchase the types of equipment it would use every day. "But as the rental market changed, we shifted our strategy. The cranes and larger excavators that we use on a job we went to renting because we could get exactly the right size," says Elsperman. While the company still owns some cranes, it now rents all of its tower cranes.
There can be a temptation to fit a crane to a job because it is already paid off and you are going to make money on it. Rental eliminates this temptation. "Let's get the one that you can rent that is the right size," says Elsperman.
When it does purchase, Tarlton Corp. relies heavily on new equipment. "We're probably 95% new, and if it's used, it's only gently used," says Elsperman.
Adapting Fleet Management to Changing Conditions
The construction market has witnessed unparalleled changes in recent years that require adjustment to how the equipment fleet is managed.
Compressed project timelines place an emphasis on maintenance. "We're putting more stress on equipment," says Lanham. "The nature of our projects is changing. We live in the internet-paced society where I want it right now. There is pressure to run faster. You work nights, too. So we are doubling down on hours." Missing a scheduled service can be a big problem. "Missing five days is actually missing 10 shifts because you missed the night shift, too." Consequently, maintenance becomes twice as important.
The high utilization rate it currently sees on the equipment is another reason Williams Brothers is looking to purchase vs. rent. The features on the equipment are also becoming more important as the company tries to attract younger workers. Lanham cites the example of transmissions in trucks, noting that some of the younger generation does not know how to operate a manual transmission.
Then there is the growing service technician shortage that will continue to change how equipment is maintained. Lanham says they are using every resource available in the Houston area. "I am using everybody who knows what they are doing, and they still can't keep up." One solution is to rely more on the operator. "There's a certain level of maintenance the operator needs to handle."
"We have our own shop and our own mechanics," says Tarlton's Elsperman. But finding technicians has been a real challenge. "That number has been dwindling and it's been harder to fill those spots."
As a result, Tarlton Corp. has had to start farming some of that work out to dealers and third-party service providers.
Technology Adoption Varies by Objective 
Most of the contractors on the AED panel have been using telematics on their on-road fleets and quote the benefits of location information, the ability to identify issues before they lead to downtime and routing efficiency. In addition, they emphasize the safety aspect of monitoring driver behavior.
On its on-road fleet, Williams Brothers is using telematics data to identify unsafe driver behavior and track machine health. In some select areas, telematics is starting to be used on off-road equipment that is getting higher than normal usage to ensure proper maintenance and to catch problems before they occur.
Tarlton Corp. has been using telematics on its on-road fleet for quite a while. "We started getting all the analytics on the vehicles and taking those analytics to our drivers," says Elsperman. "It really improved our safe driving scores with our drivers. Once you get the information, you have to use it from a safety standpoint."
Tarlton also sees the value of telematics for off road. "I would not say we are a power user of telematics with our off-road fleet, but we try to take advantage of it as much as possible," says Elsperman.
Yet, not all telematics equipment tracking technologies have gained universal acceptance. Monitoring driver behavior through telematics data can seem like Big Brother watching over an employee's shoulder.
"Power Construction Co.'s culture is to empower our employees — let them do their work," says Herold. "We shy away from any of those control mechanisms. I know that's the trend in the industry. You are going to see the driving habits and have GPS on vehicles. The data analytics is helpful to understand mileage and location."
But the company's culture is not supportive of moving toward such products. "We do have dashboards that support where the tools are to be able to coordinate that between projects, but not to the degree that I think telematics are designed for," says Herold.
Another tracking technology gaining widespread acceptance is dash cams that can record driving events. These cameras can be used to monitor what is going on inside the cab with a driver-facing camera and what is happening in front of the vehicle with a forward-facing camera.
Williams Brothers has experimented with dash cams. While the initial experience created logistical challenges due to the amount of video produced, the cameras have proven useful to protect drivers from being mistakenly cited in vehicular accidents. The police are able to view the footage and see exactly what happened.
"[Power Construction is] just about to implement our own program on forward-facing, not internal-facing [dash cams]," says Herold. "We had four incidents in the last year. We would have been much better off if we had that camera. One of the folks on our safety committee is a superintendent. He installed his own dash camera on his own vehicle that we gave to him to drive and said he would never go out without it on."