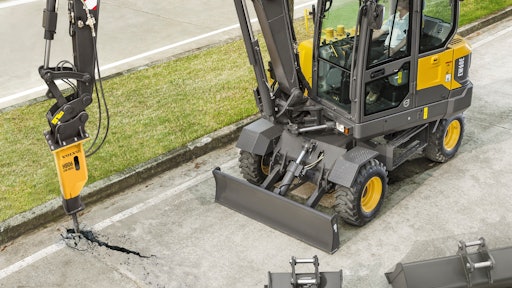 Volvo Construction Equipment
Compact wheeled excavators have been popular in Europe, however, they remain a rare commodity on many North American jobsites. But in the right applications, these machines offer many advantages over other machine forms, especially in crowded urban environments.
Currently, seven out of the 10 top states and provinces for unit sales of compact wheeled excavators are in the Northeast, including Canada, notes Peter Bigwood, general manager, Mecalac North America. Unlike Europe and Korea, which have seen an expanding market for these machines, North American regions outside of the Northeast have been slower to realize the benefits these machines can offer.
"The total number of wheeled excavators sold in North America the last several years has been more or less static," says Bigwood. "Globally, the growth in the wheeled excavator category has been steady and significant. There are obviously places where [they] are more popular than others. It should be no surprise that almost 100% of the wheeled excavators built in the world are built in Europe and South Korea."
Wacker Neuson

Machine Forms Evolve
Bigwood cites history as a reason to be optimistic about the future of the compact wheeled excavator in North America.
"If you look at the history of digging machines, it started with somebody slapping a digging arm on a tractor," he states. This introduced the concept of the modern tractor-loader-backhoe. Then, the concept of the compact excavator emerged. "It wasn't that long ago people were saying that will never fly here. Just over 10 years ago, at its peak, the number of backhoes sold was about 27,000. Today, it's about 9,000." In the last 20 years, excavator sales went from well under 10,000 to 36,000.
Bigwood explains, "One of the things a backhoe is good at is driving around the city from job to job. One of the things it is not good at is digging in front of itself and dumping behind itself while not taking up a lot of room in the process."
The compact tracked excavator has the ability to dig in front of itself and dump behind itself on crowded jobsites. The major drawback is travel speed.
"Most traditional excavators are crawling along at 3 mph," says Bigwood. "Enter the wheeled excavator, which can drive from place to place in a city. It doesn't need to be trailered, doesn't damage the street it's working on and can dig in front of itself and dump behind itself. It does everything a tracked excavator can do, but it can also do much of what a backhoe-loader can do."
The working radius of the compact wheeled excavator presents a distinct advantage. "When working in tight spaces, you may find it more difficult to maneuver a backhoe that only has a 180˚ working radius compared to 360˚ on a compact wheeled excavator like the Volvo EW60E," says John Comrie, product manager, compact wheel loaders and excavators, Volvo Construction Equipment. "The added flexibility allows more options to swing and dump material to load a truck without having to double handle material.
"Add to that the offset boom 70˚ left and 60˚ right, and you can really get into some tight areas that backhoes struggle to operate in," he continues. "Plus, working at a 70˚ offset allows the operator an unrestricted view to the bucket when trying to locate sensitive pipes and cables."
When trenching, the operator has to think about repositioning a backhoe. "But with a compact wheeled excavator that has a 360˚ working radius, you would simply lift the blade, hit reverse while still operating and, if you have the optional Steelwrist joysticks, the operator can do all this and steer without taking his hands off the joysticks," says Comrie.
For all of the reasons listed, Bigwood expects compact wheeled excavators to eventually gain more acceptance. "The evolution is absolutely going in that direction. We obviously have a hill to climb in North America," he acknowledges. "But if you look at the Northeast, there's nothing special about [that region] other than perhaps more urban settings. There's plenty of urban settings elsewhere in the U.S. and Canada where these units really do come into their own."
North American contractors operating in some of the most congested areas in the Northeast have proven the market validity of the compact wheeled excavator. "There are strong markets in North America for wheeled excavators, and in the size classes offered by Wacker Neuson (the 6.5- and 10-ton class). We see this particularly in the Northeastern United States and in Eastern Canada, Quebec in particular," says John Dotto, product application and training specialist, Wacker Neuson.
"It's in our oldest and most densely populated cities and regions where the utility of a rubber-tired excavator really shines," he points out. "In historically well-preserved cities like Boston and Montreal, you have parts of the city where cobblestone streets have existed for hundreds of years, and are still lovingly maintained in order to preserve our heritage. A small wheeled excavator can operate on these sites with a delicate footprint, yet still have the reach, depth, flexibility and stability to perform the necessary work to maintain and upgrade utilities."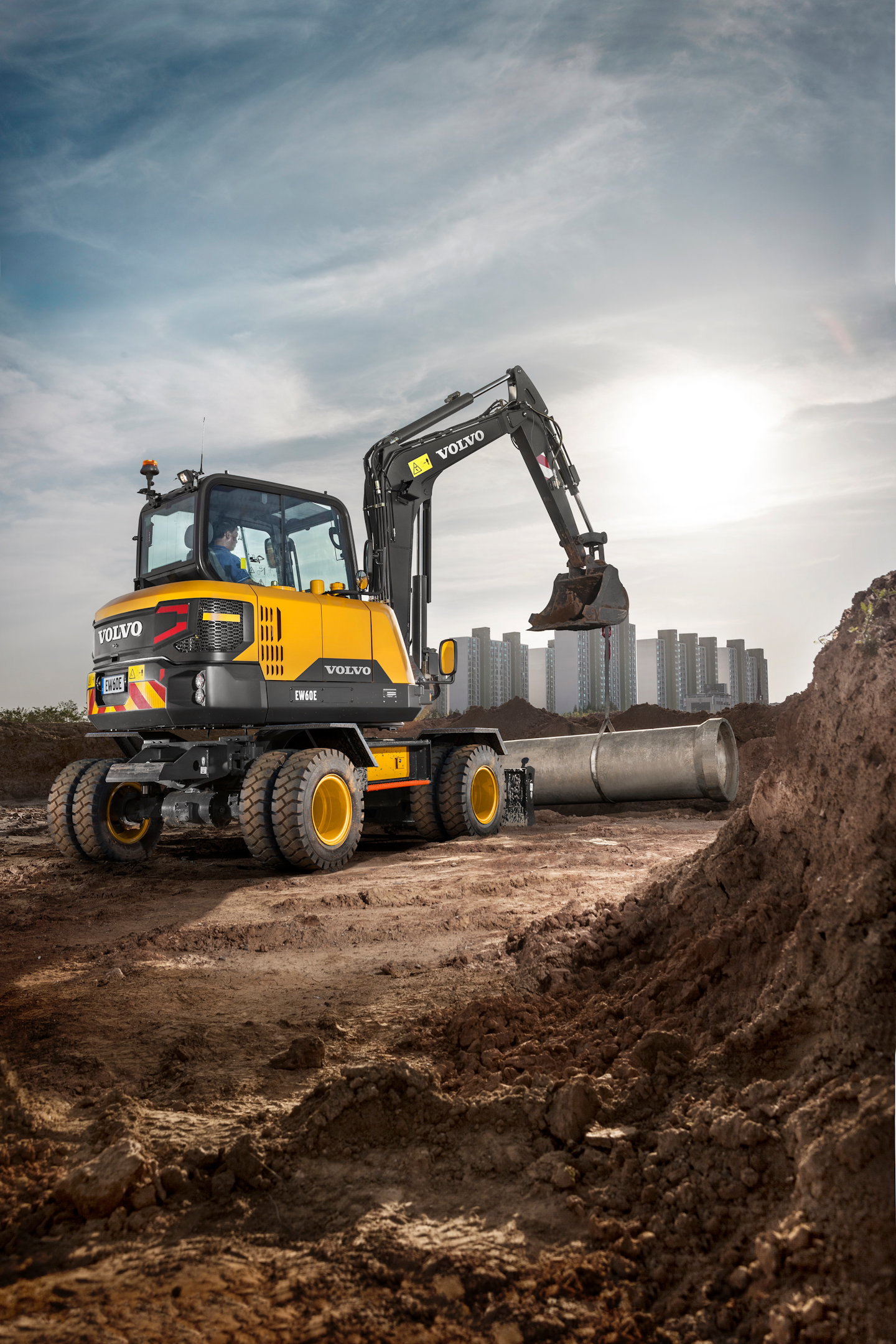 A common misconception about wheeled excavators is that you lose the stability of a crawler, but that simply is not the case with a good wheeled excavator. They can be every bit as stable as a comparable crawlerVolvo Construction Equipment
One of the key advantages is their high travel speeds and their unique ability to travel from jobsite to jobsite. These wheeled machines can reach speeds approaching 20 mph. This becomes a real advantage if your job requires covering long distances and you perform a mix of on- and off-road work. The ability to travel in a single lane of traffic can drastically reduce transportation costs.
"They've been popular in Europe for a few decades now because of the narrow streets and densely populated metro areas. It's easier to maneuver a compact wheeled excavator in and around these old buildings," says Comrie. "They are starting to take hold here, though, as contractors and government fleets increasingly recognize their versatility and speed. Common applications include ditch work, landscaping and utilities, as well as just about any job an excavator is needed for. The ability to travel on a road at high speed (19 mph) is a huge advantage."
Contractors need to get past their first impressions to really understand the various applications these machines can perform. "Because of their wheels, some people have tried to categorize them as a niche product for road work, but the reality is that they're used in a large number of applications," says Comrie. "Also, as more models are introduced, there will be even more options to suit customers' needs."
Reducing transportation costs is really a key advantage. "A benefit the wheeled excavator has in dense urban areas is the ability to cover ground quickly without the constant need to trailer the machine for relocation," notes Dotto. "Utility work and street repair are great applications for a mobile excavator, particularly on projects spanning several blocks. The ability of the machine to travel from site to site quickly allows the excavator to efficiently support ground crews that a slower tracked machine just can't, and with no need to worry about track scuffs on sensitive or decorative paved surfaces. A wheeled machine is a great low-impact solution."
Wheels vs. Tracks
One downside of wheels is you will lose some off-road traction compared to a tracked machine. "One of the drawbacks is similar to what you see with a skid steer vs. a compact track loader — higher ground pressure in soft, wet turf and unimproved surface applications creates conditions where rutting and tire slipping can occur," Dotto points out.
But wheeled machines are often underestimated and can handle most applications. "In all but the muddiest, sloppiest conditions, a wheeled excavator is going to be fine," says Bigwood. "We have them with flotation tires. We have them with twin tires. We have them with turf tires. In a steep slope with very muddy conditions, you're going to want a tracked excavator. But it's disingenuous to say you are going to get stuck."
Another key difference between a compact wheeled excavator and a conventional compact excavator is the undercarriage. With the wheeled model, you only have to maintain tires vs. chains, sprockets, rollers, etc. on the tracked unit.
"With a tracked excavator, the maintenance is higher," says Bigwood.
Stability Misconceptions
In the past, the stability of wheeled excavators has come into question.
"Stability, however, in most dry ground conditions and all paved surfaces is not a drawback of a Wacker Neuson wheeled excavator due to the dozer blade and stabilizers," says Dotto. "The stabilizers can be adjusted independently to allow the machine to be stabilized and leveled when working elevations vary. For instance, a stabilizer pad can be placed up on a curb with the other pad at street level if the situation requires."
The design of the compact wheeled excavator has a direct impact on its stability. "It's all about balance," says Bigwood. "You really want a well-balanced machine."
Some manufacturers simply modify an existing compact excavator to add a wheeled undercarriage, which can result in a design that is top and front heavy. With compact wheeled excavators, you can do things to stabilize the machine, such as use of locking axles or the addition of a dozer blade or stabilizer legs. "But if the fundamental design is that you're already top heavy and front heavy, you're going to have some issues," says Bigwood.
To address these issues, Mecalac started with a clean sheet design. "We've lowered the center of gravity," says Bigwood. "We put the fuel tank in the undercarriage to get it out of the way and add some weight below. We've used our Mecalac three-part boom, which tucks in behind the cab so that you are truly compact and you are not lifting way out in front of you like you have to with wheeled excavators that have a mono boom and dipper."
The result is that the Mecalac MWR performance is comparable to its tracked counterparts. Bigwood reports that they have conducted side-by-side comparisons with compact tracked excavators where a load of concrete blocks was raised just above the ground and then extended out until the machines tipped. "To everyone's amazement, the MWR went further than the tracked excavator by about 2 ft.," he states.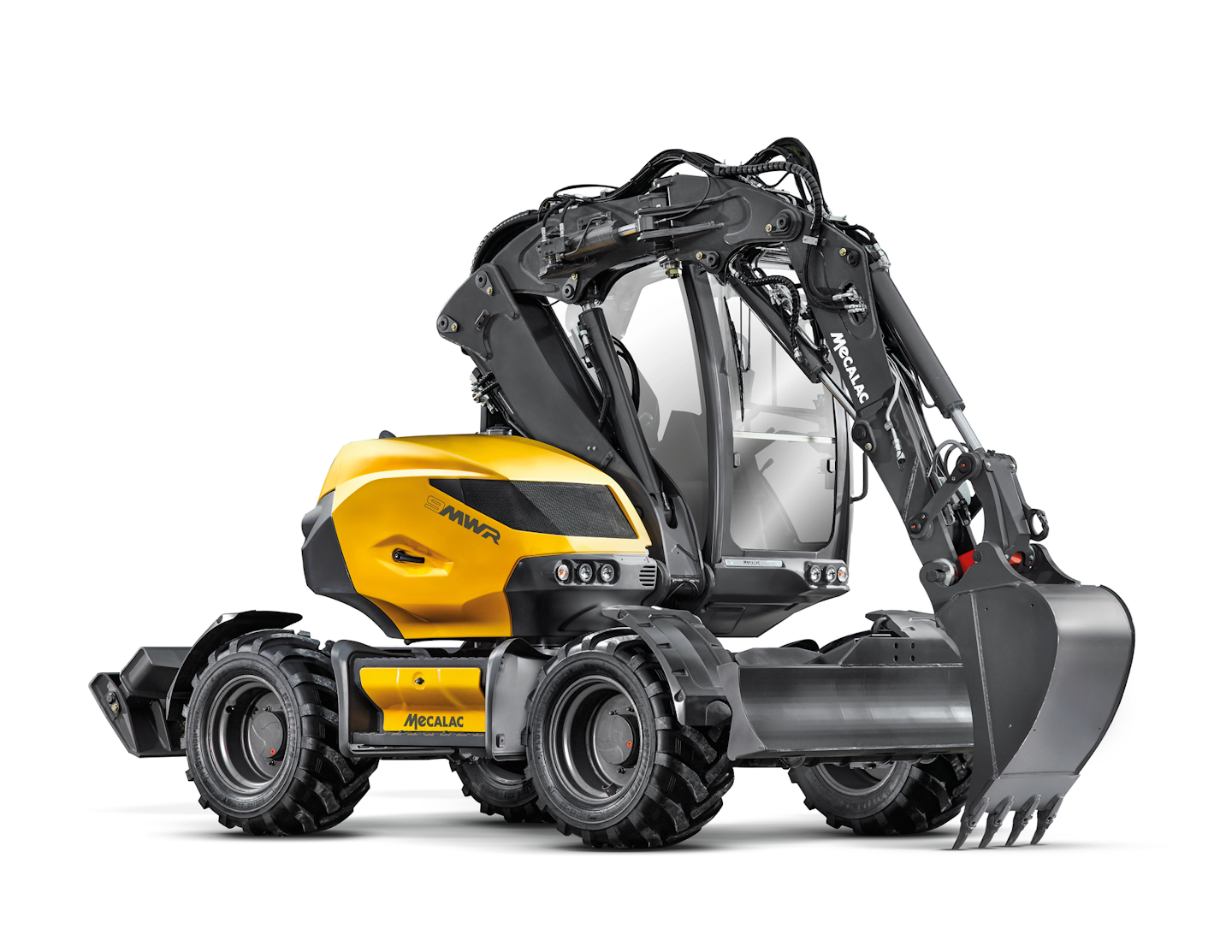 Mecalac started with a clean sheet design to overcome traditional shortcomings of wheeled excavators. One of the results is a low center of gravity.MecalacComrie agrees about the stability offered by compact wheeled excavators. "A common misconception about wheeled excavators is that you lose the stability of a crawler, but that simply is not the case with a good wheeled excavator. They can be every bit as stable as a comparable crawler," he says.
"For applications that require stability, like heavy lifting, Volvo offers dual tires and HD counterweight," he adds. "And with the Volvo EW60E, you won't be sacrificing power, breakout/tearout forces, reach or digging depth compared with a comparably sized crawler. It's a common statement from operators that once you get used to the wheeled excavator, you never go back to track."
There are also trade-offs necessary to make the machine more road worthy. "The uppercarriage requires some amount of suspension in order to be a viable road machine. Because of this, the uppercarriage can 'squash' when working," says Dotto. "In order to combat this effect, Wacker Neuson mobile excavators allow the operator to lock the oscillation of the uppercarriage when working with the use of a foot pedal locking mechanism to stabilize the house. You simply unlock the oscillation when transitioning to road mode to allow for more comfortable travel."
Attachment Versatility
One factor that makes compact wheeled excavators popular with municipalities is their versatility.
"Municipalities like to be able to do a lot of different things with one machine," says Bigwood. "One great example is putting a flail mower on the end of a wheeled excavator and running it down the road mowing or cutting back underbrush along the side of a road."
These machines are also capable of pulling trailers with attachments to the jobsite. "Suddenly, you're a one-man repair crew," says Bigwood. "You can dig the hole. You can backfill the hole. You can use a hammer on the end of the arm to break through the concrete or asphalt. You end up with a very versatile machine which you don't have to trailer around whenever you go to the next job."
"Like crawler excavators, wheeled excavators support a large number of attachments, making them a versatile addition to any fleet," agrees Comrie. "The use of tiltrotators is finally catching on in the U.S. Tiltrotators, such as the Steelwrist tiltrotator found on Volvo excavators, are basically a wrist at the end of a boom. They provide greater flexibility for attachments by rotating 360˚ and tilting 45˚ left or right. Using them can expand the types of work you do and decrease the amount of time it takes to do them."
Compact wheeled excavators come with boom options for working in tight spaces. "Starting in 2020, Wacker Neuson mobile (wheeled) excavators will begin coming with a standard three-piece boom, increasing range of motion by 20% to 25% and further increasing the utility of these agile machines," says Dotto.
Volvo also offers as an option a two-piece boom, which gives longer reach and higher dump height for loading trucks and allows digging closer to the machine. "The operator controls the two-piece boom by a foot pedal," says Comrie.
Calculate ROI
Many factors need to be considered when calculating the ROI equation, including cost of transport and speed to complete the task. "In regard to return on investment (ROI), you have to consider the cost of transportation when talking about a mobile excavator," says Dotto. "If a particular project, jobsite or business model calls for a machine to spend a significant amount of time traveling, the sheer speed of a wheeled excavator becomes an ROI beast."
Let's look at some numbers. "Say that an operator at $40 per hour travels at 3 mph in a tracked excavator. The cost is $13.33 to cover one mile. In an 18-mph wheeled machine, that same operator can cover one mile for $2.20," says Dotto. "You also have to consider all of the other ancillary productivity gains, such as being on site faster and starting the real work sooner. This is why, in any situation where the site conditions and application call for an excavator to do a fair bit of traveling, [you should] consider these real cost benefits of a mobile machine."
Volvo Construction Equipment completed some tests against a backhoe a few years ago. "We tested the Volvo EW60 compact wheeled excavator against a competitively sized backhoe," says Comrie. "The first test involved digging a trench 60 ft. long and 3 ft. deep. The wheeled excavator did the work 38% faster and used four times less fuel than the backhoe. The second test dug a 9' x 9' pool, 3 ft. deep. The EW60 finished in half the time and burned a quarter of the fuel compared with the backhoe."
According to Comrie, when comparing a compact wheeled excavator to a backhoe:
Backhoes usually have a higher purchase price.
Backhoe tires are more expensive.
Backhoes consume more fuel due to a larger engine and hydraulic system.
Tier 4 Final backhoes above 74 hp require a selective catalytic reduction system and regular diesel exhaust fluid (DEF) refueling.
The 64-hp Tier 4 Final engine in the EW60E, on the other hand, has a diesel particulate filter with full automatic regen and no DEF, which saves on cost and removes worries about having to store the DEF.
For all of the reasons previously stated, the compact wheeled excavator is poised to gain acceptance in the North American market. "I don't think it is going to happen overnight," says Bigwood. "But it will happen. It is too compelling of an argument to not succeed eventually. After all — who ever thought people would abandon their backhoe-loaders to the upstart compact excavators?"