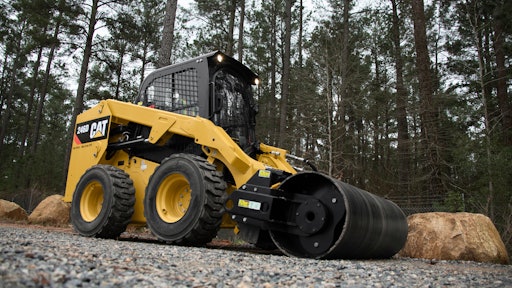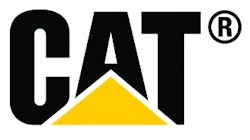 Caterpillar took advantage of updating moving its 236D, 242D, 246D and 262D skid steers to the D Series platform to introduce the new tubular steel lift arm much smaller than the previous fabricated box-section arms, but just as strong. The electronically controlled 3.3-liter diesel used in the new additions to the D Series is rated 74 hp, making 8 percent more torque and improving fuel economy 6 percent.
Cat Extends D Series Compact Track Loaders
Cat's new "Cab-One" structure is one-piece modular cab, instead of the two-piece design found on competitive loaders. Cab-One allows superior sealing, which doubled cab pressurization for a cleaner working environment. Coupled with an HVAC system that supplies 20 percent more airflow, Cab-One heats and cools about 50 percent faster.?
An optional Advanced Display monitor expands the number of operator security codes to 50 and can store and recall operating preferences stored for each code. Monitor preferences include language choice, background color, gauge style, ride-control setting, creep speed, top-speed limit, response for the hydrostatic-drive system and response for the implement control system. The master-code holder can review operator-specific machine information such as hours of operation, fuel burn and operating event or diagnostic codes.
Cat Intelligent Leveling system provides industry-first automated functions for skid steer loader arms, including dual self-leveling, electronic snubbing, return-to-dig and work tool positioning
Advanced Display shows images from the first integrated rear-view camera ever offered on skid steers?
High-back heated, air-suspension seat option, available with cloth or vinyl cover, has Cat's exclusive seat-mounted joystick controls
Position of the arm bar and joysticks adjust independently, and the entire seat/joystick control package moves up and down as a unit
Video: New Cab Features in Cat D Series Skid Steers
Video: Cat Monitor Functions Customize D-Series Skid Steer Operation
Video: New Cat D Series Skid Steer Auto-Loader Functions
VIDEO: Cat Boosts Power and Torque 10% on Small-Chassis Skid Steers
VIDEO: Large Cat Skid Steers Use SCR For Tier 4 Final
Request More Information
Fill out the form below to request more information about
Cat 236D, 242D, 246D and 262D Skid Steers