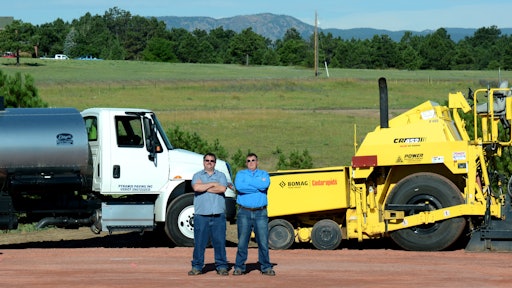 By 2008, when the recession hit, the 12-year-old Concrete Concepts Design, Colorado Springs, CO, had lost 90% of their sales, and by 2009 they had cut back from 45 employees to just four.
But by 2018 the contractor, now Pyramid Construction Inc., had added paving and pavement maintenance-related services, which accounted for two-thirds of 2018 sales. Roads and new subdivisions accounted for 65% of their work, 20% is municipal, 15% is commercial, and they had grown to 132 employees in peak season.
Out of adversity sometimes can come great opportunity.
"We're not a bottom-priced company. We're selling a service more than we're selling a product," says Esad Sipilovic, co-owner with his brother Amin. "When our customers need something done, we do it and there's no one else in our market who can do that."
And they can do that because they've become a turnkey operation that can handle most jobs from start to finish.
Starting with Concrete
Their father, Esad Sipilovic, "got talked into doing some concrete work" in 1997 and soon was out of retirement and running a small concrete placement business. Esad II joined him in 2001 and Amin joined in 2002.
"Our dad gave us the opportunity to learn the concrete business and mentored us to be businessmen," Amin says.
The company grew quickly, but by the end of 2008 the recession had taken hold. "From August 2008 through December 2008 everything we had under contract just came to a standstill. We just stopped producing," Amin says. "We managed to survive by staying as lean as possible. It was a struggle. We survived but many did not."
Starting Pyramid Paving
The company worked just to survive from 2008 through 2010, but between 2011 and 2014 they went into a "regrowth mode." "We took advantage of the economy picking back up to regrow and expand the business," Esad says.
Part of their plan was to broaden their services. They had considered adding paving but hadn't done so because they had a close working relationship with local paver Rocky Mountain Materials. But in early 2016, Rocky Mountain Materials sold to a national company. "When that happened, we were in a position to take our plans to the next level," Esad says. "The sale of Rocky Mountain opened the door for us to be a complete turnkey operation. We started doing work for our customers that consisted of dirt work, concrete and asphalt paving. That gave us a niche that no one else here in Colorado Springs can provide."
As soon as they learned of the sale, Amin and Esad started calling their customers and some of Rocky Mountain's customers, asking if they would consider hiring Pyramid Construction for their asphalt work, and they received a lot of positive response.
"We asked them to give us two weeks before they committed to any other company for asphalt work," Esad says.
And then they scrambled.
"We knew a lot of Rocky Mountain's employees, especially the foremen and superintendents. We had heard through the grapevine that some of them liked working in a family business atmosphere and didn't really want to work for a large corporation. We talked with them and they agreed to come work for us. Then, our next hurdle was getting the equipment together to run a paving operation and whether that was going to be possible in the time frame we needed."
As it turned out, because of their planning they were able to quickly put together two dirt crews, a paving crew and a trucking fleet.
"We had positioned ourselves financially to take advantage of this opportunity as the recession was ending," Amin says.
"By April 10 we were placing asphalt on the ground," Esad says. "The stars aligned from timing, people, money and growth. We had a good customer base that has a lot of respect for everything we have done for them, so everything fell into place and we made it happen."
In-house Work Creates Flexibility
Esad says all work – dirt, concrete and paving – is performed in-house except for large-scale paving-related work such as milling and soil stabilization, which is subcontracted to select contractors.
"Because we have control of all these areas, we can manipulate what we're doing to accomplish the job and accommodate the current customer's needs or the next customer who might need us right away," Esad says. "We are able to move our crews around to keep everything flowing and we can adjust the schedules as needed.
"Other companies might have to subcontract their concrete work, for example, so they have to wait for the concrete contractor to fit them into their schedule. We don't have to do that. We set the schedule for our customers; we don't fit our customers into our schedule. Our objective is to get your job done on time and under budget. We can accomplish this because we do everything in-house."
Amin and Esad credit their experienced, dedicated employees and the fact they are a turnkey operation for much of their success.
"We have experienced pavers, foremen and dirt supervisors. They make sure we have skilled crews," Amin says. "That's helped us get the great reputation that we have. Because of our talent we've made a loud statement in this town."