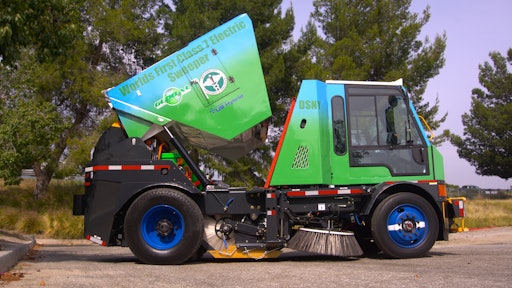 Global Environmental Products, San Bernardino, CA, has introduced the world's first 100% rechargeable street sweeper, according to Walter Pusic, president.
Pusic says the Global M4 Supercharged Class 7 Street Sweeper builds on the company's line of hybrid sweepers, as the company continues its focus on "green" innovation.
"We're working to promote a clean, green environment and we do that by helping reduce greenhouse gases and reduce our products' carbon footprint," Pusic says. "That's been driving us since the inception of the company. With the M4 Supercharged sweeper we've managed zero emissions -- what comes out of the pipe is a big zero."
Sebastian Mentelski, a partner in Global Environmental Products, says the Supercharged M4 is almost identical to the M4 diesel sweeper – minus the conventional diesel engine and the emission systems.  "No engine" means no engine maintenance required. The M4 Supercharged sweeper features an electric motor in lieu of hydrostatic drive system with infinite speed-control while sweeping at sweeping speeds up to 11 mph. It features a 5.6-cu.-yd. hopper with a hopper load leveling device and an in-cab "hopper full" indicator. It has high-dump clearance up to 116 in. and rear-view camera with a 7-in. LCD monitor in the high-visibility pressurized cab.
Mentelski says the sweeper travels at speeds up to 65 mph and has a battery operational range of up to 11 hours. Recharging simply requires plugging the battery in to a 240 V outlet and letting it sit.
"The M4 electric sweeper requires a J1772 Level II charging system, which makes the sweeper available to any municipality," Mentelski says. "For every hour you charge it you get an hour of operation up to about 11 hours, so nine hours charge time equals nine hours operating charge."
Building on Global's Hybrid Sweepers
Pusic says the M4 electric sweeper builds on Global Environmental's efforts that started in 2011 to reduce emissions by manufacturing a hybrid street sweeper. In 2012 they built the first M4 Hybrid – and eventually sold 27 units to New York City.
"Developing the hybrid sweepers was our way of learning to create an electric drive system and all electric powered sweeping motors," Pusic says.
Pusic says the idea behind development of a hybrid unit was to add a battery to the sweeper to reduce fuel consumption and reduce the sweeper's carbon footprint. The M4 hybrid features an electric drive motor, a generator and a diesel engine. As the diesel engine operates it charges the battery via the generator. Pusic says the hybrid sweeper reduced overall fuel consumption by 50% compared to a diesel sweeper.
 "In the hybrid unit the diesel engine charges the battery while driving and battery power is used to assist in driving the machine. It takes more energy to drive than to sweep -- when you're sweeping, you're essentially idling -- so the driving creates the energy which is then stored in the battery," Pusic says. "The hybrid unit in 2012 was basically a steppingstone to the new all-electric sweeper that we just introduced."
Data Collecting Precedes All-Electric Sweeper
Mentelski says that to aid in development of an all-electric sweeper, Global Environmental used data collected from 27 hybrid sweepers working throughout New York City boroughs. He says the goal in collecting the data was to document the behavior of the sweeper operator so Global Environmental could develop a sweeper that suits those behaviors. "We asked the general question, what is the behavior of the operators? Once we learned it, we asked ourselves how do we design components to accommodate the sweeping process and the behavior of the sweeper operators," he says. "Through the testing in New York City we learned that we were very successful with the hybrid sweeper. It did what we expected it to do, sweep streets with reduced emissions."
Battery Technology Improves
 "The technology level has improved in many components, especially batteries," Mentelski says, adding that the size and weight of batteries has come down while storage capacity has increased.
Today you're looking at eight or nine years at a minimum with only a 15% loss of power at eight or nine years. That's a tremendous improvement."
And battery size impacts weight, too.
"Weight is an issue because batteries weigh more than conventional engines, so size of the battery is important," Mentelski says. "Being able to reduce the battery size means we can reduce the battery weight. And doing that while enabling the sweeper to extract more power out of the battery helps keep the weight of the machine down."
Fuel Cells Power Sweeper for California
Another of Global Environmental's "Green" developments is a sweeper powered by hydrogen Fuel Cell, which generate power differently from both conventional engines and battery-powered units. Pusic says that in in 2017 the California Department of Transportation asked the company to consider developing such a unit, and in 2018 Global introduced their Global M4 ZE Hydrogen Fuel Cell Street Sweeper. The unit is a 33,000 GVW highway sweeper capable at traveling up to 65 mph. It is currently being operated by Caltrans and tests are being conducted by the University of California-Riverside.
Mentelski says that in the sweeper, the fuel cell and hydrogen tank take the place of a diesel engine. The hydrogen fuel cell system produces electricity from compressed hydrogen gas in a thermo-chemical process. That electricity is stored in a battery and used to power an electric system and motors that drive the vehicle and perform the sweeping operation.
In addition to creating electrical energy, a byproduct of the electro-chemical reaction creates water, which Global has diverted to the sweeper's water tank system providing an additional 43-gal. of water per shift to use for dust suppression.
"Using fuel cells, we can double the capacity of the battery which enables us to meet the GVA and travel speeds California wanted," Mentelski says. "It's a different approach than in New York City, but it's different because of their travel needs. In New York City they don't need as much battery capacity because their driving and sweeping on city streets, picking up trash and other debris. In California they're sweeping on highways and traveling at much higher speeds over longer distances. "
 "This is all customer-driven so it's hard to tell if this is where the market is going to go," Pusic says. At this point he says there seems to be a bit of a market split with California more interested in the fuel cell sweeper and cities in the eastern U.S. more interested in battery-powered units. "This will all be driven by our customers and their needs."