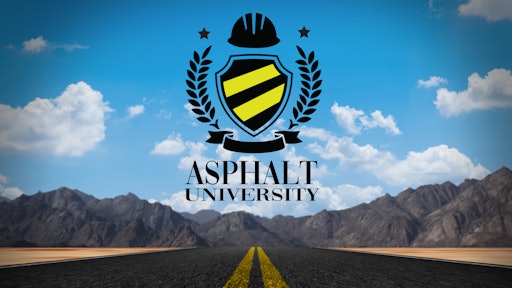 Justin Meier, president of The Surface Masters, got involved in the pavement maintenance industry because of what he saw – and what he didn't see.
"Perception is everything," Meier says. "How we perceive and how we are perceived by others and how others perceive the industry."
That's what lead him and his Surface Masters team to start their Asphalt University video series last year. As of January the company has a handful of 5-10-minute videos available through Youtube.com – including "Sealcoating Basics," "Asphalt 101," and "Perma Flex Overlay System"-- with more than 25 in the planning stages.
"People think the asphalt industry is kind of a dirty job and that the people who work in it are different than other people. One thing we aim to do in these videos is show that's not true," Meier says. "People tend to think we're not like them but the fact is we're just like them. We work hard, we have families we support, we're friendly, and we have fun. The videos reflect not only our work and our company culture but the industry as a whole."
But The Surface Masters and Asphalt University weren't in Meier's plans while he was going to college on track for law school. But after graduating and before starting law school he landed a marketing job, and one day working on site for a national grocery store chain he saw a crew restriping a parking lot.
"I watched and I thought that company didn't seem to be doing a very good job and they didn't seem to be going about it very well. Their trucks and equipment were old and dirty, they seemed disorganized and there was a lot of yelling back and forth, and I didn't think they were representing their industry very well," Meier says. "So I thought if these guys can operate this way and win the bid to do this kind of job, I should look into it."
He did some online research, discovered National Pavement Expo, and attended in 2011 in Nashville. "I attended NPE before I even started the company. I didn't know much about the industry so I decided to go and take a couple of seminars. After that I decided maybe this could be a thing I want to do."
Following the pavement expo, studying the industry, and speaking with manufacturers, Meier learned enough to begin cold calling prospects for sealing and striping needs. Eventually he landed his first Parking Lot Marking Contract which included restriping an entire portfolio of 5 large retail centers. From here he purchased a striping machine and began working his day job and striping parking lots at night.
 "Looking back I know I really gave those jobs away because I didn't know about job costing and things like that," Meier says. "I clearly remember walking in my kitchen figuring out how long it would take me to paint each stripe. Then I figured out how many stripes there were in those parking lots and put those numbers together and that's how I bid the job."
But that was a long time – and a different business – ago.
NPE Aids Growth
By 2012 he was busy enough where he quit his day job and made sealing and striping a full-time business. He again attended NPE and focused on sessions by Guy Gruenberg, Grow Consulting, and Nick Howell, T & N Asphalt Services. "Those sessions opened my eyes wide and really motivated me," Meier says. "I thought, 'I am going after this' and I took what I'd learned there and really went to work."
In late 2012 he bought his first sealcoating tank and in 2013 he hired his first project manager. "That was a big move because even though it was an added expense it allowed me to get off the jobsite and start selling and that's when we really started to grow. That was the investment that really jolted the company's growth into high gear." he says.
The Surface Masters, headquartered in Marietta, GA has experienced significant growth year over year and has qualified for the Inc. 5000 Fastest Growing Companies list four years in a row (2016, 2017,2018, and 2019), a feat that only 20% of companies who've made the list can claim. He says the company should make a run to land on the list for a fifth consecutive year in 2020. The company services primarily commercial properties with some municipal work, generating 50% of their revenue from paving and patching services and 50% from sealcoating, striping, and crack repair. During the season, the team averages five commercial sealcoat jobs and one commercial paving/patching job per day along with a growing demand for concrete and milling projects.
 "I still laugh about it because I accidentally got into this industry and now we're running a good-size business, and I love it," he says. "I was really only a few months out from starting law school when I decided to put that off a bit and try this. It was a great move and it's been a great industry for me."
Meier, who says he expects to grow to more than 30 people this year, attributes that growth to the company's professionalism and to the perception of the company in the market – and that led to the Asphalt University videos.
"Perception is still important to us because that's what got me into the industry," Meier says. "Our industry really is a cool industry and I didn't know anything about it when I started. I often think about those first guys I saw on that first striping job. How we are perceived and our image are important – for us and for the industry. I really want to bring our industry to the outsiders. Really show our industry off."
Developing The Surface Masters Image
Impacting The Surface Masters' image is how the company appears in the field. The trucks are all the same construction orange color, and the salespeople and crew members also wear orange. "We're real big on consistency and that includes how we appear to our customers."
Meier says that perception and image also extend to how the company's bids and sales efforts are viewed by their customers.
"Most of our customers are decision-makers in corporate offices – they're not on-site all the time, if ever. As a result, we take a white-collar approach and make the extra effort to extend the professionalism and perception in our delivery methods and really try to learn our customers' businesses and property goals. We go the extra mile in providing all the communication, pictures, videos, and project details necessary to provide them a clear and exact understanding of their project needs. This approach helps them not only understand their project needs, but it confirms our understanding of their business operations and portfolio goals, creating a comfort level. We've kind of adopted their way of life, is one way to look at it, and it seems to have worked."
A good example is communication. "They're big on it, so we're big on it. We're always in touch. We have extensive Communication Protocols that our OPS Team abides by daily. We create "Client Portals" where we send them project details, photos of the jobs as they are progressing, drone video, etc. and send them links to the information. They love it and it keeps them in touch with what's going on with the job they hired us to do. That creates a comfort and credibility level for them."
"And you can imagine the image that projects of our business. It creates the perception that we are an on-the-ball organization, that we're transparent, that we're on top of things and that they can trust us and don't have to worry about the job. It conveys that we're professional. And it helps the image of the industry!"
He says they also put extensive detail into project planning and project scope. "Our business proposals are not just a bid on a piece of paper. They're a full-fledged proposal in a proposal format. It doesn't look like any other contractor's bid. That's image."
He says that while the company relies on traditional marketing methods contractors have used for decades -- door-to-door cold calls, association events, local trade shows, support for community organizations, for example – they recognized that the marketing environment is changing. So Asphalt University videos are housed on YouTube and Surface Masters promotes them heavily on Facebook, emails video links to their database, and is adding a page to their website to make the videos available there.
"The attention of the everyday consumer is really online, so we've started to ramp up our online marketing efforts, too," he says. "We have to go where the attention is and consumer attention has gone to social sites such as Instagram, Facebook and YouTube, so that's where we've got be."
But they have to not only "be there," they have to give consumers a reason to view their marketing. "We have to do something that sets Surface Masters apart from all the other online noise."
Videos Educate & Change Perception
That's where the Asphalt University video series comes in.
Meier says the idea for an Asphalt University came out of their emphasis on image and perception and from a recognition of where their buyers' attention is.
"So we started kicking around ideas of what we could do to garner some attention and we realized from our sales team that we are getting the same questions over and over. They call us to pave their lot but what they really mean is they want it sealcoated, for an obvious and common example.
"So we started thinking 'why don't we open up our business and film some jobs and explain what's going in the video and on that job?' We knew we could put them online to meet people where they are already."
"We really want to educate the end consumer so they can know what they're buying," Meier says. "They all seem to want to bid apples to apples but when that happens usually the lowest-price bid is what they want you to match and I'd say 50% of the time it's probably not what should be done to that parking lot. So we think opening ourselves and the industry up through these videos will help that and help everyone."
So they brainstormed topics and reached out to some clients, asking what they could benefit from. The videos are informal, unscripted, very low budget, and some even shot on a smart phone.
"We really want to keep it authentic so it's not scripted and there's no marketing scheme within any of the videos," Meier says. "We're a very comfortable and informal organization and we want that to come through. We want to give them a sense of the kind of company we are."
Meier introduces each video from his office, then moves to the jobsite with the content they want to convey in mind. "But if something comes up we just go with it," he says. "No one's perfect and there's no job that is perfect and there's nothing wrong with showing that and talking about that because we really want to communicate as authoritatively as we can through these videos.
"A recent example is we were covering the sealcoating process and a few cones blew over while we were filming and talking – and we just went with it. It gave us a chance to talk about why the cones are important and how and why we handle traffic control. We just added that into the video."
He says the entire process from shooting to posting and sending videos out takes less than two hours.
"The main purpose of Asphalt University is to educate the end consumer, but we hope it also can help other contractors," Meier says. "We don't know exactly where it's going to grow but we're hoping for 50 or even 100 episodes that show how to operate on a job and how a job gets done."
But they plan to eventually include more than job videos. "We'd like to include interviews with our employees, maybe interviews with some of our customers, and interviews with manufacturers who provide us the equipment and materials we use. We'd like to have people talk about how the industry has changed and has improved over the years and how it benefits the end user. That would benefit the industry as a whole."
Feedback leads to Ideas... and Sales
He says the company has gotten some feedback on the videos, including suggestions for future topics and at least one client that altered their construction plans after viewing one.
"In episode two we explained the Perma Flex overlay system and we had a client we've been working with for a few months, developing plans to overlay their parking lot. In our proposal we included the Perma Flex as an option, and they decided they didn't want that so the plan was a regular overlay.
"Well, they reached out to me a few days after the video went out and now they want an option to use that Perma Flex on the job. They said they understood it much better after viewing the video...that was really cool to have happen."