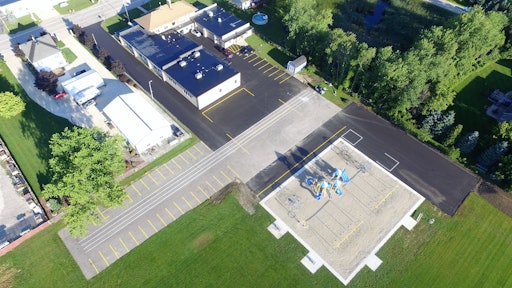 Even a quick look at just some of the work Asphalt Contractors Inc. did in 2019 for Kansasville Grade School, Kansasville, WI, will make it easy to understand why Asphalt Contractors, Union Grove, WI, receives the Pavement Good Neighbor Award for 2020.
Consider:
Remove asphalt to make room for an addition, then dig footings for the addition
Supply stone and backfill the foundation walls
Adjust the grades from the new addition to meet the existing asphalt parking lot by adding stone and grading
Mill off the existing asphalt surface
Regrade the area around the school, the drainage swale along the playground, the additional new parking area and the entrance
Place a 4-in. asphalt surface in two lifts, approximately 450 tons
Stripe the asphalt surface for parking and playground games
Excavate an area for an additional 60-ft. x 207-ft. parking lot, supply and place stone base
And that's not everything.
The total in-kind donation, from January through August when the K4-8th school reopened for the year, was more than $100,000, according to Bob Kordus, owner of Asphalt Contractors Inc.
"It wasn't planned to get involved to the extent we did, but the more we got involved, the more we saw a real need and realized we could really make an impact," Kordus says. "By the end of the year we realized what we did and wow, we were surprised."
A School with Financial Needs
Kansasville Grade School is the only school in its school district, and at 104 students it's the second-smallest school in Wisconsin. As such, the school doesn't have the financial resources to do everything it needs to do to meet state and federal guidelines, including bringing the building up to ADA code. It also doesn't always have the resources to make changes or improvements they would like to make for students.
So early in 2019 Kansasville Grade School reached out to its across-the-street neighbor, Asphalt Contractors Inc., a 100-person firm that runs its own asphalt plant, operates three concrete and asphalt crushers, and is a full-service paving and pavement maintenance contractor.
"Our shop is in Dover where the school is located so we're part of their community and we just felt it was the right thing to do," Kordus says. "It's fun to see all the big schools with their nice buildings and everything they've got, but this school can't have that. I like helping the little guy, helping the disadvantaged guy. It's fun to do and they really appreciate it."
Kordus says that initially Asphalt Contractors Inc. agreed to donate removal of the asphalt from the existing playground area so the school could build an addition. "We did that, then dug the footings and backfilled them with the recycled material from our crushing operation," Kordus says.
But work then escalated.
"It's kind of like the little train that could…chug, chug, chug. I like helping the underdog, and the fact is that this school provides a great quality education," Kordus says. "And while they don't win sports awards because they can't field a team, they get all sorts of recognition for citizenship, they have a higher computer skills than most other bigger districts, every kid knows every other kid, and when they leave the school and go on to high school they look out for each other.
"It started off that we were going to help them out, but we weren't going to be involved as much as we were," Kordus says. "But then things just kept going. We didn't necessarily plan on doing everything we did but we're glad we did."
Kordus says the company received many "thank-you" cards from students and from people in the community.
"That was priceless, but we didn't need a 'thank you'," Kordus says. "If we hadn't participated in this project to the extent we did, the project wouldn't have happened. Knowing that we made it happen was enough!"