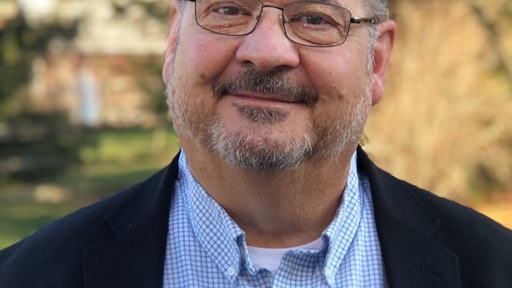 If for no other reason, Michael Nawa receives Pavement's 2020 Alan Curtis Industry Service Award as possibly the originator – and certainly one of the originators — of the National Pavement Expo conference program, which has driven the event and helped thousands of contractors succeed in the paving and pavement maintenance industry.
"I wanted to get what I needed out of the show, so I made my opinions known to people in charge," he says. "I tried to make sure there were things there for everyone — whether they were new to the business or whether they had been in the business for years."
And that's outside of everything he's done advocating for the sweeping industry. In addition to being involved in National Contract Sweepers Institute and Contract Sweepers Institute — both early incarnations of North American Power Sweeping Association (NAPSA) — he has served on the NAPSA board and was a founding member and serves on the board of World Sweeping Association. In 1993 Nawa was named to the Pavement Advisory Board, where he began a 27-year run of offering insights into the direction of the magazine and the direction and content of the NPE conference. He steps down from the board this year.
An Education Advocate for NPE
Nawa's influence in the industry began shortly after he started in the sweeping business in 1978 when he acquired a Schwarze Mini-American round-tank, no-dump, hand-crank sweeper. He'd started his original company, Industrial Grounds Maintenance (IGM), in 1976 as a landscaping business in Reading, PA. Sweeping was "a natural add-on" to pick up mowed grass from parking lots and to offer an additional service to properties he visited regularly.
By the mid-1980s sweeping had outpaced landscaping, but he still wasn't making much money – or any money as he tells it. He learned about National Pavement Expo in Nashville and decided to attend what was the second show.
"I was broke," Nawa says. "I didn't have any money to go but it was something I felt was important, so I went and I slept two nights in my car across the street from the convention."
He met NPE founder Bob Woltering (who also founded Pavement Maintenance & Reconstruction) and told him how impressed he was with the show. "I also told him I was underwhelmed by what it wasn't — there was no educational function and as much as I needed to learn about the equipment, I needed education on just about everything else more," Nawa says.
So Nawa approached Woltering.
"I made my wishes known to Bob about the need for a conference. He said, 'Okay, well you're in charge'," which was pretty typical Bob."
At that point Woltering had already had some contact with Jeff Stokes and Brad Humphrey and their consulting company, Eagle Flight. He put Nawa in touch with Eagle Flight and paid for Nawa to fly to Maryland to witness Humphrey and Stokes in person and make a recommendation.
"I told him they were great." The next year, Stokes and Humphrey organized and formed the core of NPE's first conference program.
By the time of that third NPE, Nawa had enough money to fly in and stay in a hotel, and he says he's still in touch with some of the contractors he met and exchanged ideas with at that event.
"There's a life-long connection with people from NPE. That's the kind of staying power that event has. I realized very early on that NPE was neutral ground for contractors. You can talk with people who do what you do and who have the same problems you have, and you can exchange solutions – or just complain about customers to someone who understands."
Sweeping is the Foundation
"I'm a sweeper at heart. It's what I've done for 44 years," Nawa says, and sweeping was the core of IGM. But Nawa saw the need to diversify — a Nawa mantra — which created conflict in the family business. In 2000, Nawa parted ways with IGM and, with wife Judy, started Custom Maintenance Services (CMS) — essentially a one-stop business for any exterior work needed on a property.
"It took me a long time to come to the realization that sweeping wasn't a stand-alone business. Most of that recognition came from an NPE session by Harold Green of Chamberlain Contractors in a session called something like Diversifying Your Business. His approach was, if you're already there on the property, and if you already have a relationship with that owner or manager, why aren't you doing more things for that customer?
"For the longest time I had the opinion that I needed two or three more sweeping jobs to make the money I wanted. But I eventually realized that I had the sweeping jobs and didn't need any more sweeping jobs. I just needed more jobs from my sweeping customers."
When he and Judy started CMS, they did whatever work they could find.
"I offered to do it all," he told Pavement in 2005. "We started out by saying 'Whatever you need done, we'll do it. Of all the pavement maintenance services, sweeping provides a very strong foundation for what comes next. If you're sweeping a property three, five, or seven times a week, which is fairly common for a sweeping contractor, you're the company that sees that property every day or almost every day. Your sweeper driver is in the position to say, 'There's a light out' or 'A stop sign has been knocked down.' And if you see it first there's no reason you shouldn't be first in line to fix it."
Nawa said that when he called a property manager who managed a handful of properties to tell him about a problem on one of them, "His first question is going to be 'Can you take care of it for me or do I have to hang up and call someone else to take care of it?' We say, 'We'll handle it for you,' and then it's off his mind — and we have a little extra work."
And it's almost always higher-margin work. "Sweeping is the basis for when you get the higher-margin work. I've always viewed it from the standpoint of sweeping is not a stand-alone business."
But sweeping always came first. As Nawa told Pavement in 2005, CMS was first and foremost a sweeping contractor – and all work flows from that. "If you're not a sweeping customer, you're not a customer at all," he said. "We don't market our pavement maintenance services to customers who aren't our sweeping customers."
Nawa says CMS turned down pavement maintenance jobs from properties that are not its sweeping customers because those companies are more interested in cherry-picking the lowest-priced service and not in developing a working relationship. "They want us to come in and repair their pavement or restripe their parking lot but then they'll give their sweeping work to someone else who is cheaper," Nawa said. "We just don't do business that way. If you want our service, if you want our help on all your property, then you have to hire us to sweep."
By the time they sold CMS in 2017, their fleet of 20 sweepers swept more than 250 properties, and they provided a broad variety of exterior maintenance services to sweeping customers. Nawa stayed with the company on a one-year contract that was renewed for a second year and ended in late 2019.
Mentoring to Provide Value
"What we do has value," Nawa says. "The part of the property that we work on might not be that valuable but what we do on that part of the property has value and there's nothing wrong with providing a valuable service and charging for it. That's how we approach the market and that's how sweepers need to approach the market."
And that's what Nawa has been preaching for decades.
Today Nawa, who consults with contractors, still encourages them to diversify — and he's discovered that his message has gotten through. "They're often doing something else, and often they want to be the guy customers call for everything. It wasn't that way years ago, but it's the way to become a very successful sweeping business."
He says that by offering a broad variety of services contractors become more valuable to their customers. "If they can call me for any problem they have, that makes me more valuable to them than someone who is charging $2 less a sweep but only does sweeping," Nawa says. "I become a problem solver for that customer."
Nawa says that given the current economic and property management climate, contractors will need to make themselves more valuable to their customers to survive and grow.
"As retail continues to shrink and as brick-and-mortar stores continue to make up a smaller section of the economy, property owners and managers are under increasing pressure. They are managing more properties and are working with tighter budgets and they don't want to have to call several people every time something needs to be done on a property.
"Our goal at CMS was to be the one call they could make to get whatever problem they had fixed. If you can be that one call to that customer you've reinforced your relationship, you've probably extended your contract and you've probably put yourself in line for some higher-margin work."