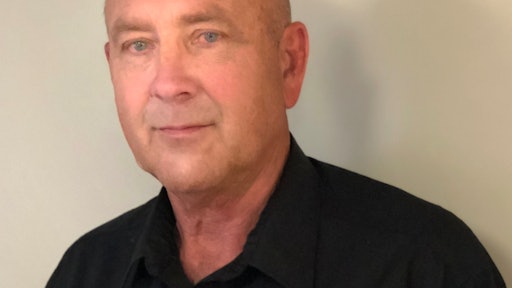 For nearly 40 years Cliff Cameron has been a driving force in advocating and educating contractors on the benefits of infrared equipment and how valuable the infrared repair process can be to their business. His belief in the process and his dedication to demonstrating and training contractors in how best to use the equipment has been essential in the acceptance of the process by the industry and in the industry's recognition that the equipment can be a profit-generator for contractors. It's what has earned him entry into Pavement's Hall of Fame.
Along the way Cameron has had one philosophy, "surround yourself with winners," and KM International's team dedicated themselves to sharing years of industry knowledge obtained through countless field demonstrations with contractors throughout the country and the world. Cameron's dedication to the end user has been at the forefront of his focus, and his desire to empower the KM team was, and is, a key factor in the success of the company. "I am not worried about a single sale, but rather I am here to perpetuate the industry," he says.
In 1981 Reaganomics was in full swing and jobs were scarce in Michigan, so Cameron decided to head in a different direction than his childhood friends – he joined the U.S. Air Force. While in the military Cameron maintained his kinship with Greg Keizer and Carl Morris, helping at any opportunity as they sought to start a small business specializing in asphalt repair.
A first piece of equipment was developed and named "The Road Doctor," an infrared and hotbox combination on old Chevrolet truck frame. The contracting business was operating and beginning to see success. A local municipality asked for their own Road Doctor so, with the help of a loan from Cameron in 1984, Keizer-Morris incorporated and from a pole barn in Leonard, MI, produced and sold a model KM 4-40 infrared unit.  And nearly 40 years later, KM International has expanded its product line to over 30 models serving the needs of contractors around the world.
Fast forward to 2003 when decision time came for Clifford, continue a military career, or retire and rejoin the ranks of private enterprise? Twenty-two years, one month, and one day, is all the USAF was going to get from Cliff. He came back to Michigan and moved seamlessly back into the picture at Keizer Morris Inc. "When I came back in 2003 sales were about $750,000 a year, around 100 units out the door," he says. "I felt it was a relatively young industry, which meant there was an opportunity for the company to grow into a huge company. We just had so much opportunity in front of us. And, still to this day I believe there is room for growth."
As with many small business start-ups, the road to success isn't without it's potholes, road blocks and detours. To get to KM International, Keizer Morris Inc., went through management and ownership changes landing with a minority ownership stake for Cameron in 2014. "When that happened that really clicked a light on. I finally earned a seat at the table and from that point on I really made it my mission to sit in this seat I am in today," Cameron says. "Nothing was going to stop me from being in this seat and from that time on I pursued this job and this company. I absolutely pursued it." In 2016 Cameron, and current partner Bryan Burke, reached an agreement to become full owners of KM International and have continued to move the company forward.
Today Cameron is president and co-owner of KM International, which sells a broad line of pavement maintenance equipment, including KM-manufactured infrared repair equipment, asphalt hot boxes, rubber melting kettles and crack repair equipment. Cameron has been instrumental in making KM International a major contributor to the pavement maintenance industry. The company recently surpassed $10 million in annual sales.
Selling, Teaching – and Reclaiming – Infrared
As the top salesman at Keizer-Morris, Cameron was named vice president of sales in 2004. He says his sales efforts focused primarily on creating a distribution network and demonstrating the infrared process. He also knew that to sustain continuous growth he needed help and hired Kurt Schwartz, another salesman.
"I did a lot of demonstrating and a lot of training. I'd say 75% to 80% of my time I spent demonstrating the equipment and explaining how and why it works," he says, adding that eventually those percentages rose to 90% of the time. I spent between 150 and 180 days a year on the road.
"Infrared was not as widely accepted in the early days, as it is now. It was a tough sale because everybody thought it was a gimmick. People couldn't believe it would heat asphalt to a working temperature, which is why it took demonstrations to sell equipment. We were 99.5% effective in selling when we did demonstrations," he says. "I'd just tell them, 'if it does what I say it's going to do, we're going to leave it here' and they just said 'yes' because they didn't think it would do what we said it was going to do. It was almost like a dare. But at the end of the day, selling for me became a very easy process. My close rate was huge because I believed in my product and I believed in my process.
"I try to make it clear that there are things infrared can do and there are things it can't do, and people need to understand that. The machine does one thing: it heats asphalt and does a great job at that. Anything that happens after that is based on the craftmanship and skill of the operator.  Infrared repair is by no means rocket science but there is a certain level of skill that goes into a proper infrared repair."
He says that around 2005 the infrared manufacturers began to realize the process was sometimes being oversold and that the industry was selling units but providing little to no training. "Many of us in the industry emphasized training for the end-user about quality of asphalt repairs, versus just selling and letting them go off to figure it out on their own. That made a huge difference in how the process is viewed today."
"It's become an essential piece of equipment for pavement maintenance crews. It's not just a pothole repair unit. If there's a blemish of any kind or if there's a cold seam, it's an eraser for any paver. If you need to put down thermoplastic, you can use it for that. If you're a sealcoater who needs to repair some pavement before sealcoating, you can sub it out or you can do it yourself with your KM Infrared and KM hotbox reclaimer."
Becoming a One-stop Shop
In 2007 Keizer-Morris hired yet another full-time salesman, Mike McGuckin who Cameron head hunted, and the company began to change its growth strategy from inside sales to distribution, so Cameron headed the project of establishing the distribution network, managed the distributors and managed the internal sales staff.
"Setting up the distribution network was absolutely a critical move for us, and it was the right call. At the time we were in all 50 states and several countries with sporadic sales. While developing a distributor network there was definitely a learning curve but as we progressed, we aligned ourselves with a lot of well established, like minded companies that shared our visions for growth. Today we have 15 individual distributors in the U.S. that collectively cover 35 states, as well as distributors in seven countries around the world." 
Around the same time, 2007, KMI built a new facility in North Branch, MI, enabling them to move from a small, dark and cold early 1900's former sawmill into a new 27,500-sq.-ft. manufacturing facility and offices. "It only took us seven years to fill the place up to a point of adding another 12,000 sq. ft. of space for equipment production. On our current growth rate, it won't be long until we will need to expand again."
"For 10-plus years we had been so focused on growing the company and achieving sales goals, but in winter 2014 we took a step back to reevaluate the company mission, and we felt we were somewhat missing our roots. I am very much a hands-on type, and most everyone in our organization is of similar personality. It's our strength really," Cameron says. "KM International was started as an asphalt repair company and we knew that our ability to relate to our customers and put ourselves in their shoes was a real asset. So, it was in 2014 when we decided to get our hands dirty again and started up a construction company, KMI Road Maintenance.
"We wanted a more in depth understanding of the daily field use of our asphalt hot boxes, infrareds, and asphalt recyclers. We needed to challenge our equipment, and ourselves, to maintain our edge in quality, innovation and manufacturing equipment that was exceeding customer expectations."
KMI Road was initially intended to be a one-crew maintenance company that would be a research and development arm for KM International.  But, within the first year the small testing operation had morphed into 14 trucks and more than 20 employees providing hard surface repairs of asphalt roadways and driveways, along with concrete sidewalk, drives, and roads.
"I am very proud of the accomplishments of the management in place and the team of players who have become the leading hard surface utility service contractor in Michigan. Our ambitions are to continue to be the absolute best contractor that we can be, meanwhile develop and test equipment in real time, real world application."
Cameron says that while KM always had plans to add more product to its catalog – eventually to become a one-stop shop for contractors –they didn't always have the finances to do it, so they had to be patient.
"Bryan and I were always the impatient ones. We just didn't always have the money to do what we wanted as soon as we wanted because none of us were born with a gold spoon in our mouth, but we knew we could get where we wanted to be if we kept at it," he says. "As we grew monetarily, we added products and modified our current models based on the industry's needs and our customers' suggestions. That forced us to grow in the direction they wanted. In hindsight it was a pretty darn good plan."
One example is KMI's development of smaller infrared units LB2-16 4X4 and 2-18X. "We introduced the smaller infrared units in 2005 because we listened to our customers. They were the ones who actually wanted the smaller units," Cameron says.
Over the years their catalog grew as they offered multiple new and updated versions of their infrared heaters, hot boxes, sealer storage tanks, and crack repair equipment. KM also sells products from other manufacturers, making them the one-stop shop Cameron and Burke envisioned.
 A Good Living for Contractors
"No longer is infrared just a means to fix a pothole. Infrared has come a long way as a stand-alone process," he says. "It's accepted around the world as a process and as a permanent, preferred means of repair. It's become a much easier sell to the end-user, and it's become much easier for contractors to make a living providing infrared repair services. With an infrared and hot box, you can make a very good living if you're willing to do the work and if you're any kind of a salesman at all."
Cameron says a hotbox alone is a start to a business. "I say it every day. 'Use what you buy, buy what you need.' To this day, most contractors buy three tons of hot mix to use two, then throw away one. Why? If you have a hotbox, buy what you need. Quit wasting money, time and resources. Put that money in your pocket."
"It's all tied together for us at KMI, hotboxes, infrareds, asphalt recyclers, crack maintenance, and occasional sealcoat equipment, and I'm proud of it!"
"It's been an awesome career and I still have a lot of things I want to accomplish," Cameron says.
Included among those are creation of an infrared manufacturers association, which he says is "in the works" and construction of an 80-ft. X 200-ft. expansion of their manufacturing facility.
"But it's not about me anymore. My responsibility is to our people and our customers so we can get them to the next level and to think about what the future of the company is. I'm trying now to do everything I can so they can accomplish their dreams and desires so they can take KM International to the next generation. I want to develop new players to keep the industry young and fresh and take it to the next level."