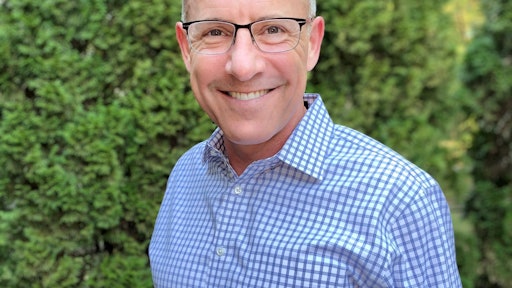 Jeff Lax never planned on becoming involved in the sealcoating industry. But once he was involved, through a series of conscious decisions, a desire to lead, and a skill set that enabled him to thrive, he was all in. He not only helped to rescue a sealer producing operation buried in a larger concrete manufacturing company, but also directed its growth organically and through acquisitions.  He then stepped up as one of the sealcoating industry's most-effective defenders against the movement to ban refined coal tar sealers.
Today, Lax is president of Let's Pave, the Oak Brook, IL-based aggregator of paving work nationwide, but it's for his efforts in and on behalf of the sealcoating industry that Jeff Lax is inducted into the Pavement Hall of Fame.
From the Army to the Industry
Lax graduated from college in 1988 with a degree in aerospace engineering.  Since he had been on an Army ROTC scholarship throughout school, Lax naturally transitioned to active duty as an officer and served more than six years in the Army's aviation branch where he flew Blackhawk helicopters. After leaving the service he got his MBA and a job with aerospace manufacturing company Goodrich Corp., where he stayed until 2003. At Goodrich he put his MBA to use in strategy and acquisitions, which laid the groundwork for his eventual move into the sealcoating industry. In 2003 Oldcastle called, and he transitioned from applying his acquisition skills in aerospace to applying them in building products.
Before he was hired, Oldcastle had acquired W.R. Bonsal and American Stone Mix, which were combined to form Bonsal American. Lax says Oldcastle bought American Stone Mix for its Sakrete line of concrete products, but the company also operated four sealer plants and Lax was tasked with deciding whether the company should get out of the sealer market or try to grow the business.
"I spent a good deal of time doing a market study, evaluating the industry, evaluating our position in the industry, talking with a lot of people including employees, suppliers, and customers. We decided to stay in the industry and grow the business through acquisition because at that point there were a lot of local and family-owned producers and acquiring those types of businesses really fit the Oldcastle model," Lax says. "When I recommended we stick with it, the company agreed, and I was tagged to run it. Welcome to general management!"
Which was fine with him.
"I wanted to move away from finance and acquisitions into business leadership," he says. "In the Army I had been a leader and had people reporting to me, and I wanted to translate that Army experience and training to the business world and move into business leadership. "There was not a conscious decision to get into the sealer business, but the opportunity was presented to me where we needed a leader, so I took it. It turned out to be a great decision."
Growing Bonsal American
With Lax spearheading the drive, Bonsal American began efforts to make acquisitions and grow the sealer-producing side of the company. From 2006-2008 Lax managed the salespeople at the company's four sealer plants, and in 2008 the company acquired GemSeal, based in Tampa. GemSeal had five sealer plants in the South, giving Bonsal American nine locations in the eastern half of the United States. The nine plants began reporting to Lax, and he began managing the entire sealcoating operation.
"The sealer business in Oldcastle had been tucked away within the concrete mix business," he says. "It never got a lot of emphasis, and it never really had a leader. We had some experienced guys selling but there really was never a real strategic plan. "So, my team and I developed the plan that included buying at better costs, implementing a standard quality control program, training better, improving the condition and appearance of our plants and tanker fleet, increasing focus on R&D, and improving the marketing and website to better compete," he says. "It was a great opportunity for me to get my feet wet in a smaller company  ̶̶̶  leading a sales team, managing production operations, and executing a strategic plan  ̶̶̶  things I hadn't done before."
In 2012 GemSeal acquired sealer producer Surface Coatings Company, in Auburn Hills, MI.
"We immediately saw that Surface Coatings sold a lot more items than just sealer and related products and acquiring Surface Coatings gave us the opportunity to sell a more complete array of products to contractors," Lax says. "They had a very strong company store.  We decided to leverage the Surface Coatings' way of business and develop our own company store strategy." Relying on the Surface Coatings model, GemSeal expanded its store front businesses across the company.
Lax continued to run the business within Oldcastle, but in 2015 the CEO of  Oldcastle's parent company, CRH, plc  in Dublin, Ireland, commissioned an internal study to evaluate all the company's operations worldwide so the company could focus on and invest in what the CEO considered to be core companies.  Lax says the sealer business was deemed a non-core operation.
"Not that we were underperforming, because we had a very good track record of organic and acquisition growth, but it was simply a company that the CRH leadership didn't consider part of their long-term strategy," Lax says.
So Lax, David Maske, then president of Bonsal American, and Barry Hirsch, former vice president of finance for Bonsal, who had previously left the company, approached Oldcastle to acquire the entire sealcoating business. Once the sale to them was complete in early 2016, they rebranded the entire company GemSeal.
"When we looked at the industry, we thought there were opportunities to grow our business by continuing to execute our business plan and growing the GemSeal operation. We looked around and saw lots of asphalt and a lot of need for the product. We thought this is a mature industry, but it will be around for a long time," he says.
"I felt like the industry has good long-term prospects, and I still do  ̶̶̶  despite the issues with coal tar sealer."
He emphasizes that the company's long-term plan was always to continue to sell refined coal tar products as long as possible "but we also felt we had a good Plan B with our asphalt-based and petroleum emulsion sealers. We knew we had good plants, great people, a solid product line, and a strong brand that would enable us to continue growing."
In 2018, as an independent company, acquisitions continued when GemSeal acquired the six company stores of Professional Pavement Products (PPP), a longtime distributor of GemSeal sealers.  "The PPP deal fit well with our store strategy and also complemented our expanded efforts to sell equipment and broadened our ability to execute equipment financing and leasing programs," says Lax. "We wanted to become a true one-stop-shop for customers so they could see us as their go-to partner to buy everything they would need for sealer projects."
Defending Coal Tar Sealer
Lax says the issue with refined coal tar sealer surfaced in early 2006 while Bonsal American was in discussions with the Mariani family to acquire GemSeal, so those discussions were put on hold while the industry determined the status of refined coal tar sealer. Bonsal American and Lax began working more closely with Pavement Coatings Technology Council (PCTC) to fight the coal tar bans.
"Our belief then was refined coal tar sealer is safe and effective, and I still feel that way today," Lax says.
But at the time no one knew to what extent the material would be banned, so Lax and his team decided Bonsal American had to change their sealer production process. Their main product was refined coal tar sealer, which was produced using a fast colloid mill process. But the company's asphalt emulsion sealer was manufactured using a slower batch process. If coal tar sealer was banned outright, the team believed the company wouldn't be able to produce asphalt emulsion sealer fast enough using the batch process to replace coal tar sealer volumes.
"We decided to retool the sealer plants to convert asphalt emulsion sealer production from batch to colloid mill," he says. "It was a good backup plan in case refined tar sealer was completely banned."
But it hasn't been.
"We saw the bans that were occurring were at the local or county level and were not going to eliminate coal tar sealer completely, so we weren't going to have to rely solely on asphalt emulsion sealer," Lax says. "But the change in production process for our asphalt sealer – and increased research into alternative products -- was a good decision we felt we had to make to absorb the changes in the industry."
Lax was involved in the coal tar issue from the earliest days when the U.S. Geological Survey (USGS) presented the results of its Austin, TX, study to the New York Academy of Sciences.
"That initial ban in Austin was based on flawed science and the selective use of data, and that data has been used to support every ban put in place since 2006.  The result of that study still hasn't been replicated," Lax says. "So PCTC became heavily focused on research - and we have seen numerous results which validated our claim that coal tar sealer is safe."
In addition to research, PCTC also increased its advocacy efforts.  When PCTC realized that most of the bans were local and that all of them were based on the USGS Austin study, PCTC, with Lax as one of its representatives, began to get involved in hearings in localities throughout the country.
"When we realized the bans weren't likely to become national in scope," he says, "we knew we would have to meet with and educate many groups around the country."  The bans that were happening were based on misconceptions and on the flawed USGS study, so PCTC started sending members out to talk with local officials and to try to educate them on the realities of coal tar. Members like Lax showed them the PCTC research, which has reaffirmed in each case the belief that refined tar sealers are safe, while the USGS study has not been validated by a single peer review.
"As a PCTC member, we were doing our part fighting for the industry," Lax says. "We felt that we had a responsibility to the industry – to the people whose livelihoods depended on applying our sealers  ̶̶̶  to present our study results and to state our case."
Lax says that while he was often the face of the industry and GemSeal at various hearings, he credits PCTC and GemSeal's Geoff Crenson, Paul Raymond, and Chris Mariani, among many others, who he says were heavily involved in the science of the research and hearings.
"As a PCTC board member and as someone who had been in the industry 10+ years, I knew a lot about the performance characteristics of the product. I'm also conversant in the some of the technical merits of refined coal tar sealer and able to talk at a high level about the technical aspects of the Austin USGS study," Lax says. "I understood raw materials used in production and the PCTC research, and I understood the Austin research.  As a manufacturer, I think I was able to offer a pretty unique perspective to the people in the hearing rooms who were used to hearing from scientists."
"PCTC's involvement has been very effective," Lax says. "If PCTC had not been involved, the pace of bans and spread of bans would have been much faster and wider. PCTC educates people and being present at the hearings helped – otherwise bans would have been much more widespread."
He says that while PCTC has been effective, the shift of coal tar opponents from banning coal tar-based products to trying to restrict products containing polycyclic aromatic hydrocarbons (PAH) – a component of coal tar -- makes defending refined coal tar sealers even more difficult – and more important.
"Despite our efforts, ban proponents shifted to restricting sealer products based on PAH levels, including some of the newer products developed by producers like GemSeal which have very low levels of PAHs in them," he says. "The levels people are now talking about when regulating sealers are unrealistically low, so it continues to be a challenge. It's frustrating when you're making a good and safe product but you're not able to sell it because of all these headwinds."
PCTC, he says, continues to be a strong advocate for the sealer industry.  Before he left GemSeal, Lax and others in PCTC had worked hard to expand the focus of the organization from solely battling bans to creating education and awareness of the sealer industry for property owners and managers.  The goal of the broader mission, said Lax, "was to complement the fight to keep safe and effective sealer products legal with a greater awareness of the benefits of sealcoating to help grow the entire industry."  
Joining Let's Pave
When Lax joined Let's Pave as president and a partner last July, it was a move from the manufacturing side of the industry to the contractor side. Let's Pave is a leading national provider of pavement capital and maintenance services to clients across the United States.
As Let's Pave president, Lax joined founder C.B. Kuzlik, who used to work for Lax at GemSeal, and partners Mike Rosen and Mike Zator.  "C.B. reached out to me and asked me to join his leadership team to help the company manage its continuing strong growth."  Sales, led by Rosen, finance, led by Zator, and operations report to him.  "These guys report to me, but we really are partners who collaborate every day on ways to expand the company and provide exceptional quality and service to our clients."  Lax reports to Kuzlik.
"In my role, I'm in a position to help eliminate obstacles in front of the team and to keep everyone focused on our priorities.  A big part of my job is to hold the team accountable for delivering on our promises to our clients, to our subcontractors who perform the work, and to each other."  But Lax acknowledges that moving from manufacturing to construction is not simple.  "I'm learning a different side of the business," he says. "It's very fast-paced. Executing thousands of projects a year is pretty amazing. From the outside looking in, it looks easy, or at least it did to me, which is a testament to the talented team at Let's Pave.  But from the inside, it really is challenging.  It takes a motivated team of people working efficiently together to get the job done and exceed our customers' expectations."
If all goes according to plan, Lax hopes to do his part on the Let's Pave team to help another company grow and achieve challenging goals, like he has done during his 13 years in the industry.