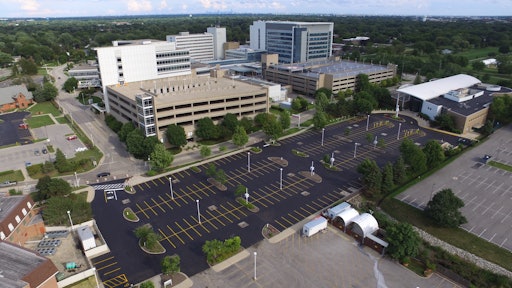 Northwest Community Hospital has been an A & A Paving client for more than four years, and A & A has done quite a bit of work at the hospital's more than 20 satellite locations throughout northern Illinois. Last spring, A &A received the go-ahead to pave the hospital's main campus in Arlington Heights, IL, and the resulting 100,000-sq.-ft. milling and paving job is the 2020 winner of Pavement's Paving: Parking Lot Award.
"This job went as smoothly as we could possibly have imagined," says Tom Swing A & A's pavement consultant. "We knew our guys could do it, that was never a question. But you never know if there's going to be an unexpected issue or not. We try to plan for everything, just in case."
A & A Paving, Roselle, IL, employs 28 people and generates 75% of revenue from paving, 10% from sealcoating and 15% from a mix of a variety of services including striping and concrete. Work for A & A is split evenly between commercial and HOA clients, according to Todd Eichholz, CEO/owner.
Complexity Requires Communication
Northwest Community Hospital serves a large patient population and traffic at the hospital campus surpasses 15,000 vehicles a day, transporting patients, visitors, vendors and staff. The campus also includes a wellness center and a health club – meaning there was constant activity throughout the job and the surface parking lot is often filled Monday through Saturday. In addition, the emergency room entrance sits just across from the project site, with ambulances arriving several times an hour.
Tom Swing, who managed the job, was sensitive to this extra layer of complexity and planned a workflow with minimum disruption to the medical staff and patients moving through this area.
"At the beginning we met with the stakeholders and once they agreed with what we were going to do and how we were going to do it, we worked with them to spread the word to everyone else," Swing says. "We knew we could do the paving. The biggest challenge was communicating everything, making sure everyone knew what was happening, when it was happening and where they needed to be redirected.
"That kind of traffic volume and the fact that this is a hospital campus requires a whole other level of communication. We knew the parking lots were usually full, so we had to let all those people know where to go and how to get where they needed to be. This doesn't include just the visitors and users of the facilities on the campus but the doctors and all the employees too. We wanted to keep everyone happy, but we've done this before so we kind of knew the drill."
A & A handled the exterior signage and barricades but left the communication to hospital staff and medical personal to the hospital. "They're really great with all their internal communication so they handled all that and it went very well. They could do that better than we could."
Planning… and a Change of Plans
Swing says that originally the 100,000-sq.-ft. mill-and-pave job was planned for three phases of one day each.
"It seemed to be a 'go' at three phases but the more the hospital looked at it they realized we were going to be out there three times, disrupting operations and closing down lots and redirecting traffic differently on each of three days. They asked us if we could do it in two days if they closed the lot for us," Swing says.
A & A reevaluated and determined they could complete the work in two days, so the hospital agreed to close the surface parking lots for two days. Northwest Community Hospital has two parking garages, including a parking garage for doctors, and traffic was redirected to those facilities – after getting buy-in from the doctors. A & A offered to run a shuttle from the parking garages to all the facilities on the campus – something they often do for the HOA customers – but the hospital decided they wanted to provide that service themselves.
Prep Work & Two Days of Intense Work
Prep work including repairing 17 catch basins and concrete collars and removing and replacing a substantial amount of concrete curb and gutter was completed weeks in advance during A & A Paving's normal daily workflow. Once that was done A & A waited for a two-day window from the hospital, and they received it for a Friday and Saturday.
To complete the project in just two days, A & A needed to add both equipment and staff. In addition to an 8-ft. mill and asphalt paver, A & A had two CAT 272D3 XE skid steers  with grinder attachments, three skid steers with buckets for picking up milled material, and a dozen dump trucks. A & A had a large street sweeper on site throughout the day and three skid steers with sweeping attachments for tighter areas. The contractor also brought and parked a backup paver in the staging area.
"We were so tight on a schedule that we couldn't have anything break down," Swing says. "We had a lot of extra equipment on the site, most of which we put to work, but we brought the backup paver because we couldn't afford to shut down to repair it or to bring in another paver from another site. We needed to keep going. It was a big promise for us to do this in two days and we just couldn't afford to have any delays if we were going to keep our promise and meet the schedule."
Milling crews started early Friday morning and worked from one end to the other.
"There was a lot of tight work with the milling because there were a lot of islands that required us to use our CAT grinders and some hand work in addition to our 8-ft. mill," Swing says.
By 10:30 that morning A & A had one-quarter of the lot milled. The paving crew primed that area and was able to start paving at 1:00 p.m. Each piece of equipment had to be choreographed to be at the right place at the right time for maximum efficiency.
"Since we were paving the same day we were milling, the biggest challenge with the actual process was managing which trucks were doing what," Swing says. "At the start it was easy because they were just hauling grindings away, but by later in the morning we had to determine which trucks were hauling grindings away, which trucks were bringing asphalt in and which trucks were doing both."
By the end of the first day they had milled 2 in. of pavement throughout the entire parking lot, swept it, and paved one-third of it. Before leaving Friday, crews tack-coated the remaining two-thirds of the lot so they could start paving immediately Saturday morning. Paving of 1,300 total tons of hot mix asphalt was completed Saturday, despite a light late-afternoon rain, and the lot was striped and open on Sunday.
"It went as well as we could have planned," Swing says. "It was a big promise we made, and we wanted to make sure we kept our promise. The client was happy, and we really solidified our relationship with them…and we're bidding additional work for them for 2020."
A brief video of the job can be found at https://www.youtube.com/watch?v=Iboze9EFTP4.