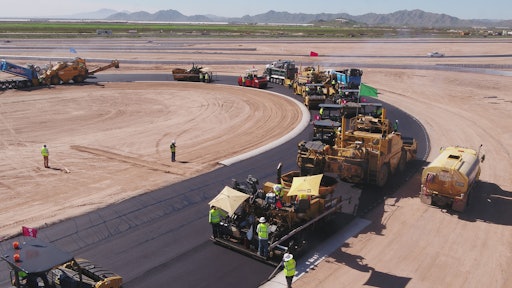 Despite its 40 year tenure in business and growing list of maintenance and construction services, Sunland Asphalt & Construction has only begun pursuing what Michael Baer, Sunland's national accounts division manager, terms "specialty" work.
If the job constructing a racetrack at Apex Motor Club is any indication, the move into specialty work is paying off because construction of the racetrack – Sunland's first effort at building a track from the ground up – has won the Pavement'Magazine Paving: Non-Parking Lot Award for 2020.
The Apex Track
The Apex Motor Club in Maricopa, AZ is a unique social environment for auto enthusiasts where members have exclusive access to the private race track to drive at their leisure.  Created for drivers of all experience levels and vehicle types, this project was designed by award winning race track designers from Motorsports Service International and was built to world-class racing standards, otherwise known as the FIA standards.
The project scope included a 2.3-mile circuit with a 3,400-ft. straightaway, as well as a helicopter landing pad. Solterra Materials, Sunland's sister materials company, designed and supplied over 16,000 tons of specially formulated asphalt, specifically for the Apex track.  Eventually the Maricopa site will have condo garages, a shooting range and plans are already underway to build a two additional tracks on site. 
"Our team did an amazing job.  It was an all-hands-on-deck project approach and we had crews from various disciplines in our Phoenix, Public Works, Civil Tucson,  Colorado, Nevada, and our New Mexico divisions come together to make this successful," Baer says.   "We pride ourselves on partnering with our customers and our partnership with Apex was no exception. We were involved from the beginning to provide feedback of the design, what the cross-sections were going to be and the materials for construction."
Good Subgrade & Echelon Paving
Construction of the base, fine grading, and placement of 45,000 tons of recycled concrete base course was meticulously groomed by Sunland's Civil Division.   "We really made sure the subgrade for this project was solid and graded properly. We spend a lot of time perfecting the subgrade because whatever material you lay on top of it will follow the subgrade. So, for good paving in general, the better the subgrade, the better the paving," Baer says.
Once the subgrade was in place, Sunland utilized a technique called echelon paving, which is the practice of paving multiple lanes of an asphalt roadway, side by side with the adjacent paving machines offset. Baer says the echelon paving technique ensures the smoothest possible surface used for race tracks and is not often used for typical roadway, street or highway projects. The track was paved in two lifts: a 2-in. base and a 1-in. surface lift. Surface tolerance for the project was 1/8 in. on a 16-ft. straightedge.
"Due to the track specifications, we used three pavers to cover the 40-ft. width of the track to maintain tolerance to meet the specifications," Baer says. 
In order to achieve the seamless surface that Apex desired, production had to be executed without stopping, or pausing.
"On the final day of paving, the pavers never stopped. Sunland executed a continuous circuit of paving all day long from 6:00 a.m. to 10:00 p.m. We just kept moving around the track without stopping," Baer says. "This had to be a continuous pave. If at any point the paving stopped, we would have had to mill the entire top layer of asphalt off of the track and start all over." 
To complete this project, Sunland utilized three pavers, three material transfer vehicles, 20 rollers, 50 dump trucks and a crew of 47 Sunland employee owners running continuously.   
Sunland's Safety Focus
Baer says the Apex project was challenging from a safety standpoint due to the complexity of echelon paving, the utilization of equipment and the number of employees and bystanders onsite. During production, tours of the project site were being given to potential members of the Apex Motor Club, which added a level of safety awareness for the crews. Baer says that to ensure crew safety, pre-task planning was completed and revisited multiple times a day to forecast potential safety concerns and to plan safe operations.  Sunland provided additional spotters and radios to ensure communication.
"Safety is the foundation of Sunland's core values. We begin every project with safety in mind," Baer says.
Pursuing Specialty Work
Sunland has grown over the last 40 years from a private asphalt maintenance contractor to a full-service national contractor with disciplines in public works maintenance and highway and bridge construction. 
"We like the racetrack world," Baer says. "In the past, Sunland has completed quite a bit of maintenance, repairs and even overlays on other racetracks (including GM, Ford and Nissan proving grounds), but Apex is the first track we have constructed from the ground up." 
Baer says it's Sunland's employee owners that enable the contractor to work in the specialty market doing work on airports, bridges and racetracks.
"The quality, the workmanship of what our guys are doing has enabled us to move into the specialty paving market where not a lot of people can participate."