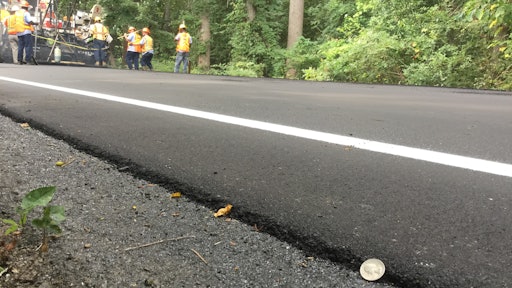 The placing of hot mix asphalt (HMA) overlays thinner than the usual 1.5-in. minimum often raises eyebrows. But it's commonly being done nationwide, and many agencies are totally sold on the concept.
"Thinlay" is the general term used for this strategy. It involves special small-aggregate HMA mix in thicknesses only ¾ in. to 1 in. placed as surface treatment on structurally sound pavement. These mixes are produced in hot mix plants and placed with conventional pavers and rollers.
In California, typically only ope- graded friction courses (OGFC) and thin-bonded overlays are placed in thickness less than 1 in. But based on national experience, thinlays might be thought of as another tool in the bag of surface treatments, usually applied as preventive maintenance for pavements still in good condition.
In a recent webinar sponsored by the Asphalt Pavement Alliance, a panel of road managers from across the nation, including officials New Jersey, Ohio, Wisconsin, Oregon and Mississippi discussed their experiences and best-practice tips for thinlay technology.
Based on their experience, thinlays have a lot of potential benefits and uses, including sealing, smoothing, improving skid resistance, noise reduction, x-slope restoration, minor rut leveling and raveling repair. Smaller thinlay projects are often done in-house with agency crews and equipment.
As for the mix itself, thinlay HMA mixes generally use smaller top-size aggregate (3/8 in.) and a harder polymer-modified asphalt binder (e.g. PG 76-22). Specifications often require 100% crushed aggregate for maximum stability – especially in hotter climates. Because of the rapid cooling of thinlays, warm mix asphalt (WMA) technology can be used to aid in proper compaction. Thinlay best practices include:
Targeting pavements with PCI > 65
Pre-repair of localized defects
Pre-milling of rougher pavement (e.g. distortions around intersections)
Placing an asphalt tack coat
Using riser rings on manholes and other 'iron' in the street.
Thinlay HMA paving involves conventional paving equipment and is dust free with minimal traffic interruption. Life expectancies are reported to be 10-plus years over old asphalt pavement and 6 to 10 years over concrete pavement. For more information go to: www.roadresource.org or  http://store.asphaltpavement.org/index.php?productID=696
Caltrans established the California Pavement Preservation (CP2 Center) at CSU, Chico in July 2006, and fully funded the Center in January 2007. Dr. DingXin Cheng is the current Director of the Center.  Mr. Hector Romero is the current contract manager of Caltrans. The purpose of the Center is to provide pavement preservation support services to Caltrans and other public agencies, and to industry. Unique services include developing educational programs in pavement preservation, providing training and staff development opportunities, providing needed technical assistance to public agencies and industry, and managing/conducting research and outreach services, such as this newsletter. CP2 Center News is published quarterly by the CP2 Center, Langdon Hall Suite 203, California State University, Chico, Chico, CA 95929-0603,  Subscriptions by e-mail: contact CP2C@csuchico.edu to add your name to the distribution list.