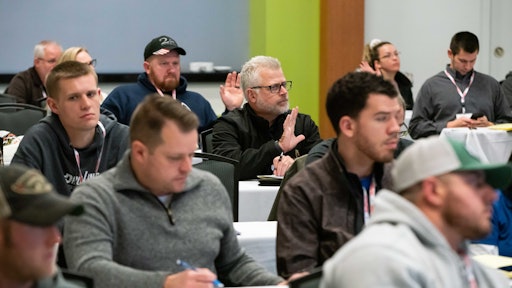 While the world deals with the unprecedented effects of a global pandemic, organizers for the National Pavement Expo (NPE) are casting an optimistic gaze toward Nashville where the show aims to convene once again from Jan. 20-23, 2021, at the Music City Center in Tennessee.
Attendees who make the trip to NPE routinely report a vibrant show that consistently brings asphalt and concrete vendors together in one place to share best practices for: sealcoating; striping; sweeping; crack repair; pavement repair; and snow removal.
"It's a chance to network with other paving professionals, attend industry workshops, and learn new ideas at our leadership boot camp," says Porscha Brooks, Marketing Manager, NPE. "In addition to hosting 200+ leading brands from the paving and pavement maintenance industry, NPE delivers more than 55 conference sessions over a five-day span."
Housing reservations for the 2021 NPE will open in early summer 2021, and reservations are provided by EventSphere, NPE's official housing partner. Benefits of booking within the official housing block include: discounted Rates for guests; flexible cancellation policies; exclusive promotions and perks; discounted rates on upgrades; and more. Prospective attendees may contact EventSphere at pavement@eventsphere.com with questions.
Topics Addressed at Conference
Leadership Boot camp, workshops, and education sessions will cover a variety of topics led by leaders in the paving industry highlighting critical issues such as:
Management Skills
Operator Performance and Safety
Risk Management
Leadership Strategies
Asphalt Design
Cracksealing
Paving
Sealcoating Principles
Striping
Sweeping Topics 
SmartSaver rates offer the absolute lowest (and earliest) rates available for prospective attendees. For those who are making plans to attend the show, as well as add-on events, it makes sense to sign up early. SmartSaver rates begin early fall 2020.
"It's true that 2020 has proven to be an extremely challenging year, in the United States and throughout the world," adds Brooks. "However, we are actively planning NPE, and it's our intention to get back to business in 2021. After all, there is still a lot of ground to cover—literally and figuratively."