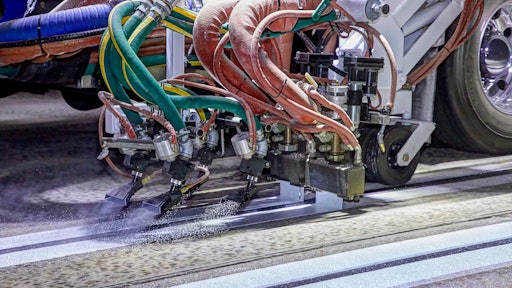 In an effort to improve driver safety and enhance the use of driverless vehicles, 3M is participating in two pilot programs to measure the effectiveness of a new pavement marking product and a new pavement marking tape.
3M was invited to supply its Connected Roads All Weather Elements striping technology in a Georgia Dept. of Transportation test on The Ray, a 13-mile test project in the southern part of the state. The Ray is an 18-mile stretch of Georgia's I-85 created by the state to honor Ray C. Anderson, a Georgia businessman and environmentalist. A public-private-philanthropic partnership, The Ray is "a test bed for connected vehicle technology, including vehicle to infrastructure technologies and to create a foundation to study future connected highway technologies."
According to Elizabeth Dunlap, global portfolio manager for 3M's Pavement Marking Group, 3M's Connected Roads All Weather Elements striping technology was installed last November. The product is designed specifically for high visibility in day, night, and all weather conditions for humans and camera systems used in connected and automated vehicles.
"If humans can't see the markings on the road then cameras in a vehicle can't see them either," Dunlap says. "What we've developed is a marking technology that will make it easier for humans and cameras to see markings in a variety of weather conditions."
Connected Roads All Weather Elements are compatible with most pavement marking binders including paint, epoxy, methyl methacrylate and thermoplastic.  The elements are dropped only the binder as part of a double-drop system, along with glass beads. Beads, embedded in the marking material, are what largely determine the reflectivity of pavement markings. Markings without beads are generally used only on pavements that don't experience night traffic – such as parks that close at dusk. All other road markings require reflective beads and most current specifications call for a material with a 1.5 refractive index (RI).
Dunlap says the 3M product is available in two configurations, the Series 50 (installed on the The Ray test area) and Series 90. The Series 50 product is made up of elements that are 50% 1.9 RI beads and 50% 2.5 RI beads which allows for optimal performance in both wet and dry conditions.  The Series 90 product is made up of elements that have 80% 2.4 RI beads and 20% 1.9 RI beads.  In comparison to Series 50, Series 90 provides additional wet reflectivity, good for areas with heavy rainfall," Dunlap says.
Tape Being Tested in Canadian
3M's Stamark Series 380 marking tape is installed on Highway 407 in Canada. Available in white, yellow and black, the tape is available in a broad variety of widths from 2 in to 24 in. depending on the series and the marking needs. The Canadian installation involved 2 in. of black on either side of a 6-in.-wide white strip in the center. Dunlap says the various configurations are available so any agency can customize the tape they're putting down.
"The idea is to contrast the black on either side of the white or yellow marking; to make the delineation of the marking more visible to both human drivers and camera systems, especially on light-colored surfaces like concrete, Dunlap says.  
Dunlap says Stamark tapes are a premium product that offers excellent visibility and durability.
Unlike preformed thermoplastic, the Stamark tape does not require heating. It's applied by hand, followed by a tamper cart, or with a truck-mounted application unit for larger jobs.  Stamark tape comes with an aggressive, pressure-sensitive adhesive and before putting the tape down an added surface preparation adhesive may be used.