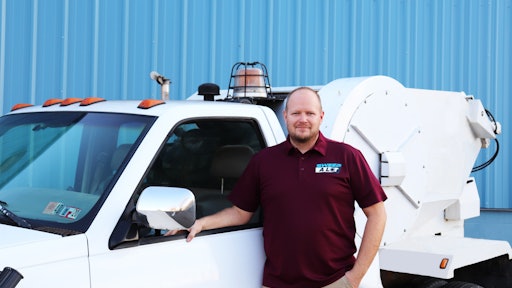 A few years ago, Robert Vlacich's son and his pre-school classmates cleaned up a parking lot to celebrate Earth Day. "I thought that while it was great to do something like that, kids shouldn't have to be cleaning up parking lots," Vlacich says.
And that might have been the genesis of his two-year-old, part-time sweeping company, Sweep A Lot in Montoursville, PA.
Vlacich isn't a rabid environmentalist, but his son's Earth Day celebration and what he noticed on local parking lots got him thinking.
"I love to hunt and hike, and while I'm not a crazy tree hugger I definitely worry about the environment. I love the outdoors," he says. "My family and I love to vacation down at the Chesapeake Bay and the largest contributor to that bay is the Susquehanna River which runs right near where we live. The stormwater issue is really important down there and I realized we're contributing to whatever problems might be happening in the bay.
"The simple fact is there's trash everywhere you go, and it really looks terrible. I started noticing that not all places are like that and I got to wondering why that is."
His brother-in-law is a civil engineer involved in stormwater management, and Vlacich called his attention to some of the trash he saw regularly.
"I think we were down at the Chesapeake Bay, as a matter of fact, and I was pointing out how all the parking lots there were clean compared to where we live. He said 'well, these parking lots are swept.' I just started thinking about that."
No Local Sweeping Companies
Vlacich investigated who was sweeping in the Montoursville area – and he discovered a gap.
"Nobody really offers parking lot sweeping and when I saw that I saw an opportunity," he says. "There are a few sweeping contractors servicing the area but they're servicing it from quite a ways away. There's nobody local."
He thought the fact that no one serviced the area locally could account for the state of local parking lots, partly because sweepers coming from a distance must spend on fuel and operator time. So he decided to start a local sweeping company.
"There wasn't really an 'ah-ha' moment. It was more an accumulation of thoughts over time," he says.
That accumulation of thoughts led in 2018 to the purchase of a well-used Tymco 210 sweeper and suddenly Vlacich was an owner/operator of a sweeping business. With fewer than a dozen accounts, he sweeps nights and weekends, focusing on commercial and industrial clients.
Automotive Background Helps
Currently Vlacich is not using Sweep A Lot as a "feed myself or starve" business. He's a full-time instructor of automotive technology at Pennsylvania College of Technology – so he has invaluable skills that enabled him to buy an older sweeper he could fix.
"That was actually the toughest part – getting the sweeper operating the way it should," he says. "The truck had all the manuals with it, which was lucky, and I read them all start to finish to learn all I could about the truck."
He also did a lot of maintenance that had been deferred, including adjusting the hydraulic system and getting the brooms set up in the right spots. He also rebuilt the sweeper head and had a dust separator fabricated out of stainless steel.
Vlacich says he learned how to sweep parking lots "through trial and error," which he says wasn't that difficult and didn't take him very long. He's done quite a bit of pounding the pavement and knocking on doors in search of clients. He joined the local Chamber of Commerce and he says networking at their meetings has helped. He's also used direct-mail promotions to various lists, and currently relies on a Facebook page instead of a website.
He says his pricing is competitive and he's flexible enough so he can sweep whenever a client needs him. He plans to begin working for municipal customers and to grow into a fulltime company.
"I figure that stormwater is a big issue now and it's going to continue to be a big issue," he says. "There's just going to be more and more emphasis on cleaning up stormwater."