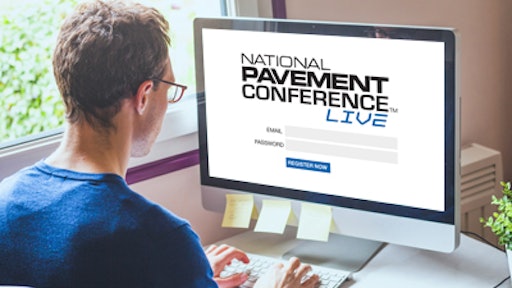 National Pavement Conference Live, a three-day virtual educational event wrapped up in late February and featured a varied slate of 16 educational sessions, in addition to a range of product demonstrations from stalwart companies: MRL Equipment Company, Inc.; DYNTATECH; and the 800 Pavement Network.  For those who missed the live presentations, all content will remain on-demand for six months.
With one low price, virtual attendees can learn from familiar experts on nuts and bolts topics, such as:
• professional sealcoating from A to Z;
• striping productivity using today's technology (auto-layout and laser systems);
• residential and commercial paving;
• boosting your online presence;
• thickness design and pavement distresses; and
• contractual liability and risk transfer.
 Other topics on the agenda touch on the pavement world to varying degrees, promoting skills such as leadership and salesmanship that translate to a variety of industries. Yet another presentation features first-time speaker Traci Brown, a fraud-busting body language expert who spoke about the many ways pavement professionals can sniff out deception.
 As an expert in the field for two decades, Brown demonstrates how tone of voice, word choice, and body language can reveal lies. Detecting these lies can save pavement professionals a lot of grief. For example, clients may not always be forthcoming about the real challenges that may arise during a particular job, but how do you know? Other situations may also depend on total honesty.
 "You have challenges that are all made worse by dishonesty," Brown says. "It could be the hiring process. It could be investigations. It could be sales. Buyers are liars. Are you really the last one they are talking to? Are vendors really giving you the best price? Does the stuff they are selling really work as well as they say it does? All of these are different situations where body language and deception can be present. It can really impact your bottom line if you don't catch that lie."
 On the phone, on Zoom, or even behind a mask—Brown says the cues are there for those who have the sensitivity to see. "Most of us are paying attention to ourselves and not paying attention to what is going on outside of us," she says. "Liars know that and they take advantage. A lot of liars are not even any good at it, and they still get away with it. Just a little bit of attention, and raising your sensory acuity just a little bit, can go a really long way."
 "As with all NPE events, the virtual version of NPE was designed to provide relevant and timely information to the pavement industry that can impact your businesses now and in the near future," says Russ Turner, associate show director, NPE. "With the recently concluded National Pavement Conference Live, I believe we achieved that, and everyone who missed it has a chance to access that content until the end of Summer. As for 2022, we certainly hope to see everyone in person yet again."