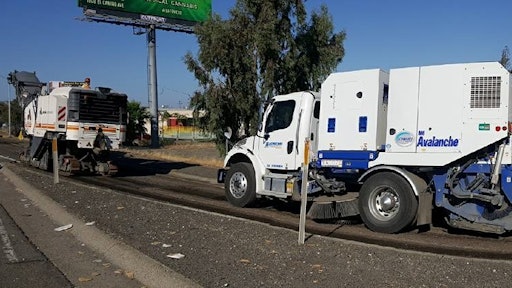 Photo supplied from Schwarze Industries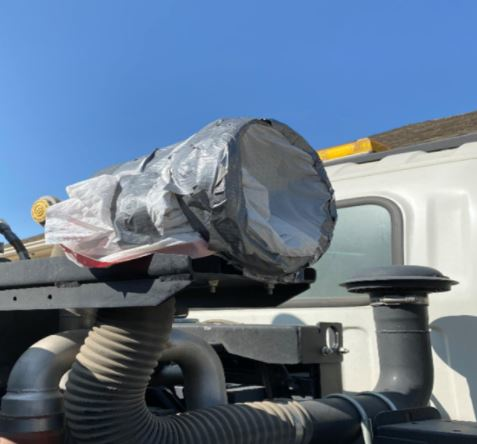 Shortcuts and cause catastrophic failures. This is not the proper way to secure the filter housing and can cause significant damage.Costas Cordonis, Schwarze IndustriesRoutine and preventive maintenance are necessary tools that proactively help keep your equipment up and running while increasing your profits. "If you want to be profitable, you must be productive," said Costas  Cordonis of Schwarze Industries during the National Pavement Conference Live. "To be productive, you have to ensure your equipment is well maintained. It has been recognized that a good preventive maintenance program could provide a company with significant cost savings."
Machines do not perform properly when they are out of factory tolerances. Repair downtime events naturally lower production levels and quality of work. Use these everyday tasks to help your equipment perform well while on the job.
Filter Maintenance
It is vital to maintain the sweeper engine and air filters. This can prevent costly breakdowns. "The engine needs to breathe clean air to operate properly," said Cordonis.
Engine manufacturers recommend having the oil and filter replaced every 500 hours
Air filters should be replaced as needed, depending on the severity of the sweeping conditions. At minimum, once a week for the primary filter and once every three weeks for secondary
Avoid cleaning filters with high pressure air
Replacing an engine filter is much most cost effective compared to the alternative, having to replace an engine.
Air Flow
Air street sweepers rely on air flow movement for optimum vacuum. If there is any blockage, this will affect the sweeper's performance. 
"To accommodate the performance, the operator will increase the engine RPM's," said Cordonis. "This will cause more fuel consumption and lower performance. At the same time, it will require more labor costs and possibly overtime to complete the job."
Daily cleaning and inspection is essential.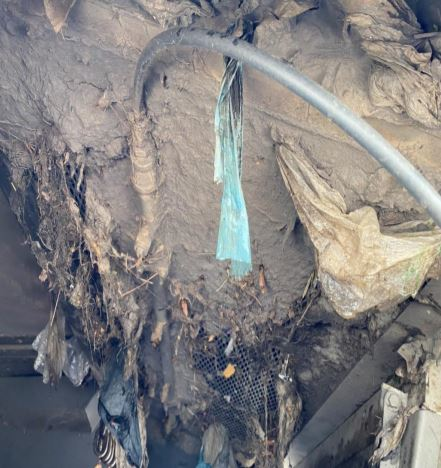 Hopper screens should be kept clean to allow air to flow throughCostas Cordonis, Schwarze Industries
Hopper screens should be kept clean to allow air flow through and remain unobstructed
Inspect the pick up head, making sure the seals are intact and that there aren't any leaks 
Water System
The water system is an essential part for all street sweepers. It suppresses dust during operation, which is harmful to surrounding as well as dangerous to passing vehicles if not taken care of. "The dust is destructive," said Cordonis. "It creates a sandblasting effect to the blower system and create failures. Premature fan and blower wear can cost as much as $25,000 to $30,000."
Broom Assemblies 
A systematic inspection and correction on simple adjustments, such as down pressure and strike pattern, will assure consistent performance. 
Clean assemblies
Grease bearings
Replace bristles if there is uneven wear or they are too short for the proper 'flicker' effect
If there is uneven wear, adjust the down pressure so the brom isn't digging down
Hydraulic System
The hydraulic system of the sweeper should be maintained regularly since a lot of components on the machine are activated hydraulically. Check for:
Valve corrosion
Hose chafing
Oil leaks
Oil contamination
A leak along with the lack of clean up could cause system contamination, which would require a system flush including hydraulic component replacement.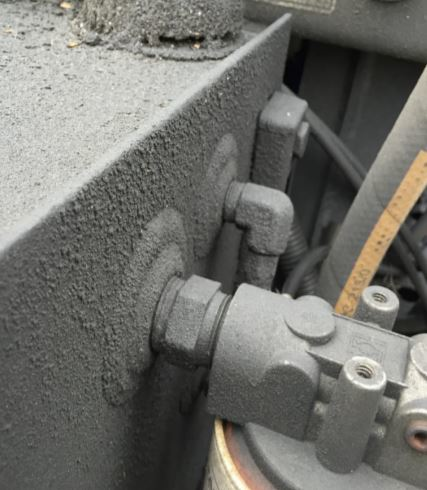 Hydraulic tank that has been covered with dirt and oil from a leak. The cap on the hydraulic tank is vented, and if the debris gets into the tank the oil will be contaminated.Costas Cordonis, Schwarze Industries
To increase productivity and lower operating expenses, it is important to maintain the equipment and keep it running as close to factory standards as possible. "Preventing costly repairs and unnecessary downtime will increase productivity and ultimately profits."