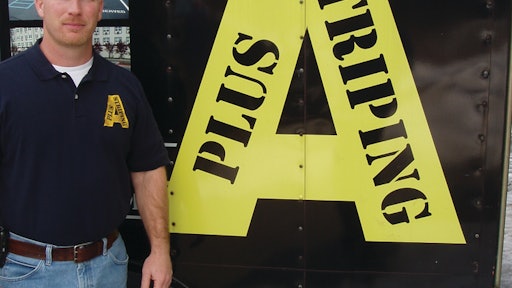 When Rob Gerczak, president of A Plus Striping Inc., Vernon, NJ, started his striping company in 2000 he soon realized he needed to find a niche within the industry. But instead of choosing a particular type of service he pursued a particular type of customer - paving, sealcoating, and general contractors.
A Plus Striping is a full-service striping contractor offering parking lot, intersection, and roadway markings; warehouse and parking garage striping; thermoplastic markings; sports court striping; and signage.
Although A Plus Striping is a striping-only contractor, Gerczak still markets his company as a full service pavement maintenance contractor, and that's because of the relationships he has formed with other area contractors.
"I have established great relationships with several different sealcoating and paving companies," Gerczak says. "When we come across a job where the customer wants paving, I bring in the paving or sealcoating contractor best suited for the job at hand. And they do likewise when a customer wants striping. It's a mutual relationship.
"Because I know that these contractors are going to call when they are ready for me to stripe, I can focus my time on maintaining those relationships rather than trying to 'sell' my services directly to owners. The leg work is already done."
But these relationships didn't just happen. Gerczak says learning how to develop these relationships is an ongoing process because everyone is a little different. The key is developing trust. "You have to be able to trust the contractors and they have to be able to trust you," he says.
Building these trust-based relationships isn't easy. In the beginning, Gerczak sent out mailings to general and paving contractors. He also tried faxes. But he soon realized that to forge the relationships he was after he was going to need to take the next step.
"The only way that you can develop a relationship is you have to go and meet them face to face. And they have to remember you," Gerczak says. He makes a point to not only introduce himself to contractors but also to follow up with them a few days later to trigger their memory. That's the point where Gerczak asks if he can help out on any of their projects.
"You have to find out from them what you can do for them," he says. "You have to ask 'what do I do well?' and 'what would you like your contractor to do better?'"
Gerczak says the relationships he's built with paving and sealcoating contractors in the New York and New Jersey areas have saved him time and money. When A Plus striping gets a job, Gerczak has those go-to companies he can contact for any repair, sealcoating, or paving work. And when those companies need a go-to striper A Plus Striping is the one they call.