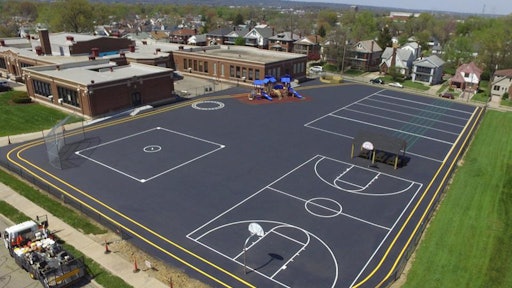 Last February, Southwestern Ohio Services LLC, based out of Fairfield, OH was contacted by Miller-Valentine Group property management to see if they would be interested in participating in their "Adopt-A-Class" project at Norwood View Elementary, in Norwood OH. 
The Adopt a Class program helps to connect inner-city youth with local businesses through mentorship and an annual class project. This year, Ms. Maglecic's 5th grade students were selected. The project was named "Warriors in Motion."
 The scope was to include a full renovation of the playground surface, new painting of playground games and upgrades to the community areas. The students were asked what they wanted to see done, and the plan was set in motion. 
Laura Hrnyak, owner of Southwestern Ohio Services, felt this would be a great way for her company to get involved and give back to the kids, school and community. "We were thrilled to be invited as a partner in the overall beautification of the school and playground," Hrnyak says. 
As a former educator herself, Hrnyak was extremely proud and excited to be able to help in creating a fun, health-inspired playground for the students, school and surrounding community. 
The scope of the project consisted of preventative maintenance on the playground surface which included clean up, crack fill, and seal-coating. Then striping the playground games that had been predetermined by the 5th grade class. 
"I knew this was an amazing opportunity for us to get involved and really help to get the kids at Norwood View excited about getting outside and having an awesome place to play," Hrnyak says. "We decided we wanted to donate the crack fill material, paint, striping, time, and labor associated with this project. We contacted Neyra Industries and were extremely pleased when they agreed to donate the sealer."
Prep to Play
The project was on a deadline for May 5th, which was the scheduled date for the "Reveal Party."
"We were hoping for warm dry weather in the spring to get started," Hrnyak says. "We were able to get started the week of April 11th."
The project began with cleaning the existing lot, filling all the cracks with hot melt rubber and then applying 2 coats of sealer.
"There had been some demolition of steps so there was a lot of mud on the surface that had to be cleaned up," Hrnyak says.
The team used blowers, power brooms and tillers to first clean the area and remove any vegetation and dirt from the surface. Southwestern Ohio Services LLC then used direct fire melters/applicators for crack-filling and a seal tank with a spray attachment for sealing. 
Hrnyak and her two sons (who are her business partners), and one other team member filled approximately 1200 lineal feet of cracks and sealed 5400 square yards of playground surface. 
"We always use Neyra for seal coating because we know we are creating a surface that is durable, long-lasting and visually appealing," Hrnyak says. This process took a total of four days. On day three, the team began laying out and striping the playground games.   
"During striping, we tape off the majority of the games to ensure a crisp, clean line and then use our line stripers for striping /spraying the playground," Hrnyak says.
Giving Back
Southwestern Ohio Services has been in business for over 35 years and is an integral part of their community so giving back comes naturally to them.
"This was definitely a "feel-good" project," Hrnyak says. "It's important to participate in projects that are promoting both emotional and physical well-being. It creates a community where people come together for something bigger than themselves. It promotes cooperation, teamwork and strengthened relationships with everyone involved."
Not only that, but there's nothing like a new basketball court to make a child smile.
"The kids' faces at the project unveiling said it all," Hrnyak says. "They were excited and energized with their new area! They were leading "tours" of the new playground and even encouraged us to join in and play along. It was a wonderful day and definitely a gratifying moment for all involved.
"We are very grateful to have had the opportunity to be a part of this project, and are humbled and thrilled to be recognized for this award," Hrnyak continues. "We are a small family business that understands how important collaboration and relationships are.  We are constantly striving to improve and grow, yet keep the values and dedication that got us this far."