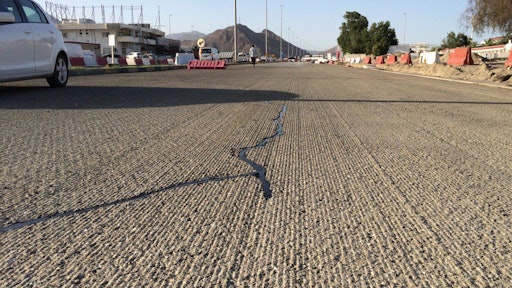 In addition to relying on cracksealing to protect any asphalt surface, cracksealing can be used if random cracks are revealed once the top surface is milled in preparation for an asphalt overlay.
Sealing these cracks is easy and a crucial task at the same time. It can help prevent cracks in the milled surface from reflecting into the new wearing course. 
Once the milling work is complete, it is critical that the site supervisor locate the existing cracks and determine if they need to be sealed prior to the overlay. 
Once it's determined which cracks need to be sealed, it's important to route the cracks to create a reservoir before applying cracksealing material. A good rule of thumb is the reservoir should be roughly 1/2-in. wide and 3/4 in. deep.
The router operator guides the router pointer on the cracks and follows them backwards. Carbide cutters with fast rotation on both drum and dowel pins enable the operator to maneuver the router to follow the cracks. Some routers enable the operator to change the routing depth from the handle while on the move.
Where the crack width is less than  1/2 in., the user can rout the crack to a depth of  1/2 in. But if the width is greater than 1/2 in. the user should set the router to 3/4 in.
A key task after routing is to ensure that the area is thoroughly clean of any debris as leaving any loose material or dust in place can result in a failure of the whole process.
Using blower along with compressed air to clear out the debris is a useful technique, while a hot air lance can also play a key role on sites where surface humidity levels are expected. Any moisture left on the sides of the crack can result in early failures.
The user has to select a rubberized hot applied sealant according to the weather condition. This sealant can then be gravity fed using cones into the crack area -- a simple, fast, low-cost, and easy method to carry out.
Indirect heating of the sealant in an oil-jacketed kettle before application is important so as not to damage the material characteristics.
Applying the sealant approximately 1/10 in. lower than the milled surface will prevent the raise of material or any stress with new overlay.
If feasible, it is recommended to wait for a several days or a week to pave the new layer once the sealant has been applied. This will allow the material settle properly. 
Farzad Tooryani  is  director at Marathon Sealing FZE, the Middle East representative of Marathon Equipment Inc. (www.marathonsealing.com)