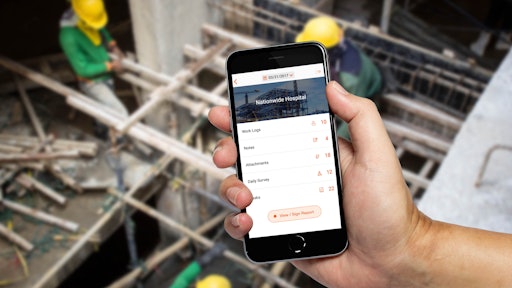 By Nathan Medcalf, Contributing Editor
Unison Construction Management is saving clients significant money using the Raken app to efficiently document accurate worksite conditions in real time to match the speed of tenant improvement projects.
Unison Construction Management offers tenant improvement services, which means converting a built structure into something else; they're not building something from the ground up. "We don't dig holes and pour concrete; we take an existing building, gut it, and transform it according to the client's specifications," says Mike Sengara, director of project management for Unison. Schedules are tighter and less flexible than in new general construction.
"Every project represents two to three real estate transactions and two to three stakeholders," he adds. "We are often preparing a building for a group of people who are scheduled to vacate another building by a certain date and they need somewhere to go, so missing certain deadlines in tenant improvement isn't even an option.
"With the Raken app, our site superintendents are building their report as they're working throughout the day, which means better quality documentation because site superintendents are no longer pulling out a notepad at the end of the day and piecing the day together, so to speak, so it eliminates the opportunity to forget details," Sengara says. "Also, the accuracy and potential for greater detail of the project documentation – photos, videos – projects are far better tracked and reporting is far more accurate than previous. In short, the Raken app makes it much easier to make a much better report."
 Raken allows users to employ their mobile device's talk-to-text feature to quickly note project details that they want to include in daily logs. Photos, video and other files can easily be attached to these notes, to the level of detail that communicates most clearly.
[VIDEO] How to build daily reports with Raken mobile
Unison adopted the technology nearly a year ago. "It was one of my conditions when I was hired that the company adopt some technology that makes sense," says Sengara. Previous to adopting Raken, the company was using a Word template. "It was like running analogue instead of digital."
The company tested the app on a smaller project. "We dipped our toe in the water as you often do with a new technology. At the time we first used Raken, our senior site superintendent, Andrew Dyer, was running a smaller site, and it was relatively painless. The site supervisor declared if he can learn to use this app, then anyone can; which became a benchmark and a good selling point for adoption when training other site supervisors."
That easy adoption has been one of the keys to Unison's success with Raken. Technology adoption in construction has, generally, suffered from the complicated nature of enterprise solutions and users that are hesitant to adopt new technologies in the first place. Unison's simple test demonstrated Raken's strategy to overcome that obstacle: get a trial on a single project and let the software's utility and ease-of-use drive expansion into more projects. Raken was designed to be easily scalable from a single-use trial to widespread adoption, as Unison demonstrated by moving Raken from a smaller site to their largest retail projects. 
No more he said, she said
On more than one occasion, use of the app convincingly documented how building conditions were delaying construction and causing damage. On one project, a major global retailer was building a flagship store in a high-end shopping district in Vancouver, Canada. "Throughout the project, we had significant issues with the building envelope; we were experiencing water leaks from a large atrium," says Sengara. "The Raken app allowed us to document in detail with photos and videos what these leaks were doing to impede our progress, as well as document the damage that was being done."
The amount of work needed to produce that information for the client wasn't significant, says Sengara, but it was required. "There are issues that the landlord either didn't know about or didn't disclose. It cost a lot of money to fix what needed to be fixed by the landlord, and the client was very happy that we had such accurate and well-presented reporting about issues on the site."
In another example, the company was providing services for a large European global shipping company. A roof leaked into the building's IT and communications room. "We had documented the issue since the beginning of the project and helped provide to the client information in real time about what was going on," says Sengara. "Again, the client was so very happy that we could provide professional looking, detailed information about on-site conditions, as well as an accurate picture of the timeline demonstrating how the issue was affecting progress."
A tool for health and safety
In addition to providing better project information that is building better client relationships, Unison is using Raken to become COR-certified for safety. (COR – certificate of recognition – is a safety certification administered by Canada's Infrastructure Health and Safety Association.) "Raken provides the ability to our chief safety officers and site superintendents to daily and easily document safety [practices] and incidents on site. It's kind of the theme here, right?
"These guys aren't always technically savvy. Now I think they wouldn't be able to do their job without it. Once you use the app, you will wonder how you did it before."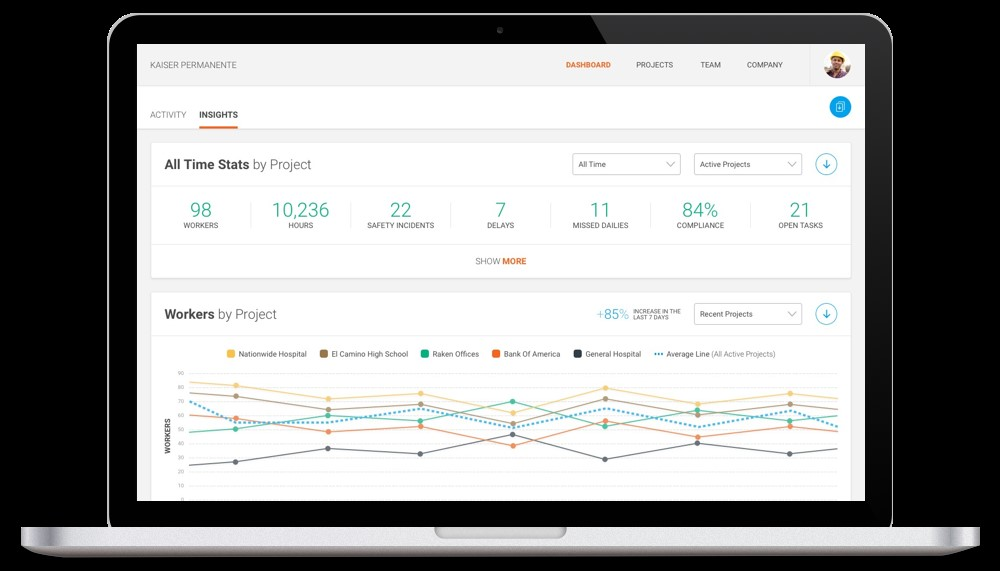 Along with easily capturing data in the field, Raken allows you to monitor live site activity and insights from the office.