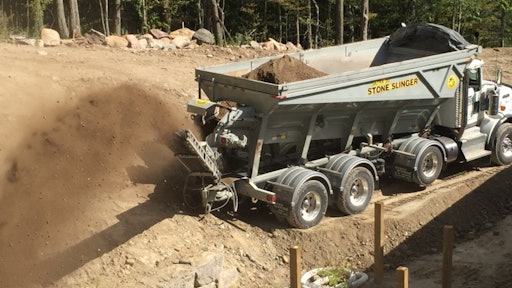 By Nathan Medcalf, Contributing Editor
Gravel Conveyors Inc. (GCI) wanted to improve their operations efficiency. They run a fleet of 12 Stone Slinger trucks and five dump trucks with plans of adding 10 more dump trucks this spring. They are also the Stone Slinger local representative and sell the equipment to other contractors. In order to boost efficiency, company owner Travis Pettijohn examined several technology companies, and determined that only Verizon Connect had all of the solutions that GCI needed to boost overall operations efficiency.
"The problem we were trying to solve involved metrics," says Aaron Witmer, operations manager, GCI. "We wanted to be as efficient as possible with every aspect of our fleet.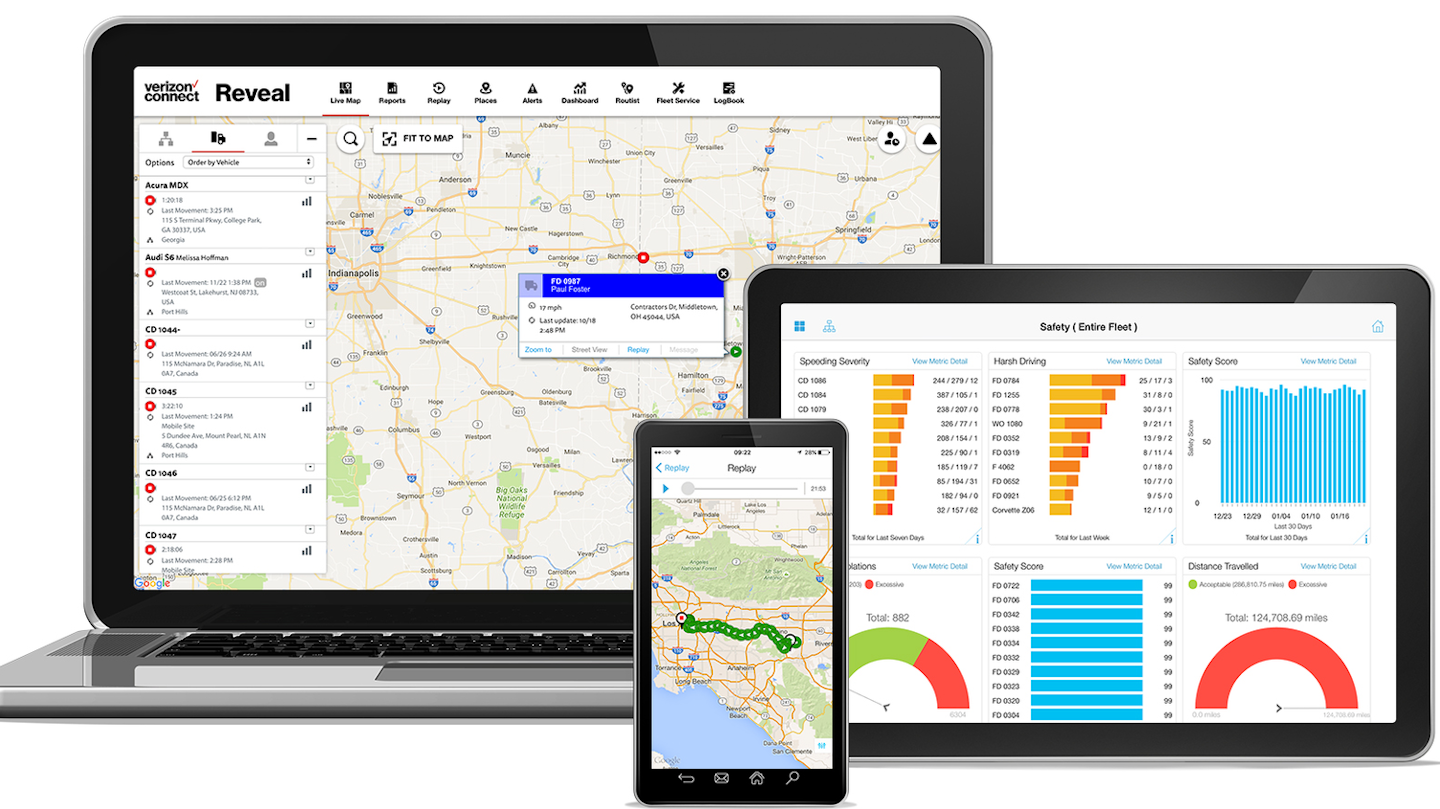 Verizon Connect is a mobile workforce solution for fleet and field personnel and offers a full suite of services, such as GPS tracking solutions, billing and invoicing."In the past, we had used GPS tracking systems, but all they did was tell us where our trucks were. However, we use all aspects of Verizon Connect – not only GPS tracking, but also maintenance and repair tracking. We also needed a way to more accurately clock our drivers. When they leave our facilities, they are clocked in and when they return at the end of the day, they are clocked out. Only Verizon Connect has a platform that has all of these aspects working together."
Benefits for employees, too
"Once people started using Verizon Connect and the new ways of doing things, they became addicted to it because it's so much easier," says Witmer. "There is no more punching of the clock. No more writing time sheets." Through GPS use, the company's mechanics can independently locate trucks that are experiencing an issue in the field. "Everyone has the app on their phones and everyone uses it from our mechanics to our drivers to dispatch," he says.
Some of the biggest benefits to using Verizon Connect are experienced by dispatch. "Dispatch is probably the most obsessed with it, because it makes his job so much easier," says Witmer. "Now, he knows when a truck is going to be down, and he knows exactly the tire life on a truck, and even what driver is in the truck, so drivers can change assignments and dispatch still knows which driver is on which jobsite."
Another feature that GCI says wasn't available in competitive products is the digitization and automation of information. "You don't have to check paperwork. You don't have to struggle to remember when truck drivers change trucks due to maintenance. Dispatch knows that because it's right on his dispatch screen in front of him. When drivers change trucks is one of the things that makes dispatch difficult. Maintenance and driver assignments are also important to dispatch," says Witmer.
[SPONSORED] Increase profitability and efficiency with your fleet now with a free fleet management system demo >>
Not for you, Uncle Sam
Besides the efficiency gains, Verizon offers another big benefit – tax rebates for off-road fuel use.
"We run our slingers on PTO (power take off); that is what turns the machine on when it gets to a jobsite, says Witmer. "Stone Slingers are a piece of equipment secured to the back of a semi-truck. When we turn on that PTO to operate the heavy equipment, we are running that off the same engine and the same fuel as when we're driving down the road. That fuel is on-road diesel and we are taxed for that, however, when we run the equipment in off-road applications, we can track that time and submit that data to the government for a rebate."
On-road diesel is taxed, and off-road diesel is not. It's impractical to fit a truck with two fuel tanks (one for on-road and one for when the truck is working on a project site), so the company burns taxed, on-road fuel all the time and applies for a tax rebate on the portion of fuel burned off-road.
"But, in order to claim this rebate from the federal government, the information has to be accurate and it has to be able to be proven," says Witmer. "You can't just say that you used it in an off-road application for so many hours."
With Verizon Connect, GCI knows how long the trucks run with the PTO switch is engaged, and GCI can use that information to file for a tax rebate. "Verizon Connect knows when the PTO is turned on, how long it's on, where it's at, to which job it is accredited, and then it turns all that information into an easy-to-read PDF document that we can submit to the government. And that rebate is huge, because we run the machines in an off-road application more often than we do an on-road application," says Witmer.
So, by using Verizon Connect, GCI was able to achieve significant tax rebates, make the lives of their employees easier and improve operational efficiency.        
[VIDEO] GCI Slingers Uses Fleet Management Solutions to Save Costs