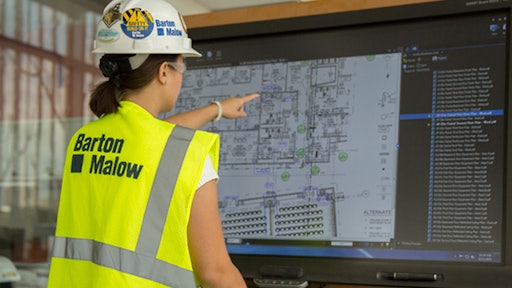 By Nathan Medcalf, Contributing Editor
"We are builders not brokers," says Barton Malow Senior Virtual Design and Construction Manager Matt Hedke. "We want to understand how every piece and part go together. Trimble has a similar culture. They want to understand how we are using the tools and how can they make it better."
Hedke describes Barton Malow as an innovator in a construction industry slow to adopt technologies, and says that's why the contractor has been working with Trimble for more than 20 years. "We want to partner with someone like us – someone who will adopt new technologies and push the envelope. Just like us, Trimble innovates, thinks differently, and is concerned with putting technology into the field."
One example: Trimble demonstrated its commitment to supporting the Southfield-Mich.-based construction manager/design-builder/program manager/general contractor in 2012. Barton Malow upgraded the 2D modeling system that the company used for modeling concrete rebar design to Trimble's Tekla 3D modeling system.
"We have to model the concrete to put the rebar in it," says Hedke. "No other software provider is as advanced as Tekla, especially with cast-in-place concrete and rebar modeling. We knew there would be a learning curve, but we embraced it because we knew the end result was where were wanted to be."
The fabrication software Barton Malow was using at the time didn't talk to the Tekla software. So Trimble had a few conversations with the fabrication software provider and, Hedke says, now all the rebar comes right out of the model into the company's fabrication software, and that information transitions through to their equipment.
Within a year of putting Tekla Structures to the test, Barton Malow was seeing efficiency gains upwards of 15%.
"We now have seamless integration between our modeling software and our fabrication software," says Hedke. "We have been able to eliminate data entry, which means we can now eliminate human error and the increased time that is a result of manual data entry. Once the 'gun goes off', we are on a tight timeline. We don't have time for mistakes or inefficiencies."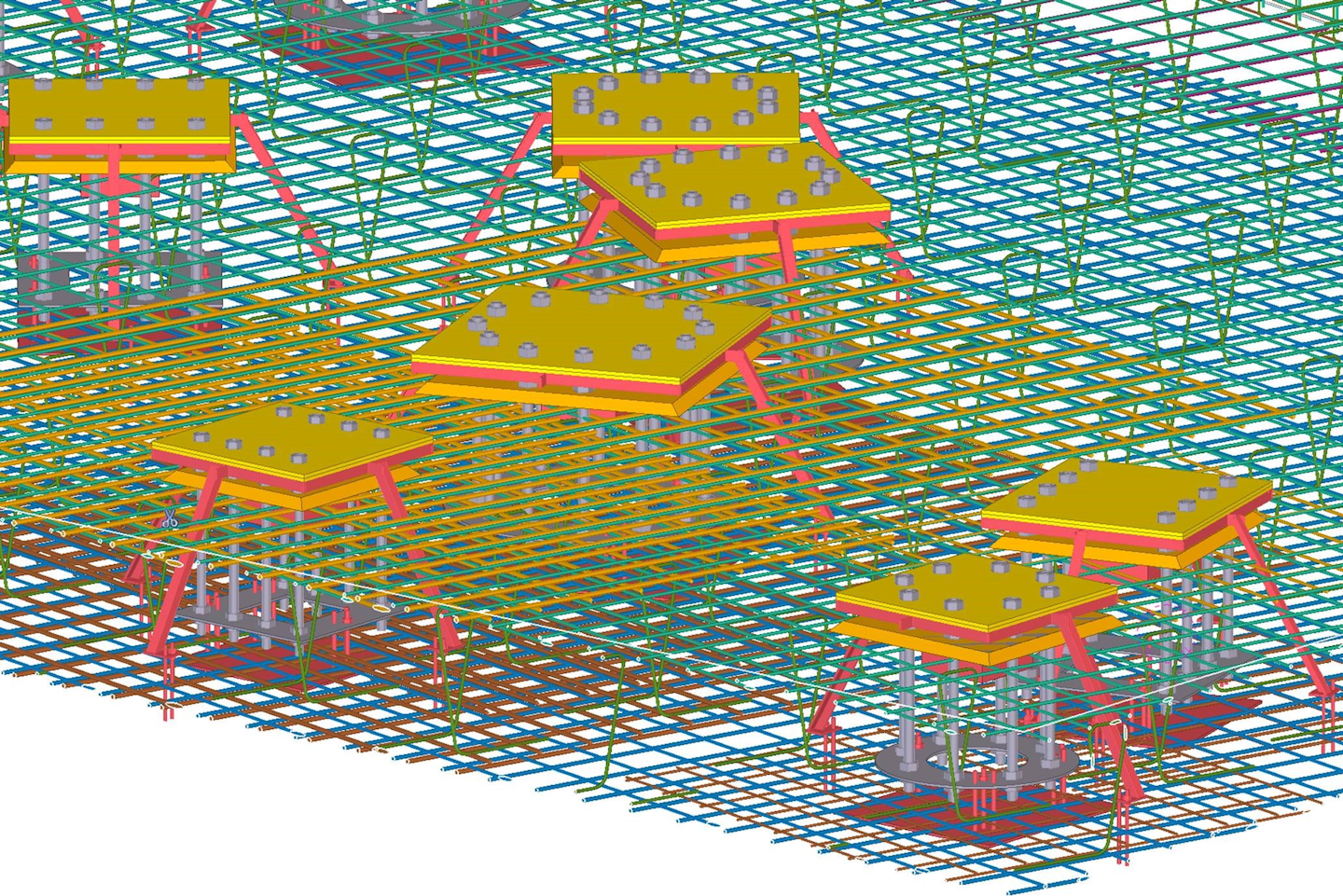 Barton Malow prizes the ability of Trimble's Tekla software's ability to quickly put previously overlooked details in 3D models of rebar design (such as these anchor-bolt embeds).
Barton Malow finds the tools in Trimble's Tekla software for scheduling columns and detailing slabs, base plates and stirrups drives efficiencies by enabling the team to rapidly add detail to their drawings. They've developed templates to create automated assembly tags, which provide instructions on how to pre-tie a cage to improve rebar placement efficiency.
"Before Tekla, we simply didn't have the time or the tools to easily add this depth of detail," said Hedke. "Our focus was on detailing the rebar rather than the various components of the concrete object. Tekla allows us to see in 3D how everything will fit together and if we will run into clashes or interferences."
Big, hairy, audacious goal
Right now, Barton Malow is pursuing a very big goal – what the company calls their big, hairy, audacious goal (BHAG). It was 2012 when the company decided to double its productivity by 2024 – the 100-year anniversary of the company's founding.
"The intent of the BHAG is to build a culture of continuous improvement and challenging the status quo. We want to look at every process then figure out how to make it better through a variety of means and methods. We feel like technology is a big piece of the equation," says Hedke.
The company is assessing each of its business activities line-by-line. "Because a lot of processes have remained relatively unchanged for the past 100 years, there is such a large opportunity to change."
According to Hedke, one of the keys to increasing efficiency is by taking a constructible approach. A constructible process integrates the complete building lifecycle to manage construction activities and team collaboration and improve overall productivity. By combining design, project management and engineering models into a collaboration platform, data from different sources can be combined and used to make more informed decisions before build and beyond. By taking a constructible approach using Trimble's technology, Barton Malow has been able to increase productivity and improve safety.
"We use a phrase at Barton Malow: 'plan the work; work the plan.' Our go-to solution for site logistics is Sketch-up [another Trimble product]. We will map out our site, identify and capture our plan. From there, we use Tekla to begin to build out the concrete, rebar, plan our pours, formwork, anchor bolts and much more in collaboration with our site teams. All of this is done virtually before a shovel ever hits the ground."
Technology to the field
One of the major changes the company is making is to get technology into the hands of their field staff.
With Trimble Constructible technology, all stakeholders have access to the sources of data that help them perform better. For instance, the pre-construction teams can use the shared constructible data to perform estimates faster and more accurately. Likewise, field layout and fabrication can also leverage the shared models and avoid potential errors due to rework.
"Feedback from the field has been positive. Technology and change are two things that typically create challenges with any person. Ensuring we are training and supporting our project teams is critical to getting our success," says Hedke.