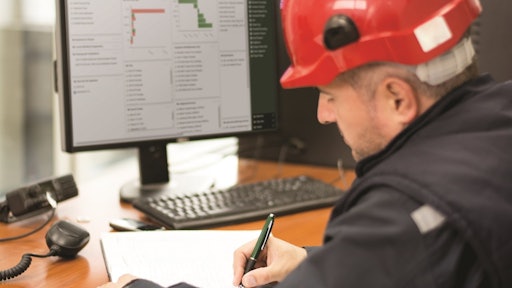 By Nathan Medcalf, Contributing Editor
Rocky Mountain Contractors (RMC), a division of MDU Resources Group, uses Viewpoint's Spectrum Construction Software to increase interdivision cooperation and collaborate over fleet management.
"Viewpoint Spectrum gives us the ability to communicate MDU-wide with other sister companies," says BC Caffyn, fleet manager with the 300-employee, Montana utilities services group. "When I speak with other fleet managers, we are on the same page. Because we look at each other's documentation, we can understand the issues brought up by the other person. It makes it easier to work together to come up with solutions."
Information access is essential
Information shared among approved members reduces the silo effect. Caffyn appreciates that Viewpoint allows him to dip into accounts payable history to see where parts were bought and their purchase price.
"One time a mechanic called me from a remote location and told me that a starter on a machine had gone out," Caffyn recalls. "He also told me when we had to replace the starter for this machine two years ago, it took us two weeks to track down the part.
"This time, I was able to look up the part we purchased and where we purchased it by looking in the accounts payable section of the software. I ordered the part and it was waiting at the parts house when the mechanic arrived in town. He picked it up, went back to the machine and fixed it the same day."
RMC set the software's Notes tab with 15 to 20 different columns from belts and filters, differential numbers, key tags, oils, parts, etc.
"It gives me an area to which I can quickly go see the different things that I have added to the system. For example, we have a backhoe that we bought from a sister company and I have it entered into the system. By using Spectrum, I know when we took ownership of it and I know what we have done to it. If our mechanics need to look up one of our machines, such as a specific wire rope puller, they can look it up and find out parts information. This is invaluable information."
Collaborative fleet management
Caffyn also says Spectrum helps the company with monthly equipment reviews. The company – from the president to the mechanics – together look at equipment utilization and determine whether a piece of equipment is worth the money.
"We can collectively decide whether we need to retire a piece of equipment and replace it with something newer or different. With Spectrum, we have a lot of information for answering the important questions. How many jobs has this machine completed? How many hours was it used? Did it pay for itself in the year? What is its service history?
"Without Spectrum, this kind of information is tough to track. Now, we can look at a piece of equipment using Spectrum and have a better understanding of its true value. That has been a tremendous help."
Rocky Mountain Contractors owns 1,326 active pieces of equipment. Everything from office cars and little Toyota pickups to backhoes and cranes gets its own asset ID number. "Spectrum is the only way I could manage that many pieces of equipment," says Caffyn.
With Spectrum, the company can look at the original cost of a piece of equipment and work that the company did to it. Combining the data generates a total value for the asset.
"For example, we have a backhoe that we bought from a sister company and I have it entered into the system. By using Spectrum, I know when we took ownership of it and I know what we have done to it. This is invaluable information."
Better priced services
The software easily recalls individual machine cost and revenue history so managers can determine total gain or loss for the year. Knowing the breakeven point on individual machines, the company can adjust revenue recognition on rental rates on all of their equipment from a line truck to a backhoe to give the customer a fair price while still making a profit.
"Our hourly rates adjust by the workload and the area and type of work we are doing," says Caffyn. "Every year we go through each type of equipment and look at all the equipment in that category and we figure out if we made money, broke even or lost money. This helps us adjust next year's pricing. We may have a backhoe that last year was at $12 per hour and then we did an analysis of all the data points and made the calculations and determined that we would still break even at $10 per hour, so we can pass that savings on to the customer.
"Or, the opposite could happen. We could have a line truck, for example, that lost money during the year. So, then we would adjust the rate in order to make the rental profitable. And we have the data to prove to our customers the need to raise our rates and that they are still getting good value."