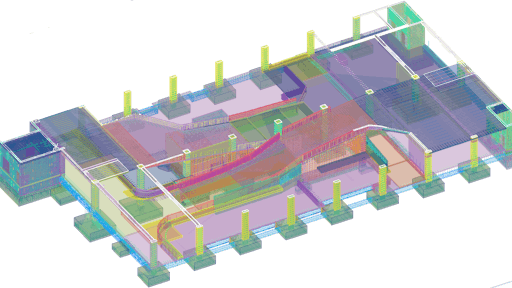 BDS Vircon is one of the leading rebar detailing and modeling firms in the world. They are currently employing Trimble's Tekla software on a project called The Fifth Parking Garage, located in Des Moines, Iowa, which has won a Tekla Building Information Modeling (BIM) award in the cast-in-place category. According to Sandeep Mathur, Vice President/General Manager – Concrete and Rebar, BDS Vircon, the 3D modeling technology is helping them immensely on this project.
"On this project — which is expected to be complete in August 2020 — there have been over 300 RFIs (requests for information)," says Mathur. "Due to the constructible Tekla Structures model, nearly 50 to 70 of those issues or conflicts were discovered and resolved prior to rebar fabrication."
According to Mathur, many of these issues between trades were uncovered when contractors superimposed the Tekla model over other trade models and discovered a number of clashes. For example, the concrete slabs have cables and post tensioning (PT) boxes that go into that slab, and there were several instances where the placement of the concrete reinforcing conflicted with those PT boxes. By having this composite model overlay created, the contractor was able to identify the problems early on, seek engineer's input and propose solutions to resolve those conflicts.
Find small problems before they become costly problems
If there wasn't a 3D model, many of these clashes wouldn't have been discovered until the placement of the slabs and PT boxes. It is a lot more efficient to find issues in the model than it is to find them in the field.
"When you find a problem when you are in the field, the operations have to stop until you can reach the engineer to get clarification on how to proceed. That downtime can have large financial costs and may threaten production schedules," says Mathur.
Accurate drawings cut downtime
"From our point of view, the accuracy of our drawings is critical. Detailing mistakes can be very costly in the construction industry. 3D models greatly enhance the accuracy of our work," says Mathur.
A fabricating shop uses information provided in the bar lists generated from these models to bend and cut the bars for project use. These fabricated bars are then delivered to the job site and the ironworkers use the placing drawings and the model to accurately locate and place the bars in the field. "With 2D drawings, a lot of times it is difficult to see the context between bars, especially in congested areas, unless you cut a section at multiple locations. Generating a 3D model makes it possible to identify and visualize constraints and interaction in congested areas. An ironworker can easily rotate a model in the software and see the interaction of bars from different directions," says Mathur.
Since identification of bar interface is clearly visible in a 3D model, the accuracy of the final product is increased significantly. The Tekla software also has clash detection capabilities which help identify areas of rebar conflict so these can be resolved prior to model completion.
"To me, this is one of the greatest advantages of a 3D model," says Mathur.
Sharing models improves accuracy and efficiency
"I've been in meetings that have included other trades and even suppliers," says Mathur. "When models from different trades are juxtaposed over each other, it is easy to locate clashes. By looking at the models from a holistic view, one can identify the extent of interference and take steps toward remedying the situation."
The company also hopes that their model will be shared with the owner after construction is complete.
"You are creating a microcosm of the asset for the owner," says Mathur. "A 3D model can be utilized in conceptual stages to study building location, daylighting and other energy efficiency studies; during the pre-construction stages to resolve clash detections with other trades; during construction to facilitate and expedite construction; and post-construction to maintain the facility by aiding in structural integrity inspections, rehabilitation and more."
Unlike Europe where the majority of rebar detailing is now done in 3D, in the North American market the adaptation from 2D detailing to 3D modeling has been slow.
"In the U.S. rebar industry, much of the work is still done in 2D; so, one of the greatest hurdles is teaching customers the benefits of using constructible 3D models—how it improves accuracy, how all the trades come together, how you can find conflicts early on—I think there are many benefits," says Mathur. "Those that have used it, have embraced it."
Optimizing performance
Founded in 1964, BDS Vircon, a DBM Global company, is an international BIM, steel detailing, and rebar detailing firm with a long record of iconic projects. Its vast track record and ongoing investment in research has given BDS Vircon unrivalled capability to deliver innovative BIM and detailing services for challenging projects. The company continually invests in innovation to develop proprietary technology and has its own programmers and developers who create programs, macros and shortcuts that run on top of the Tekla software. This gives the company an edge through the ability to deliver an even better product. The Tekla programming language open source and the company has created several open Application Programming Interfaces (APIs) to expedite modeling in Tekla Structures.
"We have been using Trimble's Tekla software since BDS Vircon started its rebar division in 2008. Designing and modeling are core to our business, so we are constantly monitoring the market for the best products out there," says Mathur. "We have tried other software for 3D modeling, but we find that Tekla is well ahead of the curve with some very advanced and easy-to-use features in reinforced concrete modeling. You can create complex shapes and bends in Tekla in ways that we believe are much easier than other modeling programs."