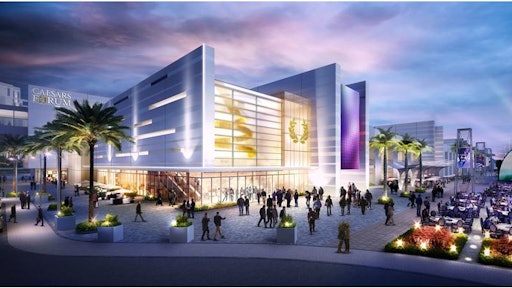 By Nathan Medcalf, Contributing Editor
Penta Building Group is working 24/7, 365 days a year to complete the Caesars Forum project – a 550,000-sq.-ft. convention center located in Las Vegas, NV – in just 18 months.
According to Cliff Cole, virtual design and construction (VDC) manager for Penta, the most indispensable tool the company had to achieve this goal was field collaboration software PlanGrid. "PlanGrid – for lack of a better term – is our single source of truth," he says.
An aggressive schedule
To turn over the building by the time the client wanted it, Penta has had to take extra measures, like working all day every day and employing more people. "In Vegas, working 24/7 is just what we do; that is not a new thing to us. However, once you work 24/7, the only way to accelerate a project is to put more people on it," says Cole.
At all times, there are more than 600 workers on site, and coordinating efforts among different stakeholders and with key players can be difficult. "When you are trying to communicate with 600+ people, it is a challenge. You have to build trust among stakeholders; and when people have a source where they can trust they'll get accurate and up-to-date information, it makes their job easier."
Penta doesn't mandate subs that work on their projects use PlanGrid but, says Cole, many of them see the value in it and adopt it on their own. Penta will also buy iPads for subs who can't afford the investment. The easy collaboration and reduction in rework make the cost of buying a partner company's iPads worth it to the general contractor. 
"PlanGrid reduces rework; I can't say by how much because it is hard to quantify what doesn't exist. But I can say it absolutely reduces rework," says Cole. "That we will finish the Caesars Forum project on time – and probably even ahead of time – is a testament that using PlanGrid reduces rework."
Delivering a high-end product
Although Penta is pursuing an aggressive schedule, they aren't sacrificing quality. For a client like Caesars Entertainment, quality and attention to detail are critical. While Caesars Forum doesn't contain a casino, Caesars Entertainment requires the same caliber of construction as it expects for its casinos.
"Casino construction demands a higher level of quality that we must meet and try to exceed compared to an office building or an educational facility," says Cole. "For example, when doing a QA/QC check of the wall, they stand one and a half feet away and call out every little crinkle in the wall paper. For fancy stone flooring, they come in with a golf ball and drop it on each tile to verify they are all level. There is a lot they will do to make sure that we are meeting their expectations for quality."
Cole describes the design process as a lengthy one. "You are working with the trades and working with a design team. Caesars is a large corporation and they had hired KGA Architects as their design team. There were other stakeholders. It is a lot of collaboration to make sure that a ceiling is to everyone's liking. It is a very time-consuming process," says Cole.
Collaborating with 600+ people
As the VDC manager, it is Cole's job to make sure everyone has accurate and up-to-date information.
"An electrician installing a light or a pipe fitter installing a sprinkler, for example, needs to understand where these things go and how they interact with the work from all the other trades. We give subcontractors drawings that show not only where their system goes but how it interacts with other systems to be installed," says Cole. "The field is not going to our office to get documents; they are going to PlanGrid."
Prior to using PlanGrid, the company wasn't effectively reaching people in the field.
"Typically, we would get an email either from the architect or one with a link to a shared site, and then we would take that document and put it into our system and mail it to the project managers of each of the trades. The project managers are most often in the office and the people who need the information the most are in the field. PlanGrid is the platform that allows us to collaborate with people in the field while keeping project managers updated on project changes."
Cole says PlanGrid's ease of use is essential to getting field staff to use it. "PlanGrid gets it. There aren't a lot of buttons, the ones in the app are big, and it is easy to navigate, so I don't have to spend my time teaching the field crew how to use it."
Beating expectations
Just as Penta strives to exceed their client's expectations, PlanGrid has beaten Penta's expectations regarding its usefulness. When Penta first started using PlanGrid, their interest was in the software's document control, drawings, plans, and specs, but then they went one step further and began adopting PlanGrid for field reporting, issue tracking, and punch lists. Now Penta is beginning to convert their Quality Assurance (QA) and Quality Control (QC) and get them on board with Autodesk Construction Cloud, the comprehensive construction management offering launched in November 2019 that PlanGrid became part of with its acquisition by Autodesk in 2018.
"The software streamlines the workflow, is mobile, and seamless between field and office," says Cole. "In our industry, information is king. And where do I get that information? PlanGrid."