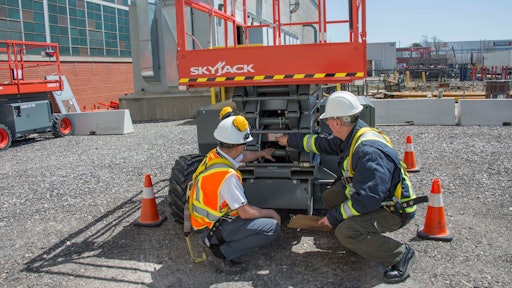 Everyone within the rental ecosystem has a role to play when it comes to contributing to a safe work environment. Our industry standards evolve over time, adjusting to the technology available and the expectations of users.  
Within this ecosystem, Skyjack has many roles to play. We not only design equipment to industry standards while ensuring they provide our customers with the best ROI possible, but also help support the safe use of that equipment in a variety of ways. 
New ANSI and Jobsite Changes
When the new ANSI A92.20 standards were introduced, Skyjack was one of the first manufacturers to start shipping compliant machines to rental companies. A key design change mandated by the new standards was the inclusion of load sensing in most MEWPs. These overload sensors, which have been used in global markets for over a decade, help to ensure that platform capacity limits are adhered to and that machines are being used for what they're designed for.  
In addition to the safety-related changes outlined by ANSI, Skyjack also implemented design changes that go beyond standards and further contribute to proper on-site machine use. Secondary Guarding Electrical (SGE) is a standard feature on booms, which includes a sensor bar that instantly stops all functions when pushed against and initiates an audible siren and light beacon. If pressure is applied to the bar for more than one second, the engine will also stop, which halts all regular functions until reset. The emergency lowering controls can still be operated to bring the platform safely to the ground. 
To read more about Skyjack's and other manufacturer's various safety features and initiatives, check out Aerial Lift Manufacturers are Setting the Standard in Safety.
An example of an optional enhancement introduced by Skyjack is our Secondary Guarding Lift Enable (SGLE). For use on vertical masts and scissor lifts, it's designed so the machine only lifts when both the joystick enable and tamper-proof secondary enable button are activated. The release of either of these switches will stop lifting functions immediately. An added benefit is that it keeps the operator's body in an upright position and away from railings, which mitigates the risk of entrapment.  
Beyond Design and Manufacturing
Skyjack keeps an open line of communication with customers and the industry as a whole, publishing materials on the website that help owners, operators, and end users meet their responsibilities to create a safe work environment. Most recently, we developed an online guide to the ANSI standards for both rental companies and operators that clearly outline the core changes for them.  
Operating, parts, and service manuals are all available downloads on the Skyjack website, along with links to documents on best practice guidance and other sites with useful information. There's also a full range of training options for operators, supervisors, and trainers of other operators in order to support the safe use of our equipment.
Skyjack also monitors social media platforms to keep an eye out for posts that clearly showcase misuse involving Skyjack products. When those images are caught, we respond with an appropriate response letting the original poster know about the infraction and the correct way to interact with the equipment. There's also a quick reference page on our website to help raise awareness about common infractions seen when operating a MEWP.  
Incorporating Technology
Technological advancements, like Skyjack's ELEVATE telematics solution, bring best practices and safe use guidelines directly to end users. ELEVATE Live, for instance, provides operators with access to the machine's current state of battery health (if ELEVATE is installed). If ELEVATE is not installed, operators still have access to pre-use inspection guides, familiarization materials, emergency lowering how-to videos, and Quickstart Guides all by simply scanning a QR code.  
Creating a safety strategy that touches everyone within the rental ecosystem continues to be a key goal for Skyjack. We're maintaining our historical efforts and evolving platforms where we can to ensure this information is getting into the right hands in a way that's easily digested and transferred to real life applications.   
Delivering this information, in all the ways listed above, supports our safety initiatives to promote proper machine usage.