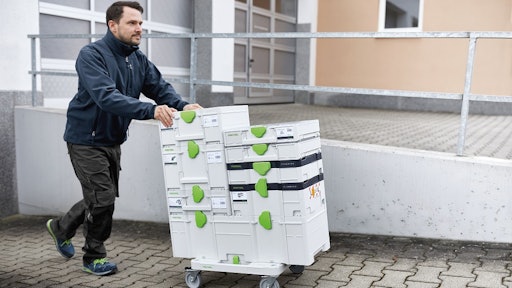 Festool

Festool USA has unveiled its largest Systainer release ever with the new Systainer3 tool organization systems, providing efficient protection, storage and transportation of tools and materials.
Systainer3 products are designed in two widths for maximum compatibility: The M and L footprints. The M footprint is consistent with the widths of previous Systainers, while the L is designed to be larger for more storage and customization options.
Systainer3 comes equipped with a feature in its built-in side-grooves that pairs with the new Systainer3 Rails, enabling a DIY solution for end-users to build their own Sys-port racking system. The new rails detail how wide a cabinet needs to be to match the M or L size footprint, and then the Systainers lock into the rails for storage and access.
In addition, the Systainer3 products include either a front handle, for smaller organizers, or a front pull-out aid on the larger Systainers.
The Systainer3 products feature a third hinge to stabilize the rear wall ensuring greater stability. They also come equipped with Theft Tag slots for secure closure with the use of a lock or cable ties.
Available Systainer3 products:
Empty M & L-size systainers: Available in nine sizes.
Empty XXL-size Systainers: Available in two sizes.
Systainer Toolboxes: Available in four sizes.
Systainer Organizers: Six different product variations available.
The Sys-Cart: Provides easy transportation of Systainer3 products.
Abrasive Systainers: Available in five options, including two sets that contain abrasives.
The Router Bit Systainer: Stores up to 40 router bits.
The Hand Tool Organizer Systainer: A wooden insert that keeps hand tools organized for storage and transport.
Systainer Accessories: Accessories are available for additional organization and protection. 
Request More Information
Fill out the form below to request more information about
Festool Announces Its Systainer Systems Collection