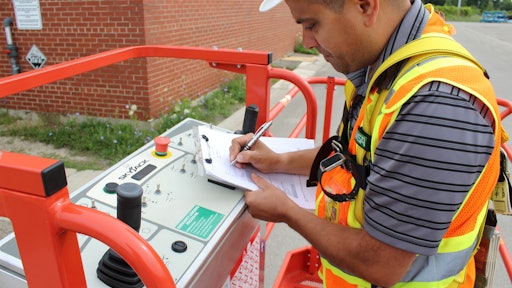 IPAF
The year 2020 has been notable for powered access standards. In the U.S., the ANSI/SAIA suite of standards for mobile elevating work platforms (MEWPs), which includes ANSI/SAIA A92.20-20 for design/test, A92.22-20 for safe use, and A92.24-20 for training, went into effect on June 1.  
This suite of standards will replace A92.3 for manually propelled elevated aerial platforms, A92.5 for self-propelled booms, A92.6 for scissor lifts, and A92.8 for under-bridge inspection devices that were withdrawn when the new suite went into effect.  
The A92.20 (design/safety) standard ushers in new requirements for platform load sensing systems, an increase in the minimum guard rails height from 1 meter to 1.1 meters (or about a 4.3 in. increase), chain entrances on scissor lifts with vertical platform lifts no longer allowed, and toe boards being required at all MEWP entrances. MEWP marking requirements also change with the addition of a requirement for the date of the last annual inspection to be clearly marked. MEWPs designed for use with zero exposure to wind will have new stability and wind load requirements too.  
The A92.22 (safe use) standard introduces significant changes from the safe use requirements found in the withdrawn standards. As a start, all MEWP users will need to develop a MEWP-specific safe use program, which includes: 
Performing site risk assessments (including a MEWP rescue plan). 

Proper MEWP and work equipment selection. 

Proper access, preparation, and maintenance of the site for MEWP operations, maintenance, and inspections. 
Proper training and qualification for MEWP operators. 

Having trained and qualified supervisor(s) to monitor the performance of the work of the operator to ensure compliance with provisions of this standard, and consideration of safety of persons not directly involved in MEWP operations. 
The A92.24 training standard provides methods and guidelines to prepare MEWP training materials, defines administrative criteria, and delivers elements required for proper training and familiarization. It is a "how to" for the delivery of complete, consistent, and compliant training. It defines responsibilities for training and familiarization, and the content for MEWP operator theory, hands-on practical training, content for MEWP supervisor training, and information required for MEWP occupants. The standard outlines trainer qualifications, training curriculum, proper training environments, testing, and documentation. 
The A92.22 and A92.24 standards provide users/employers a clear systemic approach to MEWP workplace safety that will assist with good job management and effective operators.  
ANSI/SAIA A92.2 covers vehicle-mounted aerial devices and is in the approval process for a 2020 revision. That would include some design requirement changes, changes to language related to a manual of responsibilities, and approval for modifications. These changes align with those in the A92 suite of standards noted above.  
ANSI/SAIA A92.9 Mast Climbing work platform has been reaffirmed through 2022, and A92.10 Transport platform standards is looking to be reaffirmed in 2020 (plus five years). A reaffirmed standard is one that has been reviewed and approved 'as is' for continued use without any changes. Both standards are examining the long-term change to issue a design, safe-use, and training standard for the equipment. 
The Canadian B354 standards that went into effect in May 2018 are adoptions of ISO standards for MEWP design, safe use, and training with added Canadian deviations. There is no current action to begin the five-year cycle for periodic review. 
ISO standards are intended to be the foundation for country standards in an effort to have globally harmonized requirements. ISO Technical Committee 214 was formed in late 1996 to develop standards related to elevating work platforms. ISO/TC 214 currently has 17 Participating/voting (P) countries and 19 Observing (O) Countries actively engaged in its work. ISO/TC 214 currently has nine published International Standards. In April 2020, ISO 21455:2020, mobile elevating work platforms – operator's controls – actuation, displacement, location, and method of operation was published.  
ISO 16368 (design), ISO 18893 (safe use), and ISO 18878 (training) standards for MEWPs are the foundation for both the U.S. and Canadian MEWP standards we have today. 
ISO 21455:2020 requirements will likely be considered the next time the ANSI A92 and Canadian B354 standards are reviewed. This particular standard contains design considerations and performance data supporting a higher level of standardization for MEWP controls.