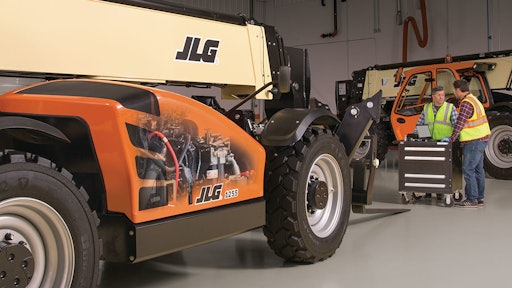 JLG Industries unveiled its AccessReady operator-training portal at The Rental Show, and took the opportunity to review the company's extensive support offerings – including multiple equipment options, parts, service and training opportunities – throughout the lifecycle of its access and lifting equipment.
The brand experience starts with the purchase of a machine, be it new, through JLG's used equipment website www.jlgused.com or via a private sale. Certified, pre-owned equipment is available from JLG and is the first program of its kind in the access industry.
Three parts options offer a three-tiered approach to make JLG a single-source resource to JLG customers and those with mixed fleets:
JLG Genuine
JLG Reman
And a brand-new line of competitive brand parts to be launched at CONEXPO 2017. This.
The first of two Parts Distribution Centers (PDC) planned for 2017 will open in the Las Vegas area next month. The second will be in Atlanta and open later this year. These two, strategic locations have been selected based on geography and transportation systems to ensure quick delivery of JLG parts to customers across the country. All parts offerings can be ordered online by customers or through a retail order hotline at 877-JLG-LIFT. Additional locations are planned to open in 2018.
JLG opened its exclusive customer training center and proving grounds in McConnellsburg, PA, in 2014. The company has steadily grown its range of on-site and online training opportunities. Customers can choose among a variety of courses to become a certified operator or operator trainer for AWP's and telehandlers. The courses can be taken at the training center or locally.
AccessReady is the newest JLG training platform. The system is designed to connect operators who want to use JLG and competitive model AWPs and telehandlers safely and efficiently with JLG qualified trainers in their area. AccessReady trains operators on specific categories of equipment such as AWPs or telehandlers and is not brand specific. Any operator who successfully completes the training is qualified for three years on telehandlers and indefinitely for AWPs.
The company offers a factory reconditioning program to extend a machine's lifecycle. The 11-day process restores the machine to its original specification, inside and out. Factory-trained experts follow strict guidelines and use genuine parts to deliver fully inspected, like-new equipment with a best-in-class warranty.
A strong service arm with 71 customer support service centers and 400 trained technicians across the U.S. and Canada ensures optimal uptime and productivity. Each location is fully equipped to perform light and heavy repairs, contract and preventive maintenance, as well as inspections. One hundred and fifty mobile service vehicles are dispatched on demand for field repair work to keep machines on the job site.
"JLG's comprehensive offering is unrivaled in the access industry – reinforcing our commitment to the customer from the day of purchase until the end of a machine's lifecycle," said Jonathan Dawley, global vice president, aftermarket at JLG Industries, Inc. "Our end-to-end solutions ensure JLG customers receive the best service and support, wherever they are located, with the ultimate goal of reducing total cost of ownership and gaining optimal resale value."