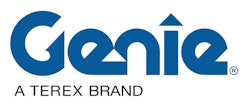 Updating the legacy Genie S-105 and S-125 telescopic boom lifts, the SX-105 XC and SX-125 XC booms are engineered to work in more applications that require higher capacities. With dual lift capacity (660 lbs./1,000 lbs.) and a smooth operating envelope, the XC boom lifts are a suited for heavy lifting in the construction and maintenance of stadium and sports arenas, gas and oil refineries, industrial and telecommunications applications.
The ability to automatically retract as they reach their operating envelope gives the lifts a smooth, full range of motion throughout the entire working envelope — up to 105 ft. and 125 ft. 1 in. in the air, respectively, with 135° of vertical jib rotation. 
"We packed them with performance-enhancing features, including 80 ft. of outreach, the ability to work 8 ft. 10 in. below grade and a stable 12-ft. 11-in. x 13-ft. 6-in. operating footprint," says Adam Hailey, Genie Director of Product Marketing, Terex AWP "We also kept our focus on operators' needs by updating the machines' user interface and designing simple, easy-to-use booms.
"The XC nomenclature also lets customers know that these new booms comply with the overload restriction guidelines in the proposed ANSI A92 and CSA B354 industry standards in North America, as well as the current European EN280 and Australian AS 1418.10 standards," adds Hailey.
Feature an emissions-compliant 74-hp Tier 4 Final/Stage IIIB diesel engine and a redesigned heavy-duty generator
Mini XChassis axle system enables an 8-ft. 2-in. retracted or 12-ft. 11-in. extended footprint
Can be transported on a standard trailer with no over width or over height permits required
Load sense cell continuously checks the weight in the platform to ensure the machine stays within the platform load limit
Consistent, intuitive control layouts
Share commonality in design, parts and accessories, as well as serviceability benefits with all Genie products
[VIDEO] Genie Xtra Capacity Boom Lifts Feature Industry-leading Dual Lift Capacity
Spec Sheet: Genie SX-105 XC and SX-125 XC Telescopic Boom Lifts
Request More Information
Fill out the form below to request more information about
New Genie SX-105 XC and SX-125 XC Telescopic Booms Round Out XC Line