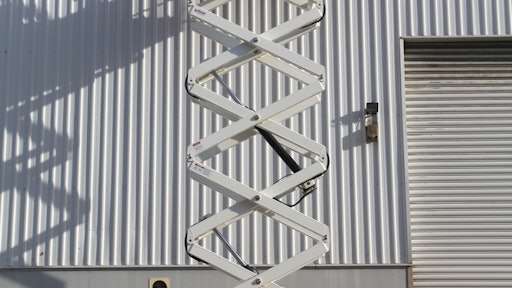 Aerial lift manufacturer Snorkel is launching three new global products at bauma 2013, which takes place in Munich, Germany, from April 15-21. Snorkel will be in the outdoor area, stand number F11 1103/3.
The S3970RT is a compact rough-terrain scissor lift designed for working in confined spaces, such as in between buildings. Built on Snorkel's SRT chassis, the S3970RT provides a maximum platform height of 39 ft. (11.5m) but is only 70 in. (1.77m) wide. Features include 4WD, an articulating rear axle, 350mm of ground clearance and 30% gradeability. Automatic self-leveling stabilizers and a 1.2m extension deck are standard.
The S3970RT is powered by a Kubota diesel engine, or is  available powered by a gasoline engine, LPG, or a gas-LPG combination. It is also available as the S3970BE bi-energy model. This drivetrain allows the operator to work outdoors using the diesel engine, then switch to an electric motor for emissions legislation compliance when working inside buildings.
Designed at Snorkel's New Zealand facility for the Australasian market, the machine will be available in the rest of the world later this year.
Snorkel is also showcasing the new S1030E self-propelled low-level access platform. Providing a 10-ft. (3m) maximum platform height, the battery-powered S1030E is  lightweight enough for most floor load-bearing restrictions and can be driven at full height.
In addition, Snorkel has enhanced its M1230E self-propelled mast lift with a 500mm roll-out deck extension. This optional extra extends the platform size to 1.46m, providing additional reach without the need to move the machine. The all-electric lift can be driven through standard interior doorways and carried in passenger elevators, yet will still lift two people with tools to a safe platform height of 3.6m.