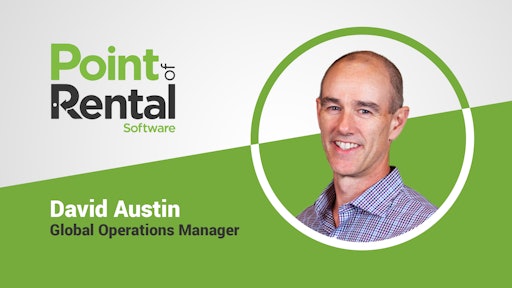 Point of Rental has named David Austin the new global operations manager, responsible for streamlining Point of Rental's teams and processes. Austin will bring more than 20 years of marketing, sales, and peer-to-peer rental expertise to Point of Rental's team.
"David has shown, throughout his career, that he's able to quickly identify customer and organizational needs and put people in the right places to succeed," said Point of Rental CEO Wayne Harris. "As we continue to grow, the ability to analyze data while understanding our customers becomes more and more important."
Austin started his career as a product manager for Randall-Reilly before becoming the company's VP of data production. From there, he held roles with several companies including Equify, construction rental company Never Idle, and ECI Software Solutions.
"I'm excited to get back into the rental industry and to work with the Point of Rental team," said Austin. "I'm looking forward to helping put our teams and our software in a position where they can help the most people possible."
Information provided by Point of Rental and edited by Alexis Brumm.