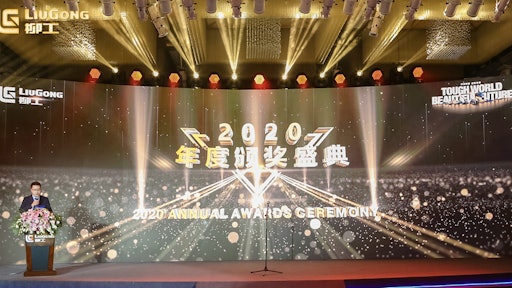 LiuGong Machinery awarded two LiuGong North America dealers Partnership Awards. The awards, commemorating 10 years of partnership between LiuGong and the dealer, were awarded to Midwest Ready Mix & Equipment Inc., of Vermillion, South Dakota, and Jersey Rents Equipment Sales & Service of Bayville, New Jersey.
"Jersey Rents and Midwest Equipment are great examples of LiuGong dealers who have achieved long-term success," said Mani Iyer, president of LiuGong North America Construction Equipment. "One is in a midwestern, rural part of the country, and the other is on the East Coast with a lot of metropolitan territory. But both promote the brand, demo the products, and provide a much higher than normal level of service to their customers."
Dave Hertz, the owner of Midwest Equipment, has been in business since 2002. He became a LiuGong dealer in 2009, and now also represents the Dressta brand. Jersey Rents Equipment Sales & Service was founded by Robert Mennona Sr. in 1984. Mennona began selling LiuGong equipment in 2009, then added Dressta dozers and forklifts from LiuGong's material-handling division.
Information provided by LiuGong North America and edited by Alexis Brumm.