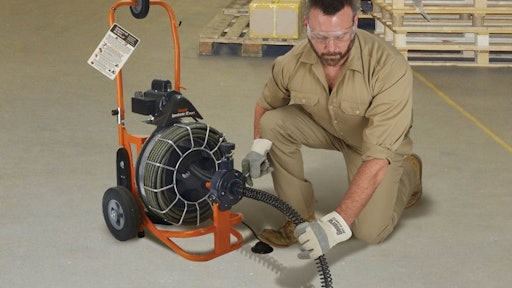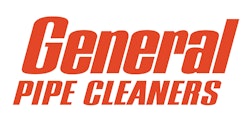 Easier, faster, cleaner. Speedrooter 92R from General Pipe Cleaners blends the best of professional drain cleaners with the rugged reliability of rental machines.  
With plenty of power for tough stoppages like tree roots and other heavy obstructions in 3" to 10" drain lines, the durable, dependable Speedrooter 92R is surprisingly portable. Heavy duty 10" wheels, stair climbers, and a folding handle make transport easy. One person can easily load it onto a truck. The frame slides smoothly from the loading wheel to the stair climbers to the wheels.
The variable speed automatic feed makes the drain cleaning job easier as it feeds and retrieves the Flexicore cable at up to 20 feet per minute. The power cable feed and guide tube combination keeps your renter's hands clean, safe, and away from spinning cable.
The cage holds 100 feet of 5/8" or 3/4" Flexicore cable. Flexicore cables are made of heavy gauge wire that is coiled tightly around 49-strand aircraft-type wire rope and heat treated. It has unequalled strength and the right amount of flexibility. Flexicore is so tough it carries a one-year warranty against defect or breakage.
Standard safety features include an air actuated foot pedal, ground fault circuit interrupter, safety slip clutch and instructional DVD.
Request More Information
Fill out the form below to request more information about
Speedrooter 92R Power Drain Cleaner With Automatic Feed