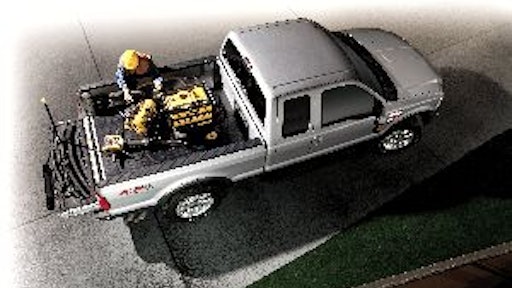 Let's face it -- leaving tools unattended in the back of your pickup is an open invitation to potential thieves. You need to be able to secure hand tools and small equipment, while still maintaining the versatility a pickup truck offers.
Luckily, there are many products that can help you achieve this goal. Here is just a small sample of what's available. For more information on these products, visit the Equipment Network at www.ForConstructionPros.com.
Ford Work Solutions
Ford Work Solutions is a collection of technologies that provide Ford truck customers with the connectivity, flexibility and security to better run their business.
Tool Link offers the capability to mark and scan tools, safety equipment and other assets using RFID tags. When the truck is running, a pair of RFID antennas scan the box for items on a pre-programmed inventory list. The data is transmitted to a reader mounted in the cab and displayed on the in-dash computer screen, alerting the driver if inventoried tools are not loaded.
The Cable Lock provides a convenient way to secure items such as tool boxes, air compressors, generators or large power tools. A 10-ft., 10mm braided steel cable wrapped in protective plastic sheathing is woven around toolbox handles or around items and locked to the truck with a cuff-style clasp.
Mopar Accessories
Dodge Ram owners can add to the cargo-hauling versatility of their trucks with an adjustable sliding rack system from Mopar. It has a 1,000-lb. capacity, and is available to hold a variety of items, including ladders and a diamond plate toolbox.
The toolbox has an easy access lid, protective coat, stainless steel hinges, locking handle and continuous body welds. It mounts to the sliding rack system rails and slides easily to the desired position.
GM Cargo Management System
General Motors offers a cargo management system for Chevrolet Silverado and GMC Sierra pickups that compliments a range of dealer-ordered accessory packages.
Three rails run the length of the box sides and the forward box wall. They are secured with high-strength anchors. Accessories use either the upper or lower rails, allowing numerous combinations that can easily fit together or bypass one another as they slide along the rails.
The rails can enable the use of an overhead utility rack rated at a 500-lb. loading capacity, sliding diamond plate toolbox, sliding bed divider or diamond plate side storage boxes. Four adjustable tie-down brackets, each rated for a load of 500 lbs., are included with each system and can be located anywhere on the tracks.
TruckWrks Storage Solutions
TruckWrks offers a Slide-In service body to convert 3/4- and 1-ton pickup trucks into more productive work vehicles. This body weighs approximately 1,500 lbs. and features five secured storage compartments for 75 cu. ft. of tool and accessory storage. The door hinges are concealed for increased security and smooth body lines.
Forklift tunnels and four jack mounts facilitate easy mounting and removal. A FlexSmart organization system keeps tools and supplies in place. The 48.5-in.-wide bed width accommodates hauling 4' x 8' materials. The body also includes a FlexSmart deck slide and ladder rack.
Other products to compliment truck storage include a slide-out, bed box, hitch caddy and service body trailer.
HercuLoc Bed Cover
The Contractor Series secure bed cover from Thacker Mfg. provides security and access for your pickup bed. The cover is counter balanced on torsion springs to make it very easy to open from either side, or both sides at once.
The design allows you to haul bulky cargo at 75 mph with the cover open. It features all-steel construction, and an overhead ladder rack is optional.
Durashell Slip-on Truck Body
Fleetwest Transferable Truck Bodies offers the Durashell fiberglass composite utility bodies in six models for both long and short beds. These bodies include a four-point clamping system that requires no holes to be drilled for installation. Features include a brake light, interior lighting, jack receptacles, double rear doors, optional slide-out parts drawer, side doors and compartments, front and rear windows and ladder racks.
The bodies maximize the use of existing trucks. Lifting jack receptacles or optional built-in forklift tunnels allow for easy installation and removal. A universal fit allows the slip-on bodies to be transferred to a leased vehicle in an emergency without completely unloading/reloading.
Reading Aluminum Service Body
Reading Truck Aluminum Service Bodies are now available in 8-ft. single rear wheel and 9-ft. dual wheel models.
These bodies weigh up to 345 lbs. less than comparable 8-ft. steel service bodies. The benefits include increased fuel efficiency, better payload capacity and less wear and tear on chassis components. The body is constructed using 100% recyclable materials.
A.R.E. Commercial Truck Caps
A.R.E. manufactures a complete line of truck caps built to withstand the rigors of work truck service.
The Deluxe Commercial Units (DCUs) feature fully-welded, aluminum frame construction. They can be configured to any need, thanks to more than 200 options, including a variety of door and window configurations, toolboxes, custom ladder racks, interior fabric liners and side panels. The caps are also available in 23-, 26-, 29- and 36-in. height configurations.
There are several rear door options, including a one-half rear lift door, double full doors and a single full door and a full hatch door. The exterior skin is constructed from .035-white aluminum for durable, lightweight protection.
Weather Guard Saddle Box
To meet the needs of professional contractors, Weather Guard offers an all-steel, low-profile saddle box. It is designed to maximize visibility and enhance safety.
The box fits just above a truck's bed rail, which keeps rear sight lines intact, especially on newer pickup designs that feature higher bed rails. The steel box comes in two sizes to fit both full-sized and compact pickup trucks, and is offered in a white or black powder coat finish. Installation is simplified with crimp-free/drill-free mounting brackets.
For security, the saddle box features an EXTREME PROTECTION lock. A full weather seal keeps moisture out even in extreme conditions. A cord pass-through permits easy access for downtime tool recharging.
Gas shocks ease the lid open at the push of a button. When fully open, the box's cover sits at a 90° angle, providing unhindered access to the inside.
Highway Products Headache Rack
Highway Products introduces the Double XX Headache Rack for pickups. It is available in a number of finishes, including different colors, mill finish aluminum, unpainted and polished aluminum, diamond plate, black powder coated or mirror finish polished stainless steel covers.
Damar Truck Deck
The Damar Truck Deck Workman Series features up to six lockable storage compartment, depending upon bed length. Inside the compartments are removable polyethylene containers with optional rear drawer-slide capability. Each weather-resistant compartment is secured with a rotary T-handle and sealed with a neoprene rubber gasket.
The Truck Deck is made of aluminum diamond plate in varying thicknesses from .080 to .1875 in. Designed to fit the exact size and shape of the bed it is installed in, it is supported by a heavy-duty aluminum tubular frame that extends to the sidewalls of the bed. It can be used as a hauling surface to maximize the bed's storage capacity.
Ladders and additional equipment can be easily attached via Cargo Cleats or heavy-duty adjustable Slide-Track tie-downs. A rear hatch, operated with gas spring assistance, further allows full use of the bed length.