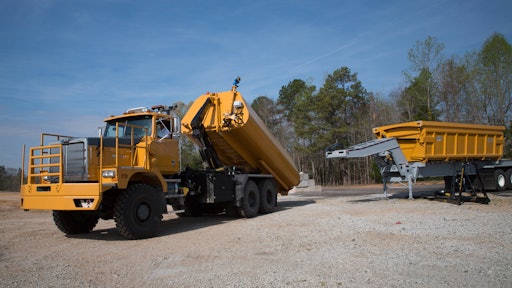 The 6900XD Offroad MBT-40, dubbed the Multi-Body Transformer for its ability to quickly change from one fully functional in cab controlled body application to another, is the first XD Offroad series offering from Western Star and a new concept for offroad equipment markets.
Using a PALFINGER G68 hooklift which has a lifting capacity of 68,000lbs and a new transformer package, the MBT-40 gives customers greater utilization of their chassis. It is designed to replace the need for having multiple pieces of dedicated off-road equipment on a jobsite that sit for long periods of time when they are not needed. With this new product, extremely complex and heavy capacity bodies can be changed over and back to work quickly and easily.
The unit is equipped with a generic in-cab control system and a self-adapting hydraulic system that also allows the operators to quickly swap the controls of multiple body applications as well. The MBT-40 features multiple hydraulic air and electrical connections that allow it to connect and power a variety of body needs from powerful flow controlled hydraulic motors and pumps to heavy high flow tip cylinders.
The 6900XD is available in both 6x4 and 6x6 configurations.
[VIDEO] Western Star 6900XD Multi-Body Transformer MBT-40 Walkaround
Request More Information
Fill out the form below to request more information about
Western Star 6900XD Offroad MBT-40